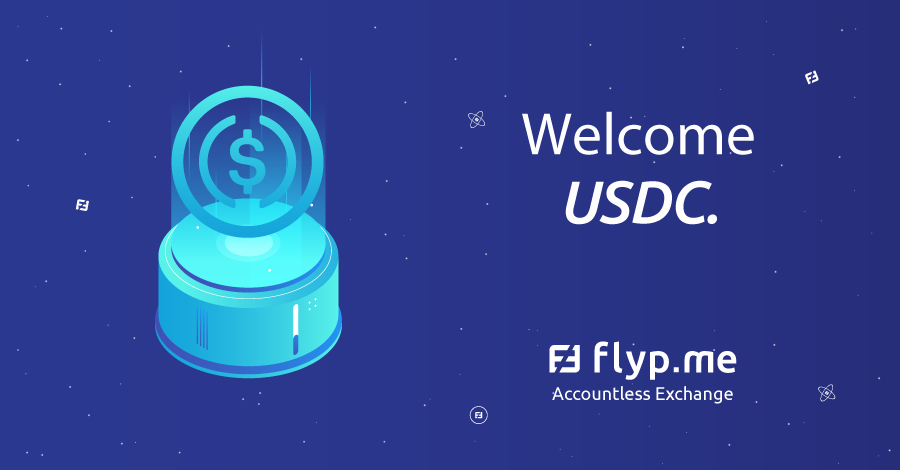 We've done it again and added another major addition to our already stacked digital asset offerings! USD Coin (USDC), a Coinbase-developed stablecoin with big backing from some of the crypto world's biggest names, is now tradable on Flyp.me.
This addition gives Flyp.me users a major leg up in the ever-important quest for digital asset liquidity and mobility. Want to send your stablecoin balance between Flyp.me and Coinbase? No problem! How about sending USDC to Binance through Flyp.me? Easy.
Best of all, Flyp.me does not require an account to trade USDC. The process for grabbing some USDC with Flyp.me couldn't be easier.
Select the currency you will use to exchange, then enter your USDC wallet destination address.
Enter a refund address for the cryptocurrency wallet you are exchanging from (ie. if trading ETH, enter an ETH wallet address).
Send cryptocurrency to the Flyp.me transfer wallet address.
Done! Flyp.me will automatically send USDC to your destination wallet.
At no point do you enter your private keys, or give any information other than your public wallet address.
So, what makes the USDC stablecoin special compared to other stable cryptocurrencies out there like Tether (USDT)? Here is a quick overview of USDC stablecoin and why this one is truly a game-changer for current and future Flyp.me traders.
USDC — Not Your Average Stablecoin
Of all the brand names in the cryptocurrency industry, few are as well known — or completely trusted — as Coinbase is. Yes, Coinbase is one of Flyp.me's direct competitors, but you know what? Credit goes where credit is due.
Coinbase partnered with Circle to bring about USD Coin, 1:1 USD-backed cryptocurrency that stays true to its $1 = 1 USDC value. How does that work? Essentially, Coinbase keeps $1 in the bank for every 1 USDC in circulation, tying each coin to real — not imaginary or inflated — financial value.
Sure, there are other stablecoins out there, but few of them are audited, and even fewer come with the guarantee that only a big name like Coinbase can provide. USDC provides some welcome relief by being, well, stable.
USDC Stablecoin Is Powered by Ethereum
Another major plus USDC has going is it's powered by Ethereum, our favorite decentralized ledger for all things DeFi (decentralized finance). As the undisputed hub of the emerging DeFi economy, Ethereum has nearly $1 billion in value locked into the blockchain.
Being Ethereum-based makes the ERC-20 standard USDC coin easily transferable between you and other crypto users, or from your wallet to exchanges. This ease of transfer is especially handy when you need to make a move quickly — unlike the Bitcoin blockchain, Ethereum tends to be quicker.
If you're ready to trade some USDC cryptocurrency without the hassle of creating an account, then head over to Flyp.me and get started now!
About Flyp.me
Flyp.me is the professional tool for instant crypto trading. There is no registration necessary and no hidden analytics tracking you. Moreover, Flyp.me does not control users' funds, so your private keys are not at risk of being held on third-party services.
Flyp.me currently supports over 30 cryptocurrencies and is continuing to add more: Bitcoin, Ethereum, Zcash, Augur, Litecoin, Syscoin, Pivx, Blackcoin, Dash, Decred, Dogecoin, Flyp.me Token, Gamecredits, Peercoin, Aidcoin, 0x, Vertcoin, Basic Attention Token, BLOCKv, Groestlcoin, Essentia, DAI, DGD, Power Ledger, Enjincoin, TrueUSD, Cardano, Storj, Monero, Maker, TetherUS, DigiByte, and now USD Coin.
Connect with the community on Telegram, Twitter and Facebook.