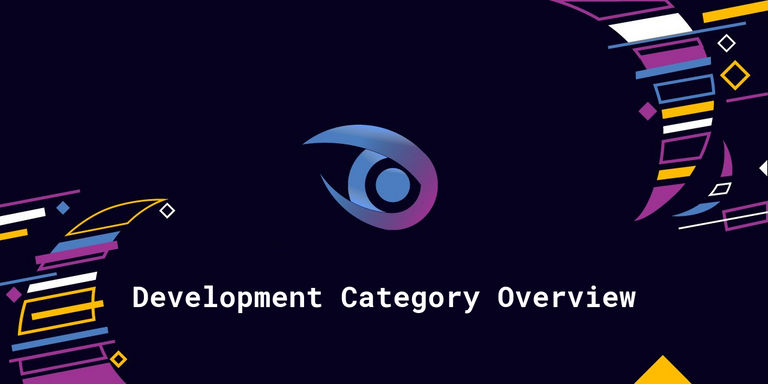 https://github.com/utopian-io/v2.utopian.io
2019-04-12 15:00:00 UTC to 2019-04-19 15:00:00 UTC
This is a weekly, semi-automated post where I will show some statistics and graphs of the development category. It will also serve as a showcase for the staff picks and task requests that were made in the current week. If you have any suggestions or things you'd like to see in this post, then please let me know!
Sorry for the delay as well. I wasn't able to post this yesterday, but it still covers the same time period as usual.
Previous posts
Top contribution(s)
For the most part, Tender is simply a Steem Engine block explorer. But it's a little more than just that. It's also a rest endpoint for querying account history. For example, if you're running an exchange, you can use your own tender node to programmatically query deposits to your exchange.
With the @steemalliance's decision to use dPoll for their voting/election activities, a couple of concerns were raised regarding the Steemconnect authentication on dPoll. With this update you can now also vote with Keychain instead!
A greatly significant step forward has been made with the completion of the posting functionality. Being able to post to Steem is a highly valued function to have for any front-end. KURE is more and more becoming a fully functional front-end with all the bells and whistles that others have.
This time, sortable top lists, general improvements and an anti afk add-on have been added, which give the game more depth, particularly the sortable top lists now allow players to specialize to specific parts of the island. They no longer can only be the first guy who has the most valuable island but also the one who has the most visitors or challenge experience gathered.
Category summary
Score distribution in the development category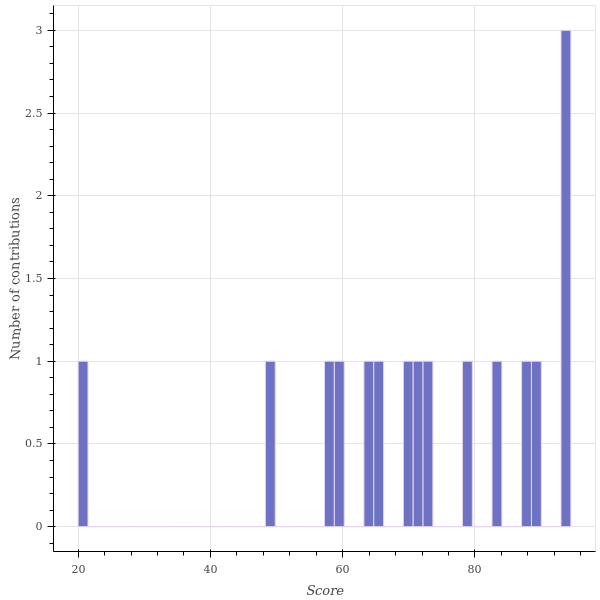 Number of contributions per weekday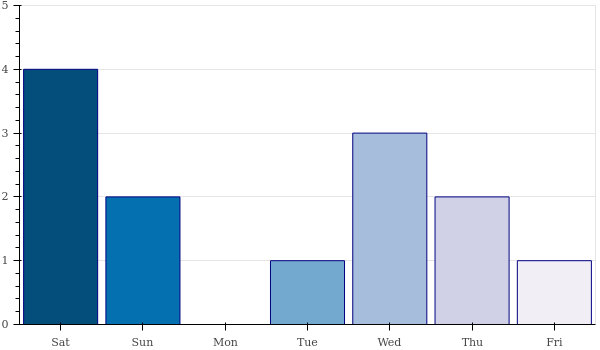 As you can see, Saturday was the day with the most activity in the development category. Monday had the least activity in the entire week, so if you are scared of competition then this is the day to contribute!
Average score, reward (STU) and time before review (hours) per week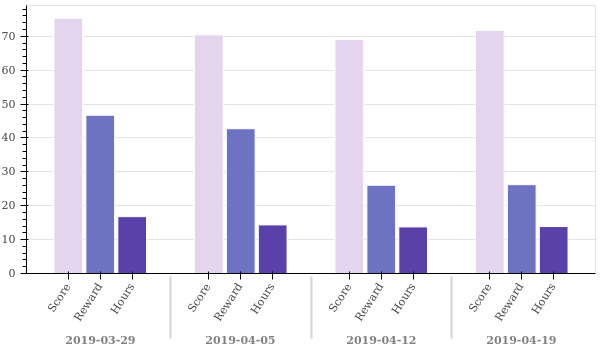 Time before review is the number of hours between the creation of the post and the time it is reviewed by a moderator.
The average score of contributions has gone up from 69.1 to 71.8 this week, which is a good indication that the quality of contributions has also gone up! The average reward, just like the average score, has also gone up (from 26.0 STU to 26.2 STU), which is of course great for our contributors. Lastly, the number of hours it takes for us to get to a contribution and review it (on average) has gone up slightly from 13.7 hours to 14.0 hours.
Number of contributions reviewed per week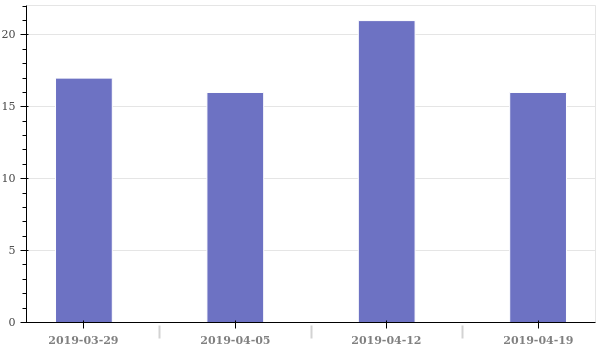 As you can see, the weekly number of reviews is down from 21 to 16. However, the number of contributions over the last two weeks (37) is up from the number of contributions in the two weeks prior to that (33).
Contributors
Number of unique contributors per week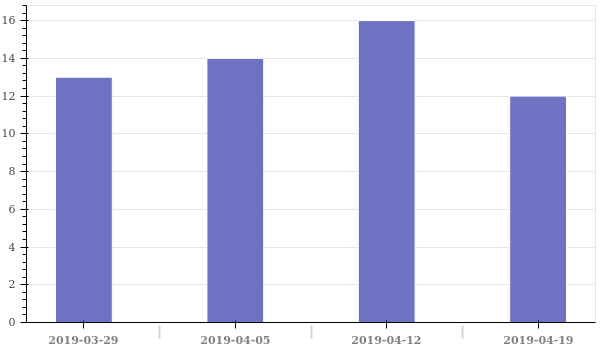 With the number of reviews going down this week it's unfortunately not that surprising to see the number of unique contributors go down slightly from 16 to 12 either.
Most active contributor(s)
Moderators
Number of reviews per weekday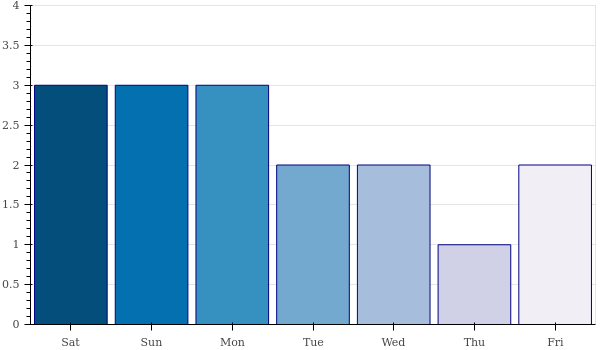 As you can see, there was more than one day where we were busy reviewing everyone's contributions (Saturday, Sunday, Monday). Thursday was the day where we reviewed the least. I'm sorry if you submitted your contribution on that day and had to wait a while for your review, but at least now you know when we are the most active.
Number of contributions reviewed per moderator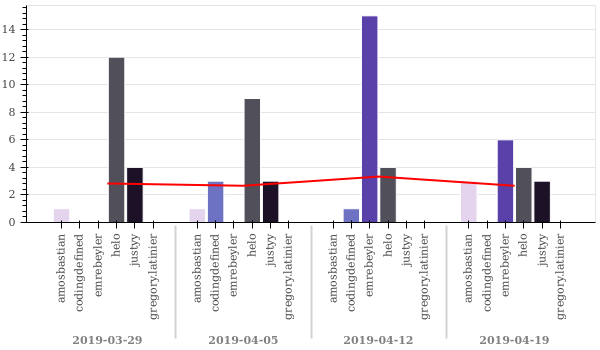 Average score given per moderator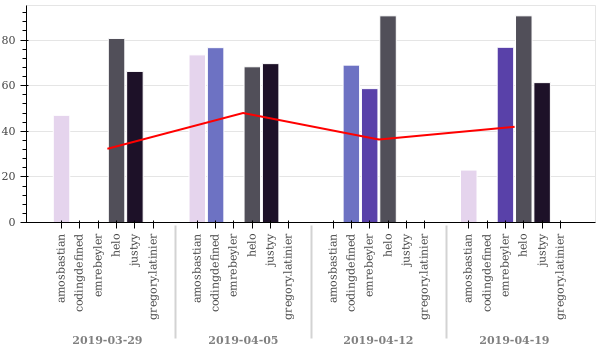 Task request(s)
Surpassing google is looking for someone who can integrate the Teardrops tokens into Ulogs' UI, as was recently done on https://steemgigs.org.
---
Also, if you think there is anything that can be worded more clearly, then please let me know!