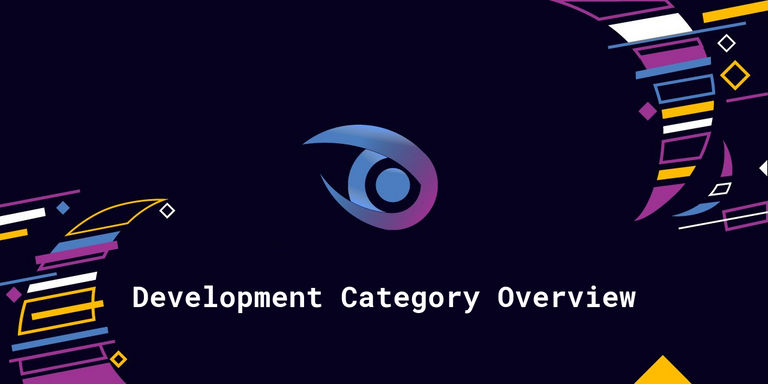 https://github.com/utopian-io/v2.utopian.io
2019-05-03 15:00:00 UTC to 2019-05-10 15:00:00 UTC
This is a weekly, semi-automated post where I will show some statistics and graphs of the development category. It will also serve as a showcase for the staff picks and task requests that were made in the current week. If you have any suggestions or things you'd like to see in this post, then please let me know!
Previous posts
Top contribution(s)
This is a reader for the scouting app developed for FIRST Robotics Team 2708. It is used to scout other robots at the competition. The data is sent from 6 client apps to the server over bluetooth throughout the course of the events. The server must manage and put everything together. Scouting is necessary to be able to change your team's strategy and know what teams to pick to join your alliance. This reader converts the complicated database information into something easily understandable.
Steemengine is a python library for working with steem-engine.com tokens. It is now possible to set the url in the Api class and input the Api object to each steemengine class, which allows users to use the steem-engine testnet.
DelegatorBot is a simple, yet powerful command line bot that uses delegations to determine who it upvotes, rather than bids. The concept is simple: those who delegate get an endless supply of upvotes (with limitations, of course) until they decide to undelegate (delegate zero). The bot can be configured to accept a certain amount of Steem Power as a delegation which will prompt it to follow that account. The bot can then be run to upvote, resteem and reply all of those it follows. DelegatorBot can also generate a daily report which details all of those who have delegated, how much they've delegated, as well as all of those it has upvoted, and the percentage of upvote they received.
Category summary
There were 7 contributions of which 7 have a chance of being rewarded, or already were rewarded.
The average score was 81.4 with an average reward of 22.5 STU from Utopian.
The total reward from Utopian for development contributions this week (so far) is 157.7 STU.
There were a total of 7 unique contributors in the category. Unfortunately there weren't any new contributors.
Score distribution in the development category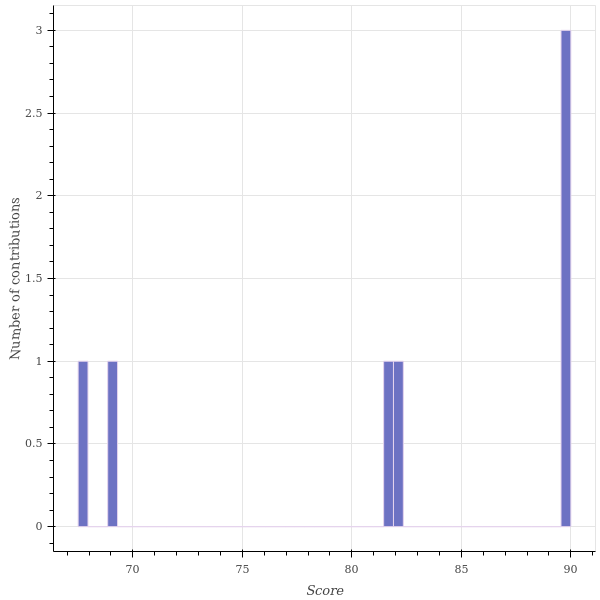 Number of contributions per weekday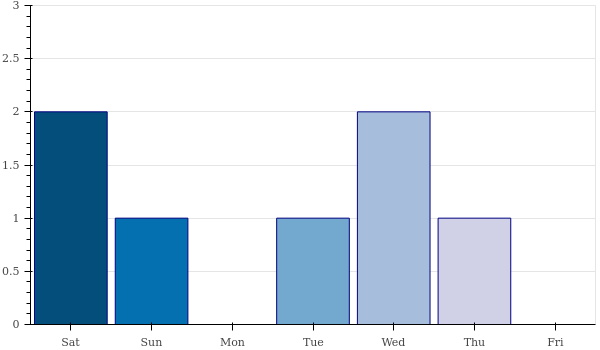 Well there weren't many contributions this week at all, but it was still spread pretty evenly across the week. Not really much to say.
Average score, reward (STU) and time before review (hours) per week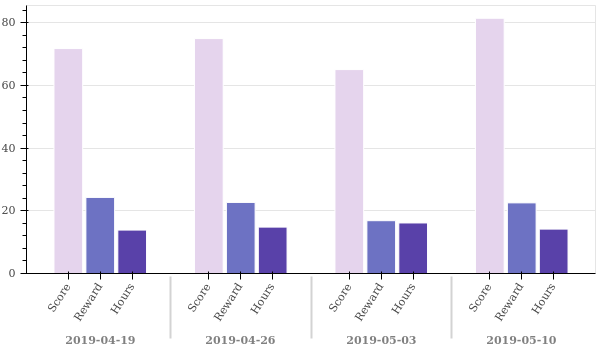 Time before review is the number of hours between the creation of the post and the time it is reviewed by a moderator.
The average score of contributions has gone up from 65.1 to 81.4 this week, which is a good indication that the quality of contributions has also gone up! The average reward, just like the average score, has also gone up (from 16.8 STU to 22.5 STU), which is of course great for our contributors. Finally, the number of hours it takes for us to get to a contribution and review it (on average) has gone down a bit from 16.1 hours to 14.0 hours.
Number of contributions reviewed per week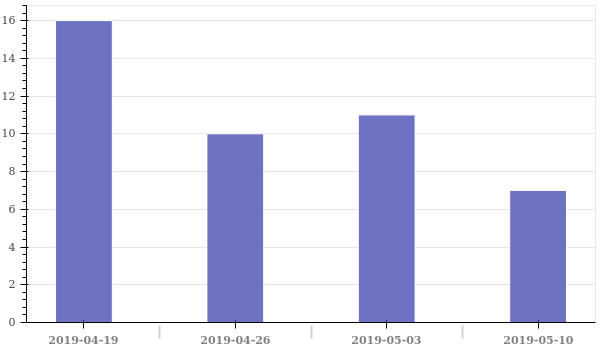 As you can see, the weekly number of reviews is down from 11 to 7. Unfortunately this seems to be following a trend, as the number of contributions over the last two weeks is also down from 26, in the two weeks prior, to 18. Pretty sad to see, but I didn't really expect anything else after the price of STEEM dropped and Utopian lost a lot of its delegation.
Contributors
Number of unique contributors per week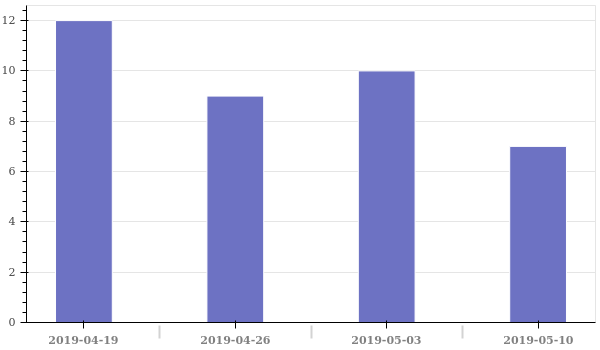 With the number of reviews going down this week it's unfortunately not that surprising to see the number of unique contributors go down slightly from 10 to 7 either.
Most active contributor(s)
Well, once again there were so little contributions that everyone was equally active, so I thought I might as well list all of them here:
Moderators
@helo reviewed 7 contributions with an average score of 81.4.
Number of reviews per weekday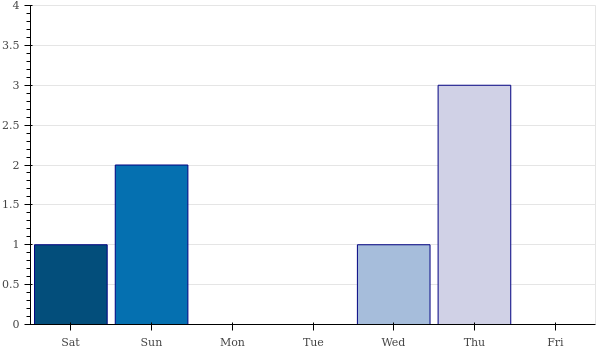 Number of contributions reviewed per moderator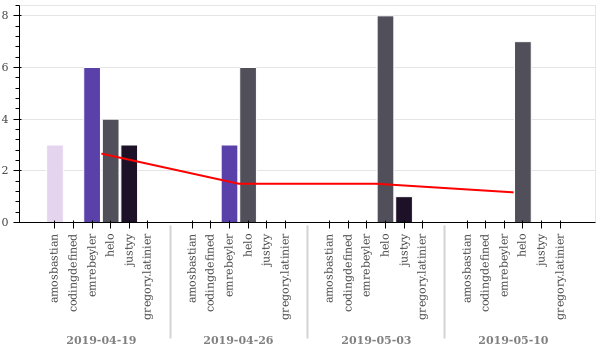 Average score given per moderator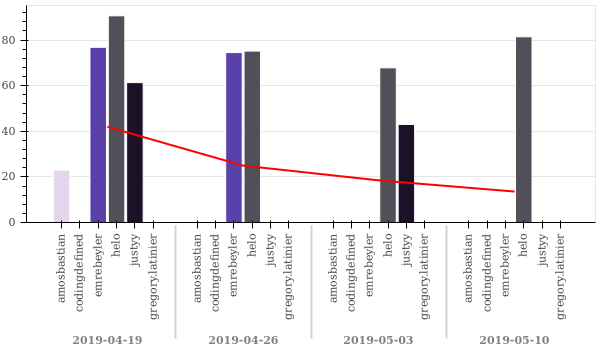 Task request(s)
When Verto migrated to Quasar v1, they experienced a series of L&F issues. The first of these issues is that the choose currency option is not displaying correctly. They want users to see the choose currency options appear properly so that they can read the sceeens instructions, and so they are looking for someone who can implement this.
This is overall 'a simple task'. It contains 4 very-related tasks and much of what you will need to complete these tasks already exists in the current code.
---
Also, if you think there is anything that can be worded more clearly, then please let me know!