This is the First Greek Team Report coming to you through Aristotle, written by @dimitrisp! We have gathered our stats for the Week 07/10 - 13/10 and we are presenting them to you, with (not-that-fancy) graphs and words.
Contribution Totals
This week we had 13 contributions from the 5 members of the Greek Team. Here is a breakdown: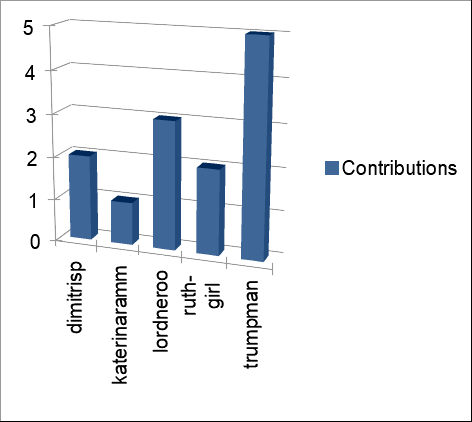 This was the most productive week of @trumpman, so far, with 5 contributions coming from him.
The average $/word (after removing the 25% of the curation rewards, and the 15% cut of the beneficiaries added to the contribution posts) is $0.07.
---
Words Translated
This week, the Greek Team translated a total of 13451 words in 6 projects:
The average wordcount per contribution is 1035 words. A breakdown of words per user can be found in this graph: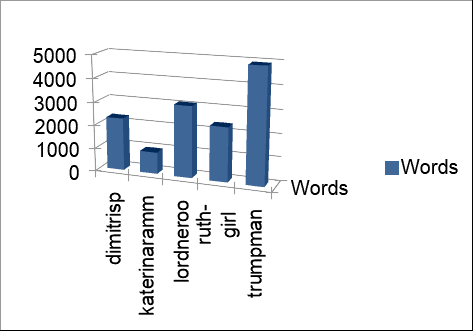 ---
Rewards
NOTE!:Figures may/may not be wrong, as they are calculated with today's price per contribution and rounded to 2 decimal places. This issue will be rectified when our app is in place and starts taking all information at the time of payout. All money figures are after removing the 25% of the curation rewards, and the 15% cut of the beneficiaries added to the contribution posts.
The total amount of rewards the Greek Team has gotten this week is $928.06. We have 2 graphs for this section, the first one is an average USD per word for each translator: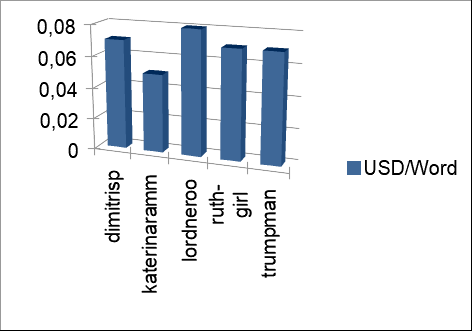 @lordneroo has the highest reward per word ($0.08), while @katerinaramm has the lowest per word ($0.05). In the next graph, we can see the total amount each user has gotten in total.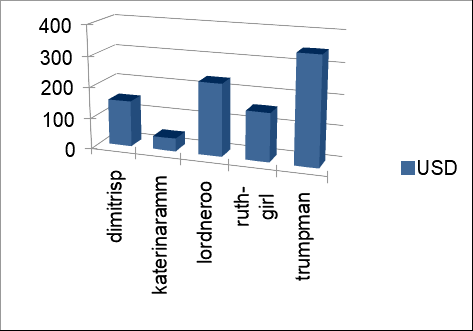 This week, the most-paid user was @trumpman, grossing a total of $348.02, while the least paid user was @katerinaramm at $42.14.
---
Making the Translations Category Great Again
This part of the report has been co-written by both @dimitrisp and @ruth-girl
In the past few weeks, the Translations Category overwhelmed the voting power of @utopian-io. Almost half contributions of Utopian were from our category, which resulted into some great contributions from other categories not to get their rewards.
While the rewards from Utopian are not guaranteed (it's not a job with payment, it is an incentive to contribute to open source projects after all), it is a shame this had to happen. Here are a couple of our team's suggestions
Contribution Limits per User
We've been proposing to have a limit of 3-4 translation contributions per week per user for a long time, and finally we got that! However, there are a few more things we could change to make it even better.
Right now, a translator can post 3 contributions per week. A week is starting on Sunday and ends on Saturday. Hopefully this will help with Utopian's voting power issue.
Project-Locking
We've noticed some users that are "project-hoping" (starting a project, doing a few translations there, abandon it, start a different one etc). This is BAD and we consider it a money-grab (and abuse of your position).
The Language Moderators should force their translators to finish a project before moving on to another (unless there is a valid reason, such as "too difficult for me", "not enough knowledge of technical term" etc).
Moderator Review
Translators are getting reviewed by the moderators to get their incentive/upvote from @utopian-io. There have been some instances of abusing the review questionnaire (we don't care if it's by mistake or intended). We've proposed to have a "moderator review" team, that will be reviewing the review comments of the moderators and check if they are following the review questionnaire answers.
We are not excluding ourselves from this. We are all people after all, mistakes happen and we want to know if we have favoured some people in the expense of others.
Also, there should be a punishment in case of abuse, but that's not up to me (although it is very easy to abuse the reviewing process without fear of punishment!)
---
This #iamutopian report ends here, we will have another Weekly Stats post next Sunday to see how we are doing!
- @dimitrisp for Aristotle / @aristotle.team