This is the Second Greek Team Report coming to you through Aristotle. The stats part was written by @dimitrisp and the rest of the post by @ruth-girl!
Let's start this week's report with our stats for the Week 14/10 - 20/10, with our signature (not-that-fancy) graphs and words.
Contribution Totals
This week we had 9 contributions from 4 out of the 5 members of the Greek Team. Here is a breakdown: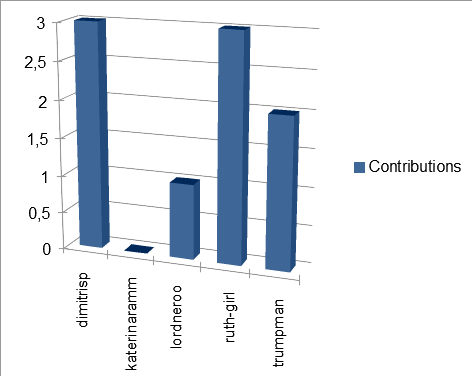 MVP: Both @ruth-girl and @dimitrisp had the most contributions. Even though we are moderators, we can still make our way through translations.
We didn't receive any contribution from @katerinaramm this week.
The average $/word (after removing the 25% of the curation rewards, and the 15% cut of the beneficiaries added to the contribution posts) is $0.05 (previous week's average was $0.07).
---
Words Translated
This week, the Greek Team translated a total of 9910 words in 4 projects (previous week's figures are 13451 words in 5 projects):
The average wordcount per contribution is 1101 words (previous week's average was 1035 words). A breakdown of words per translator can be found in this graph: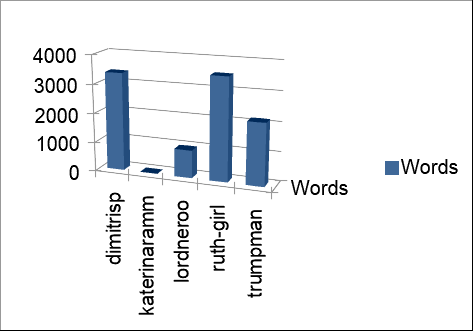 MVP: @ruth-girl, with a total of 3500 translated words.
---
Rewards
NOTE!:Figures may/may not be wrong, as they are calculated with today's price per contribution and rounded to 2 decimal places. This issue will be rectified when our app is in place and starts taking all information at the time of payout. All money figures are after removing the 25% of the curation rewards, and the 15% cut of the beneficiaries added to the contribution posts.
The total amount of rewards the Greek Team has gotten this week is $488.86 (the previous week's figure was $928.06). As with the previous report, we have 2 graphs for this section, the first one is an average USD per word for each translator: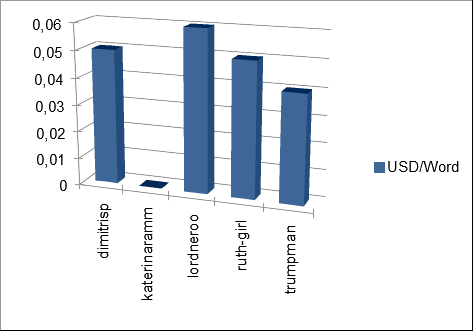 MVP: @lordneroo has the highest reward per word again ($0.06, down from $0.08 on the previous week).
In the second graph, we can see the total amount each user has gotten in total.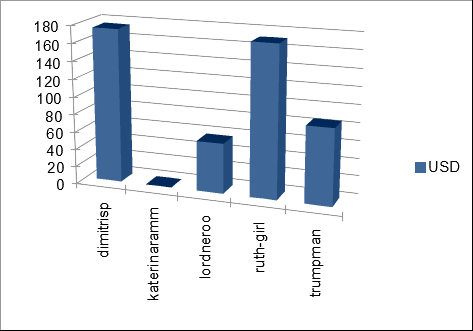 MVP: @dimitrisp with $174.46 (previous week's MVP was @trumpman with a total of $348.02)
If you would like to see more stats/information, feel free to let us know below in the comments.
---
Let's waste no more time with boring stats. @ruth-girl prepared a timeline/overview of our team's most important activity
during the past 2 weeks! Most of these links are posts from our community account
@aristotle.team is 2 weeks old and has already made his first steps in the Utopian world.
The team, as a proud family, have been supportive and highly motivating!
Week #1
@aristotle.team came to life and said his first words here: 
I am Aristotle and I was born in 384 BC in Stagira of Chalkidiki. After 2402 years, I moved into the Steem Blockchain...
He made his intentions clear:
 In this group, we want to support the translations category by providing useful posts containing tips, statistics and tools that make a translator's and an LM's life much easier... We also want to create a curation trail, which will support translation posts and in the future, if circumstances allow us to, more utopian posts...
Saw his powerful tool app getting ready:
Introduced us to his parents:
 @ruth-girl - A Perfectionist, Thorough, Artistic Language Manager and
@dimitrisp - A knowledgeable, sometimes strict but always fair Language Manager (& Dev)
Started following the @davinci.vote trail on translation posts, but other Utopian contributions as well:
We have already set a curation trail to follow the @davinci.vote trail and as a "thanks, mate" all content @utopian-io is posting at a 10% of our voting strength.
And gave us an idea of how efficient his team were:
This is the previous Greek Team Report coming to you through Aristotle, written by @dimitrisp!
Productive week for a newborn, don't you agree?
---
Week #2
During his second week of existence, Aristotle introduced us to his godparents, the amazing translators:
@katerinaramm - a tech-curious, not-enough-time whiner, always open to new ideas for improvement;
@lordneroo - an enthousiastic guy who brought his technical skills & knowledge into the translations category, and
@trumpman - the alter ego of trumpman2, a spontaneous, talented & mysterious Greek Translator
And he got really happy to see the first update on @dimitrisp's progress within the week: 
A demo of the app was distributed among the Greek translation team and other LMs who felt willing to help by trying it. Aristotle can't wait to see his tool being launched and widespread! Let's hope this will happen soon!
---
@aristotle.team is still young and small, but we have faith in his potential and great ideas coming from his hard-working team! Thanks to people who have shown trust in him, we have gathered delegations by:
We are thankful for that and we hope to live up to your expectations, guys!
We aspire to become even stronger and manage to give back a piece of the support Utopian has been offering to us and the opensource community.
We are proud to be part of such a huge, community effort and we will keep doing our best, contributing in any way that we can!