This is the Third Greek Team Report coming to you through Aristotle, written by @dimitrisp
Let's start this week's report with our stats for the Week 21/10 - 28/10, with our signature (not-that-fancy) graphs and words.
Contribution Totals
This week we had 8 contributions from all 5 members of the Greek Team. Here is a breakdown: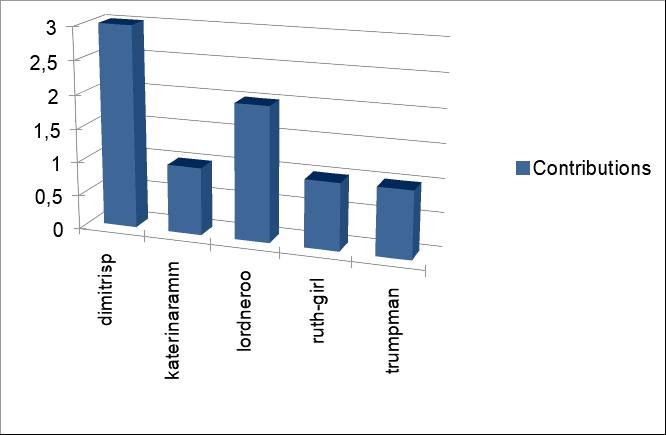 MVP: @dimitrisp had the most contributions.
The average $/word (after removing the 25% of the curation rewards, and the 15% cut of the beneficiaries added to the contribution posts) is $0.05 (previous week's average was $0.05).
---
Words Translated
This week, the Greek Team translated a total of 8532 words in 7 projects (previous week's figures are 9910 words in 4 projects):
The average wordcount per contribution is 948 words (previous week's average was 1101 words). A breakdown of words per translator can be found in this graph: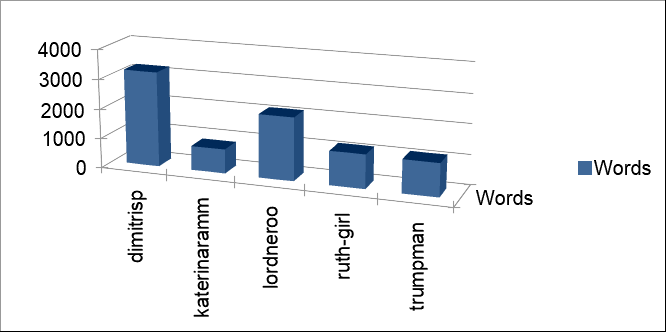 MVP: @dimitrisp, with a total of 3205 translated words.
---
Rewards
NOTE!:Figures may/may not be wrong, as they are calculated with today's price per contribution and rounded to 2 decimal places. This issue will be rectified when our app is in place and starts taking all information at the time of payout. All money figures are after removing the 25% of the curation rewards, and the 15% cut of the beneficiaries added to the contribution posts.
The total amount of rewards the Greek Team has gotten this week is $384.41 (the previous week's figure was $488.86). As with the previous report, we have 2 graphs for this section, the first one is an average USD per word for each translator: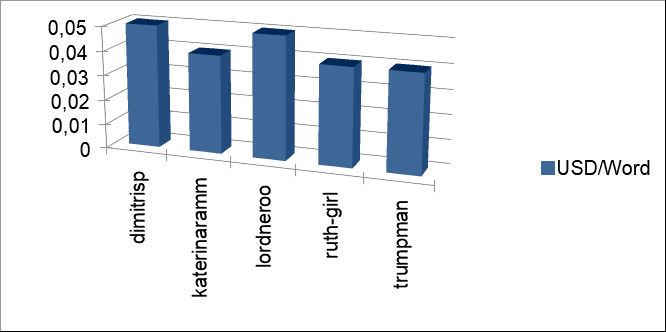 MVP: @lordneroo & @dimitrisp have the highest reward per word again ($0.05, down from $0.06 on the previous week).
In the second graph, we can see the total amount each user has gotten in total.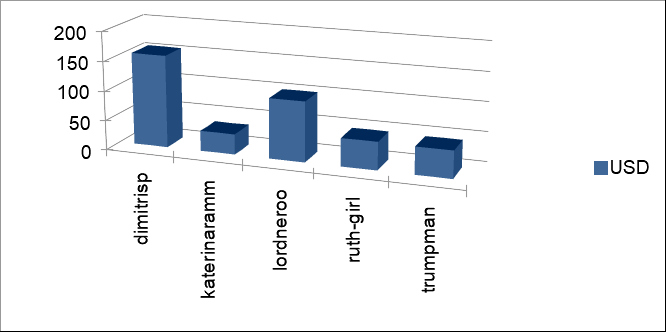 MVP: @dimitrisp with $156.07 (previous week's MVP was @dimitrisp with a total of $174.46)
If you would like to see more stats/information, feel free to let us know below in the comments.
---
Community Status
Sound of Silence
In the past week, Aristotle has been silent. The team has been very busy with real life things (meaning, outside of Steemit). There are a few plans for a future series of posts and Aristotle can't wait for this to happen as "Come on, it is boring. I am in this awesome blockchain and I have nothing to do" (his words.)
Curation Trail
Aristotle is upvoting the Greek Team's posts, all posts by @utopian-io, all translation contribution posts and the posts of his supporters (those who delegated some SP to him).
In the past 7 days, Aristotle upvoted 67+ authors on 140+ posts, giving out $3.30+ in total rewards. When asked, Aristotle responded "I hope the gum they can purchase from the money they got from my upvotes, will be tasteful"
The current voting weights are:
Translation contributions: 10%/post
@utopian-io: 100% upvote on 1 post/day
Greek Team: 100% upvote on 1 post/day
Delegators: 3% per 10SP delegated on 1 post/day
The upvote for delegators is not guaranteed. Aristotle thought it would be nice to give something back to them, but if the Voting Mana is not enough to upvote the translation contributions, the delegators may not get their upvotes.
We are monitoring Aristotle's Voting Mana, and we barely see it go below 90% (most of the time, it ranges between 97%-100%)
October funds
As October has passed, Aristotle sent 5% of his liquid balance to his alter-ego @aristotle.pay[B:27300864], to be used as a Dev Fund for the upcoming app.
Then, he converted the rest of his liquid balance to SP[B:27300910], and proceeded to do a Power Up of 11.41SP[B:27300917]
---
Picks of the Week
Each week, Aristotle is going to pick a couple of projects and say a few words about them. We've asked him to prepare a questionnaire for the team, but he said it might take him some time!
Let's have a quick look on his Picks of the Week.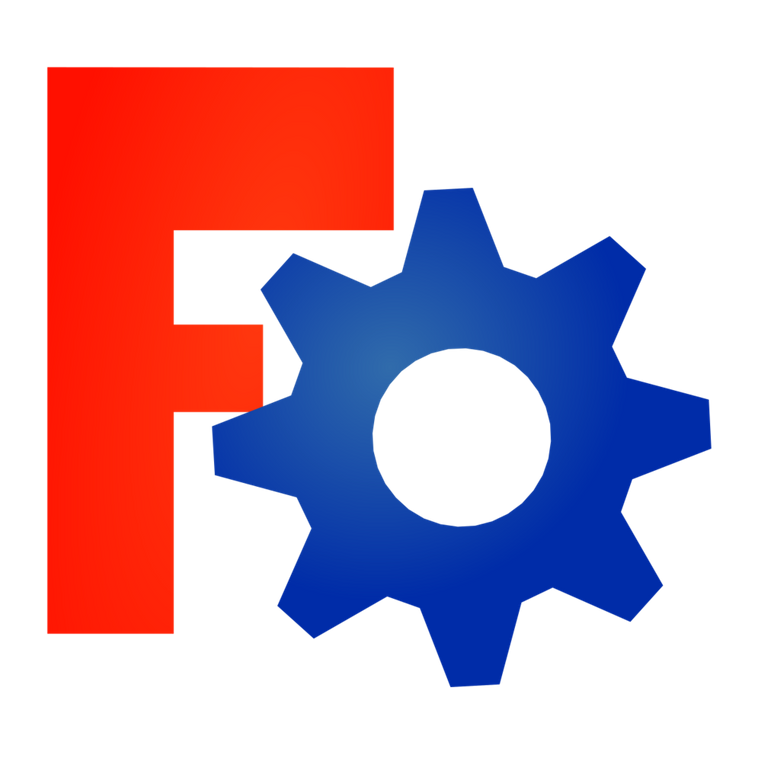 @lordneroo has been working on this project since July 10th, and he has made 24 contributions up to the week of this report (not counting the contributions of the following week)
Aristotle is very happy to see that a 3D CAD modeler is being translated in his language! Sure, it is hard, but @lordneroo delivers.
FreeCAD was initially released in October 29th of 2002 (that's a few days over 16 years ago!). It features tools similar to Autodesk Revit, CATIA, Creo, Autodesk Inventor, SolidWorks or Solid Edge, and therefore also falls into the category of Building Info Modeling (BIM), Mechanical computer-aided design (MCAD), PLM, CAx and CAE. It is intended to be a feature-based parametric modeler with a modular software architecture, which makes it easy to provide additional functionality without modifying the core system.[Wikipedia/FreeCAD]
---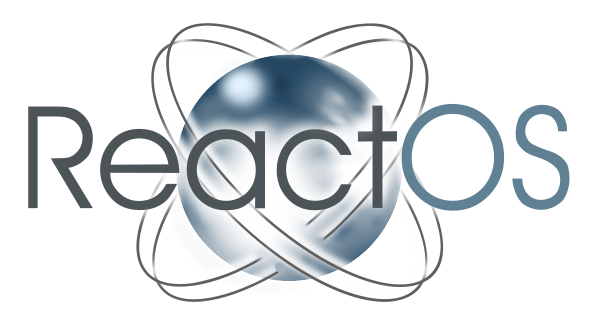 Aristotle picked this project for this week's overview, as @dimitrisp has just finished translating it! The translation started in August 10th and it took 27 contributions to finish. As @dimitrisp told Aristotle:
It was kinda difficult, as there are a lot of dead technologies mentioned in the Operating System. At some points of the translation, it took me more time to research things, than translate. However, since this project can have a huge impact on our everyday lives, it was 100% worth it!
ReactOS is a free and open-source operating system for x86/x64 personal computers intended to be binary-compatible with computer programs and device drivers made for Windows Server 2003 and later versions. Development began in 1996, as a Windows 95 clone project, and was continued as ReactOS in 1998, with the incremental addition of features of later Windows versions. ReactOS has been noted as a potential open-source drop-in replacement for Windows and for its information on undocumented Windows APIs. As formerly stated on the official website:
The main goal of the ReactOS project is to provide an operating system which is binary compatible with Windows ... such that people accustomed to the familiar user interface of Windows would find using ReactOS straightforward. The ultimate goal of ReactOS is to allow you to remove Windows and install ReactOS without the end user noticing the change.
---
That's it for this week! Aristotle would like to thank you for reading this long wall of text! Until next time...
- @dimitrisp for Aristotle / @aristotle.team
@aristotle.team is still young and small, but we have faith in his potential and great ideas coming from his hard-working team! Thanks to people who have shown trust in him, we have gathered delegations by:
We are thankful for that and we hope to live up to your expectations, guys!
We aspire to become even stronger and manage to give back a piece of the support Utopian has been offering to us and the opensource community.
We are proud to be part of such a huge, community effort and we will keep doing our best, contributing in any way that we can!