Welcome to the first installment of the "It's all Utopian, not Greek to me" series of posts!
We deal with each other almost every other day. Yet, we hardly know each other, especially the people behind the translations category (our Utopian Community Managers and the DaVinci Staff). In the coming weeks, Aristotle will be interviewing many of the masterminds (CMs/DaVinci) and the peasants (LMs [don't take this seriously, it's a joke]) of the translations category!
There are 3 sections in these short interviews: Questions related to Cryptocurrencies (in general) and the Steem blockchain, a few random questions about more personal things (such as, their real-life work, life-goals and family) and knowledge about anything Greek!
The first one to be interviewed was our Community Manager @rosatravels, who is striving to make this category better, day by day! The answers are completely unedited (Aristotle insisted on adding linebreaks though)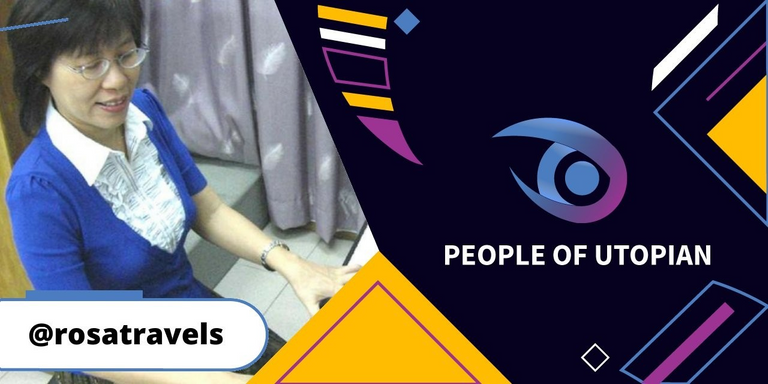 Section one: Cryptocurrencies and Steem Blockchain
How did you find Steemit?
I knew about Steemit from the the Udemy platform when a few instructors started blogging on Steemit in June 2017. That was when Steemit first caught my eyes. I already have my own business and I was not sure what my focus would be on Steemit, so I didn't sign up right away. It was only 3 months later that I signed up as 'rosatravels' as I decided this would be my theme on Steemit.
I have been traveling around the world for a while already, so I thought Steemit would be a good platform to share about my experiences with the different cultures in the world. I love photography and have so many awesome photos to show to the Steemit world.
Have you ever considered leaving Steemit? If yes, what made you stay?
No, that had never crossed my mind, but in the year that I had been on Steemit, I do notice that people come and go easily. I want to stay because I have made a lot of friends and gave valuable contributions to this community in the past year. Like all websites and blogs, there is no easy success. When I built my first website back in 2006, it was not successful at all in the first year. Everything takes time to build.
How did you find Utopian and what made you get involved?
I found Utopian after 3 months I joined Steemit. In the beginning of Steemit, I was more involved with the Chinese community and Steemit travelers. All of a sudden, in October, all the trending posts had to do with Utopian and that caught my attention. I was actually using a lot of different apps like eSteem, steepshot, busy etc and we were asked to report bugs and suggestions to them, and that was how I began contributing to Utopian. I slowly caught on to their vision of Open Source Economy.
Before this time, I was actually using a lot of open source softwares such as Audacity, 7zip and Calibre for my business, so I thought this would be a good time for me to give back to the Open Source Project Owners. As time went on, there was a call to translate the Crowdin projects to different languages, so I responded by doing Chinese translation in Crowdin as that is my field of profession. People from the Chinese community wanted to know how they could get involved, so I started doing tutorials for them.
Before I knew it, I had no time to blog about my travels anymore. By November, 2017, all my time was taken in moderation work in Utopian. Then I became a community manager in April 2018 for translation and totally absorbed myself in there to help the category grow despite of all the setbacks blocking our way.
Are you satisfied with how Utopian handles things?
In the beginning when Utopian began in October, 2017, it took some adjustments for me to understand how Utopian functioned. There were no clear guidelines in the beginning so everything to me was trial and error. It is understandable as all start ups are like that. All I wanted to do was to keep contributing to help their baby network grow, because every new projects require commmitted loyal users. For me, from being a user, I soon became a moderator within a month. I began to see lots of needs in the moderation as some moderators were not doing their jobs properly. I wanted the best moderators in Utopian, so we all did our best to keep the platform going.
All start ups need time and organization. This is where patience is needed for everyone to help Utopian grow. Half a year later in April, 2018, Utopian restructured and it was time to upgrade everything to a professional level. New challenges also came. In September, 2018, new change also came about to upgrade the platform. In the past year, I see that Utopian went through 3 big turnovers. It seems that every half a year, there is a big change to move the platform forward. So I try to see what I can offer with my skills in each turnover.
If you could change one thing in how Steemit & Utopian work, what would that be?
I would love to see more blog posts from the top people and get to know them more in a personal way. I am a firm believer that a network grows and expands when top leaders make themselves more real and personal, just like how we function in our local professional companies.
You probably know what Steemit Witnesses are. How do you choose the witnesses you vote for?
Steemit witnesses need to contribute well to the community. When I see that they make effort to create a gracious atmosphere on the platform and that they take interests in the people, I will choose them.
Do you have a favorite Steemian? If yes, who are they and how you ended up finding them?
I don't have a favorite Steemian, but I always remember and am grateful to the Steemians who took an interest in my blog posts when I first came on the scene. They actually consistently read, commented and upvoted my posts when I began in the first month. They were @onceuponatime, @eroche, @erikaharris.
---
Section 2: Who are you?
What's your real-life job?
I am a professional lecturer, language teacher and counselor in my community. On the side, I am an online music instructor and a kindle author.
Yes and they keep me very busy, but I feel bad I don't always have so much time to give them as I should.
What's your ultimate life-goal?
To use my skills to help people live meaningfully beyond what money can give them.
Even though I am not here on Steemit for the quick get rich scheme, I still have a mortgage to pay off and mouths to feed, so I do expect to get fairly rewarded for the dedicated time and energy I put into helping different communities grow on Steemit. (Aristotle's comment: I hear you sister! Don't we all have bills to pay?)
No. Don't have time to care for them as my life is too busy already taking care of people.
---
Section 3: Is it all Greek to you?
Have you ever been to Greece? If yes, what made the biggest impression on you?
Yes. 5 times already. Of course, the biggest impression was to visit the Acropolis in Athens as I studied about this since high school. I love island hopping in Greece and swimming in all their clean and beautiful beaches. Patmos island is my favorite and a must go destination whenever I go to Greece, as that is the island where Revelation was written.
Have you ever tried any Greek products? If yes, what's your favorite? And what's your least favorite?
I like Greek yogurt! I like Greek salad. My least favorite in the beginning was olives but as time went on, I grew to like them too.
What else do you know about Greece? (Anything from politics to history)
I remember one winter when we traveled from Athens to Thessaoniki by train, we had to wait in line everyday to see if the train would go to Thessaloniki. Because of the snow, the train didn't run. So after about 3 or 4 days, the train decided to go and we were so thrilled. It was my first time to Thessaloniki and when we got off, we just checked in any cheap hotels there were along the main street. Even though we arrived late from the long train ride, we right away walked down to town center where we saw lots of Christmas trees and lights.
It was fascinating and festive even at that time of night. We saw so many Thessalonians. There were so many young people like us and we were probably the only visitors there at midnight. And I had this 'urge' that I wanted to ask them if they knew that 'once upon a time, Paul in the 1st century AD wrote a letter to this city, and that letter actually became an epistle in the Bible! How awesome this is!'
Where I live in HK, there is no long ancient history. So it is quite neat visiting Greece with so much history. I even visited the grave of Socrates in one of my Greek tour. I read about him in high school but never thought of seeing his grave.
---
Wrapping it up with a hypothecial scenario
You have a red button in your office. If you press it, your Steemit account will get a delegation of 1 million SP forever (the owner won't take it back,) but a bomb will go off somewhere that will kill 1 million people. Would you press it?
No, I won't press it.
---
We would like to thank these awesome people for their delegations: