Utopian.io is the only platform rewarding Open Source contributions with Steem and today I am releasing the NEXT BIG THING in the Utopian platform.
This update was requested by some of the most influential people here like @fabien from Busy.org and @cryptoctopus.
From now on every user that has synched the Utopian.io account with Github will be able to push contributions in the categories Ideas, Development, Bug Hunting and Documentation directly to the Github feed of the project.
This will increase the visibility of Utopian.io and of the contributions by a 1000% rate but will also require from our side an even stricter quality check.
Github is very minimalistic and professional and we will have to meet its standards.
This is the second huge update after THE ANNOUNCEMENTS that allow project owners to CrowdSource their Open Source projects via Utopian.io.
The main Utopian features are now all there. From now on we will focus on enhancements, user experience, bug fixing, marketing and QUALITY.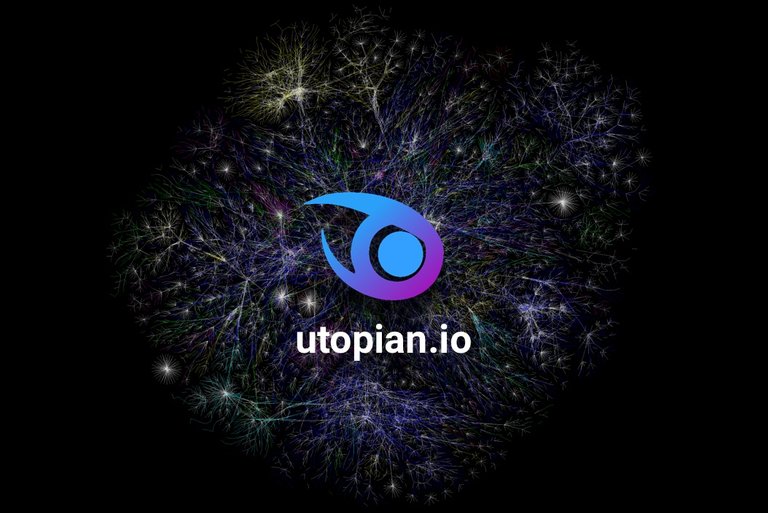 Connect With Github
You can now synch your Utopian.io account with Github. You have the Synch with Github button on the right. This will let you manage your own projects if you maintain Open Source projects or will allow you as a contributor to push your contributions directly to the Github feed of the projects you are contributing to, where every project owner will read FOR SURE.
Be careful here, this also means, our rules will have to be respected in every single aspect. We will be SUPER STRICT from now on and this is important to provide a real value for the project owners.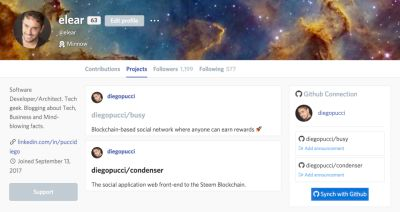 Push Ideas and Hunted Bugs to The Github Issues Feed
If you have connected your Github account with Utopian.io, once you will write an Idea or once you will write about Bugs you have found, Utopian will push your contributions directly into the Issues feed of the project on Github, as soon as your contribution has been accepted by the Utopian Moderators. This means the project owner will FOR SURE see your contribution because every Open Source project owner uses Github issues to check what's going on. So you want to write something that brings value to them!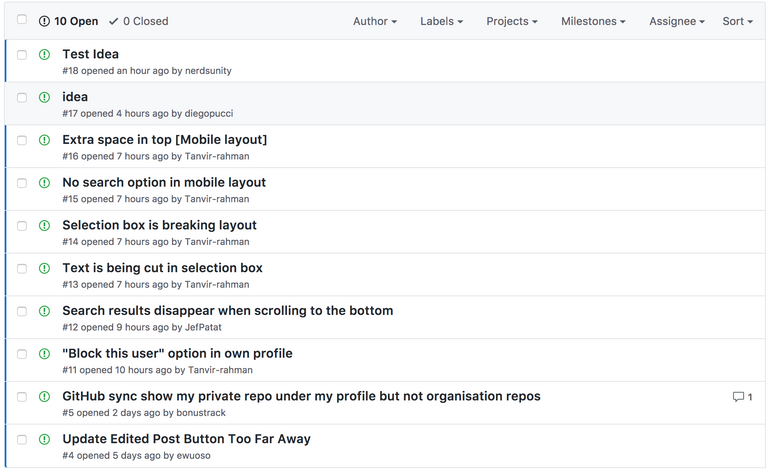 Link Pull Requests on Development and Documentation Categories
This is important especially for developers. When you will write a new Code contribution or a new Documentation contribution from Utopian, Utopian will suggest all the open Pull Requests you have made for that repository.
You will be able to link them to your Utopian contribution and by doing so the Utopian contribution will be pushed to the comments of the Pull Request on Github. This means the project owner will FOR SURE see it and may decide to come to Utopian to reward your contribution.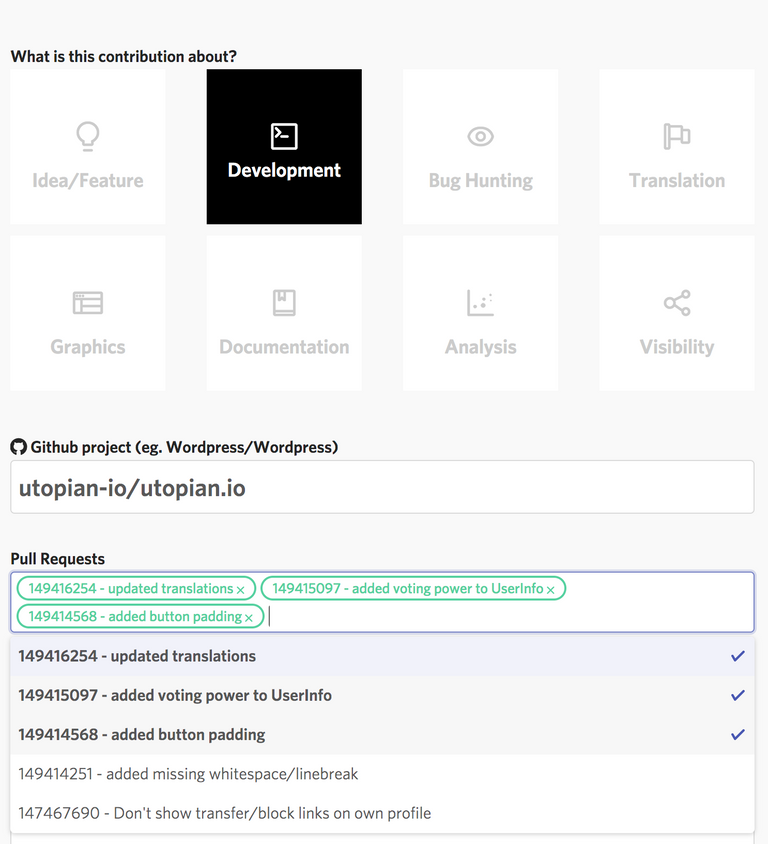 Linked Pull Requests will be also visible at the bottom of your Utopian post.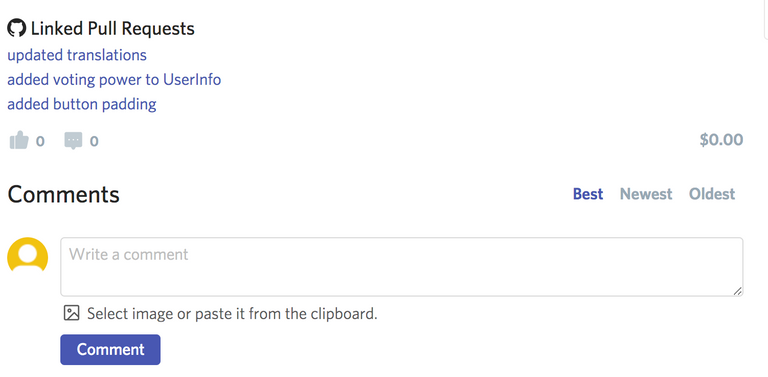 Utopian Goes MainStream
I have been waiting before creating this functionality, because now that we start pushing to the Github feeds, Utopian will easily become mainstream. I was and I am really concerned about the quality and value we will bring to the project owners on Github and for us this is gonna be a huge exercise and test.
A Message For The Project Owners
If you have not noticed yet on Utopian.io you can CrowdSource your Open Source project by adding announcements. Read the Intro Post. Some of your projects are already receiving spontaneous contributions from the community.
Check all the code updates I have just made on https://github.com/utopian-io
A Special Thanks to The Sponsors
@freedom
@transisto
@johnsmith
@xeldal -> Vote for witness
@cryptoctopus
@furion-> Vote for witness
@javybar
@jerrybanfield -> Vote for witness
@netuoso -> Vote for witness
@kendewitt
@ajvest
@masterthematrix
@elear -> me
@materia
@yabapmatt
@allowisticartist
@agoric.systems-> Vote for witness
@n-ur
@masterofcoin
@iliasdiamantis
@techslut
@cmorton
@dragosroua
@unosuke
@gokulnk
@o1o1o1o
@airmatti
@ippua
@ivysrono
@nesian101
@shreyasgune
@lykkejay
@sircork-> Vote for witness
@rival -> Vote for witness
@kemal13
@hadimemories
@soushi888
@mrrifat1
@fakire1sadaka
@alexsm
@doodlebear
@lusanamaya
@rizal.konoha2
@tanvirrahman
A Special Thanks to The Moderators
@elear
@jefpatat
@arie.steem
@stoodkev
@espoem
@drigweeu
---
Are you going to the STEEMFEST?
I'll be there. Lets meet and chat: https://steemit.com/steemfest/@elear/i-am-going-to-the-steemfest-guess-why
Who am I?
11 years Senior Software Architect - Javascript Full Stack Developer, focused on ES6, React.js, Redux, TypeScript, Node.js, and DevOps.
Follow the official Utopian account: https://steemit.com/@utopian-io
Follow me on Steemit: https://steemit.com/@elear
Follow me on Utopian: http://utopian.io/@elear
Add me on LinkedIn: https://www.linkedin.com/in/puccidiego/
---
Open Source Contribution posted via Utopian.io
---