Special thanks to @oups for the logo.
---
dpoll.xyz is an experimental application on the top of the STEEM blockchain. It has an account based voting system, where accounts may vote specific questions asked by other STEEM accounts.
It uses main STEEM posts as questions (polls), replies of the STEEM posts as votes. See an example poll and it's corresponding visualization on steemit.
Polls are great to learn opinions and preferences. I am sure that the STEEM users may come up with great use cases on this subject. One of the good things about storing the data in the blockchain is that the data cannot be tempered, changed, manipulated by an authority.
You can always check the real data and real numbers exactly from the immutable storage on the STEEM.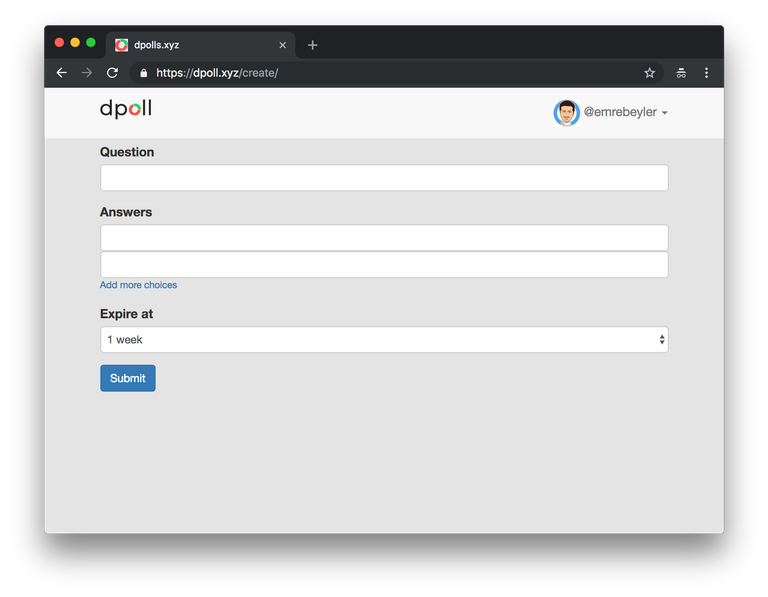 Creating Polls
Every time a poll is created, dpoll.xyz also bundles a couple of custom JSON in the json_metadata to make the filtering on the blockchain easier.
MVP
---
Dpoll, is a minimum viable product, at the moment. I have developed it as a one man team to join the Utopian hackathon.
That being said, it's considered as an alpha product, at the moment. This is a public testing stage where the users may encounter bugs and problems. Use it at your own risk.
Steemconnect integration and Security
---
To authorize STEEM users, dpoll uses Steemconnect. It's a kind of industry standard at the moment.
It never stores the keys of your accounts. Steemconnect tokens are stored as cryptographicly signed HTTP-only cookies. Adding support for private posting key logins is on the roadmap, but it's not prioritized yet.
How to create a poll?
---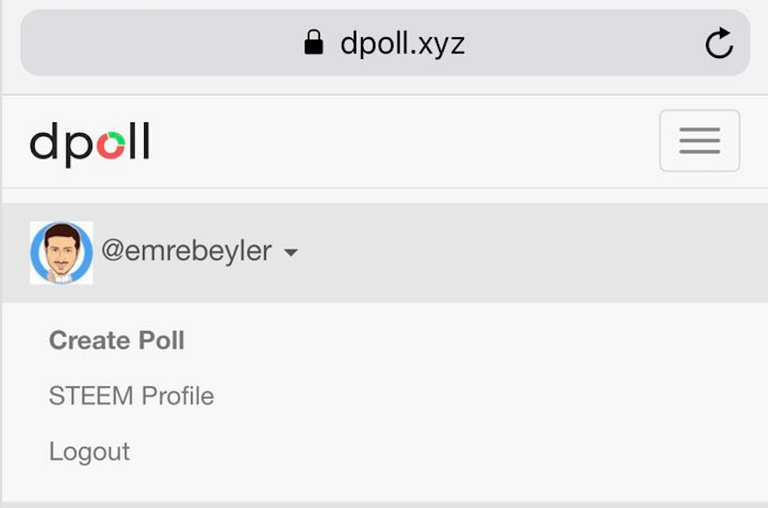 After logging in with the Steemconnect in the website, click "create poll", and you're all set.
Open Source
---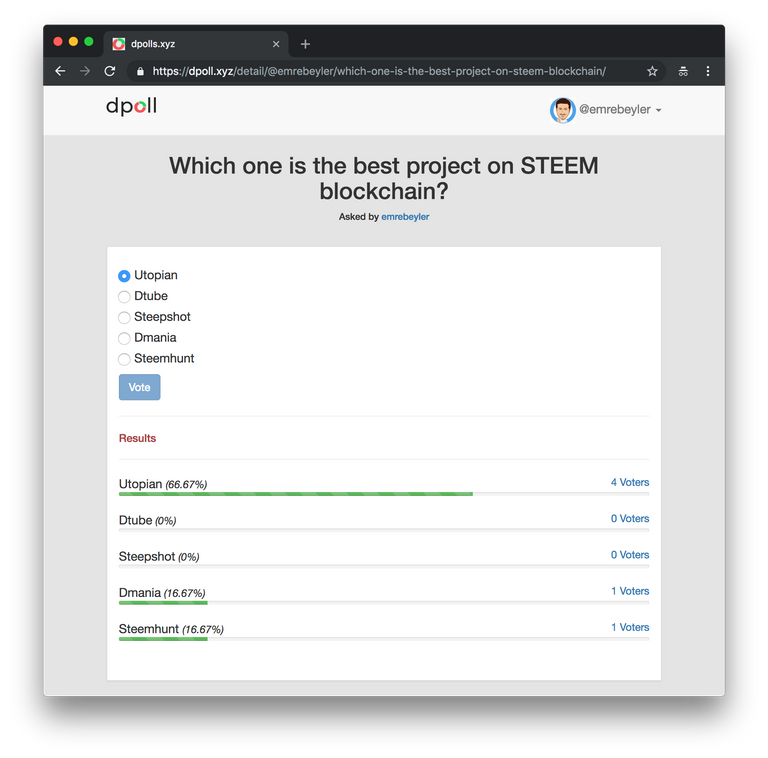 Poll detail page
Dpoll is an open source Python/Django project lives under @emre/dpoll.xyz. Since this was initially a prototype for a hackathon, there are some ugly pieces needs to be refactored. So, feel free to work on issues and contribute to the project.
Roadmap and Ideas
---
Stake based voting. (optional)
Discussions on the polls to increase engagement.
Better visualizations on results.
Editing polls.
Technical refactoring. Hello, hackathons! :)
Revamping the frontend.
Option to "vote" from Steemit or other interfaces via comments. That will not require any additional authorization.
Vote for me as a witness
---
I do my best to support the blockchain with my skills. If you want to support me, consider casting a vote on via Steemconnect or on steemit.com.