https://ipfs.busy.org/ipfs/QmQVtyAAaxeszFeAg9iGa9s1fDQCdmk8KKA2SibGwnF71h
Repositories:

FreeCAD on Crowdin | FreeCAD on Github
Project Details:

FreeCAD is like a swiss Army knife when it comes to engineering toolkits. Thanks to its open source nature it can be used by anyone to create product designs, mechanical engineering and architecture objects.
A variety of its features are used today by a wide range of students and teachers. It is capable of delivering 3D real-life objects taking advantage from the parametric modeling feature which can be used to easily modify a design with the possibility to go back in history and change some of its parameters.
Unlike its direct competitor on the market: AutoCAD, which has an annual subscription of more than a 1000$ which is impossible for normal students in my country to pay. FreeCAD can come to the rescue by providing a complete engineering toolkit for free.
So, from now on it will be my life mission to provide a proper and accurate translation of this wonderful gift.
Contribution Specifications:

This is my sixth contribution to the FreeCAD open source project.
i have surpassed 40% on the general count, and i'm having a better understanding of the project with every contribution, i'm not done yet with the sentences that i found(i'm not going to say 'handy') but simply not worthy of contacting the owners or the FreeCAD community, because otherwise i'll need to ask them about 60%-70% of the project. i try as hard as i can to provide a translation that is close to the original and decent at the same time, and i was asked by our LM to mention the different efforts conducted in the translation process. So, follow me
In this session:

i have made a simple tutorial to talk about a tip that i have been using for quite some time, and that it would add some to the community if i made a video tutorial about it. So, i hope you guys will enjoy watching: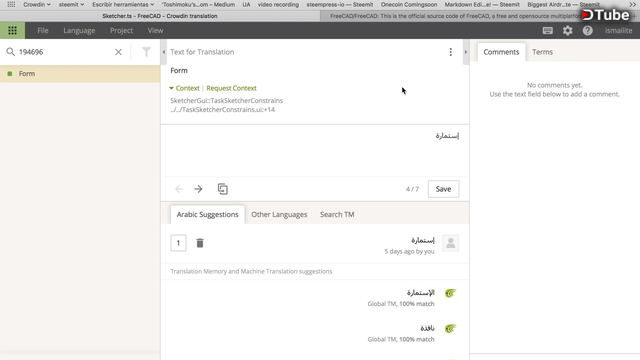 ---
Languages:

The FreeCAD project is written in a professional english related to the engineering field. my task during this period is to provide an Arabic translation and i'm capable of that simply because i'm an Arabic native speaker.
Word count:

Total words count: 31 770 words.
Total words translated in this part: 780 words.
Number of untranslated words in this part: 31 words.
Number of duplicated words ≈ 68 words.
Time frame: from august 31 at 03h00(GMT+1) to september 4 : Proof (Total) - Proof(last contribution) .
Final count: 749 words.
Proof of Authorship :

CrowdIn project link | My CrowdIn profile link | My activity link
Credits :

A big hug for the @utopian-io and @davinci.witness teams for making this kind of contributions comes to light.
A big thanks to the Arabic team for their continuous support and assistance.
And welcome 😃 to our new moderator and the new members of the Arabic team.
https://steemitimages.com/0x0/https://ipfs.busy.org/ipfs/QmXQ1AauN9iFi3Ut1NbmWc28NUcK7yqcZ9SmdjbHhvPNos