You may be wondering, "why would anyone want to exchange votes with other steem users?" Well, let me give you a few reasons. Whether you are a plankton, minnow, dolphin or a whale, this article was written for you. Exchange of votes is not like a "follow for follow" service, the former adds value to the steem community, while the latter doesn't. Also, the latter is against steem etiquettes.
In recent times, activities on Steem has reduced. People no longer come around to support one another. Steem prices keep crashing. These have adversely affected content creators on the blockchain. Today, I'll be reviewing a platform where you can get traction for your contents.

Repository
https://github.com/ArtoLabs/SteemAX
What is SteemAX?
SteemAX is an automated website where Steem users exchange upvotes with one another for a defined duration. It is a platform created to assist content creators with low steem power (minnows), as they can exchange votes with those with a higher Steem power (whales).
The exchange of votes on the website could be equal or unequal. It is equal when the exchange of votes on the website is 1:1, i.e. when they upvote each other with a similar dollar value. If the exchange of upvotes involves varying dollar value, it is then said to be unequal. The inequality ranges from 0.001:1 to 1000:1. (Note: vote exchange is between two users)
Why would a whale want to support a minnow with SteemAX?
Currently, most whales on Steem delegate their steem power to bid bots, so they can have returns on their investments. SteemAX provides a better alternative. Whales understands that for their investment to grow, the community itself needs to expand. And for the steem community to grow, the support of whales on quality contents is needed.
It may be difficult for a whale to support a wide range of authors on Steem. They may just be supporting the few content creators they know on the platform. When I joined Steem over a year ago, the support from whales was one of the things that encouraged me to remain on the platform. Johal, for instance, usually follows good content creators he stumbles upon. But he definitely cannot know all the creative content creators on Steem. That is where SteemAX comes in, giving visibility to these minnows.
With SteemAX, whales can distribute their upvotes across a number minnows, without using bid bots as a medium. Whales, dolphins and orca-whales are not excluded from those whom may benefit from this project. This method would also favour those that have sentiments towards the use of bid bots.
It is important to note that SteemAX is currently in a beta stage. This means that new features are continually being rolled in, and may contain a number of bugs. Being an open source project, anyone can contribute to it. One way I'm contributing to the project is by writing this post, for visibility and sharing my suggestions.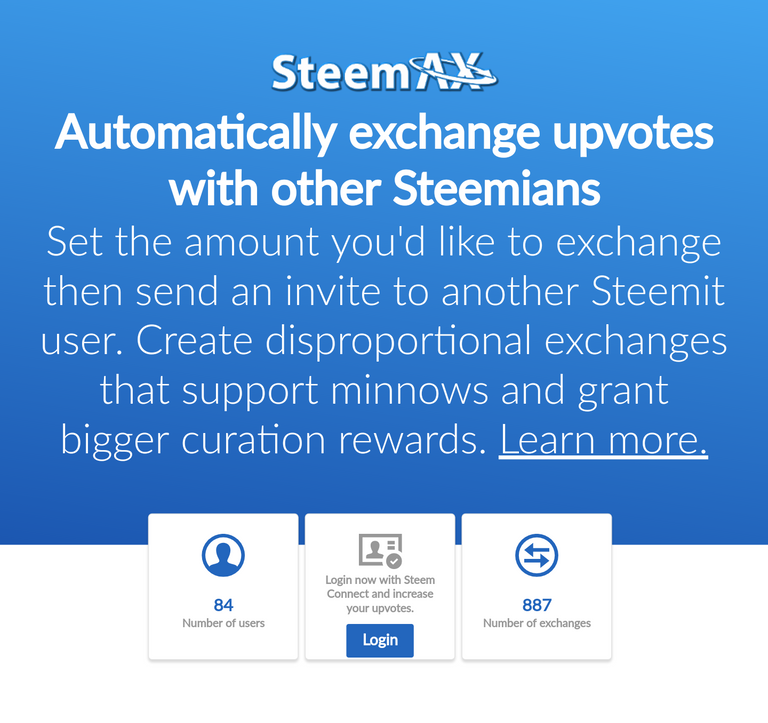 Trade Page (SteemAX.trade)
This page shows an option to login using SteemConnect. It also shows the number of exchanges and the number of users on the website. Currently, there are about 882 vote exchanges and 84 users. I just made it 85 users. :)
On this page you can exchange vote with any Steem user, even if they haven't signed up on SteemAX yet. After logging in, the website redirects a steem user to a page where you can invite another steem user to exchange votes with you. There's a space to insert the steem username of the person you want to invite, the vote weight, ratio and duration.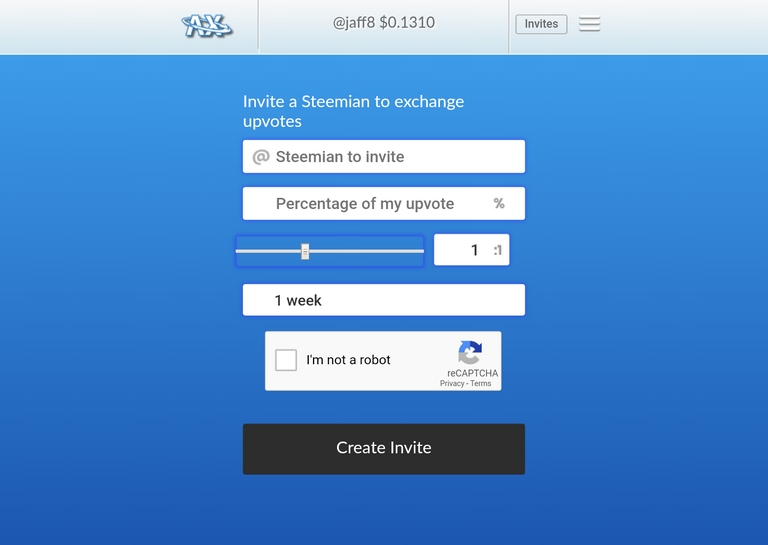 Steem Username
Only valid steem username can be written here, unregistered steem accounts wouldn't work. This is because as soon as you write the steem username, the website fetches data of the account from the blockchain. It shows the account vote value at 100% vote weight.
For example, I want to exchange votes with "thejohalfiles," I'll simply write his username in the box. His vote value would then appear. I can then determine the difference between my 100% vote weight and his. Mine is lower because he has a larger steem power than mine.
Vote Weight
This is where you write the vote weight you'll like to use for the exchange. The tab accepts only whole numbers. 1% is the least whole number that works in this tab. And a maximum of 100% vote weight.
Vote Ratio
This is the part that determines if the vote exchange would be equal or unequal. The ratio on the form is X : 1, where X can be adjusted by the the inviter, whereas 1 is a stationary figure for the invitee. If I'm to exchange votes with Johal (mentioned earlier), I'll simply make the ratio 0.1 : 1. That means I'll profit more from the vote exchange. I'd just have to hope he likes it.
Duration
There's a drop down menu on the tab to select the duration you want. So you don't have to write anything, just to tap your preferred duration.
Captcha
Lastly, you'll have to solve a captcha on the website before you can click the invite button. Captchas are made to reduce/stop bot activities. Since one has to log into the website with SteemConnect, I don't think there's need for a captcha. Or maybe it's because I hate captchas. :D
Invites
There's a button at the top right corner when you're desktop mode that shows invites. Clicking on the button shows invites you have received. I'm new on the platform, so I'm yet to receive any invites.
Suggestion
After creating an invite one has to head over to use any steem condenser to send the invite as a memo to "steem-ax." Steem-AX account then sends the invite to the invitee via memo. I would suggest it makes use of reply, just the way Partiko Messenger works. Not everyone goes through memos on steem, it's usually filled with spam messages from bots. Most people might feel it is a random bot message.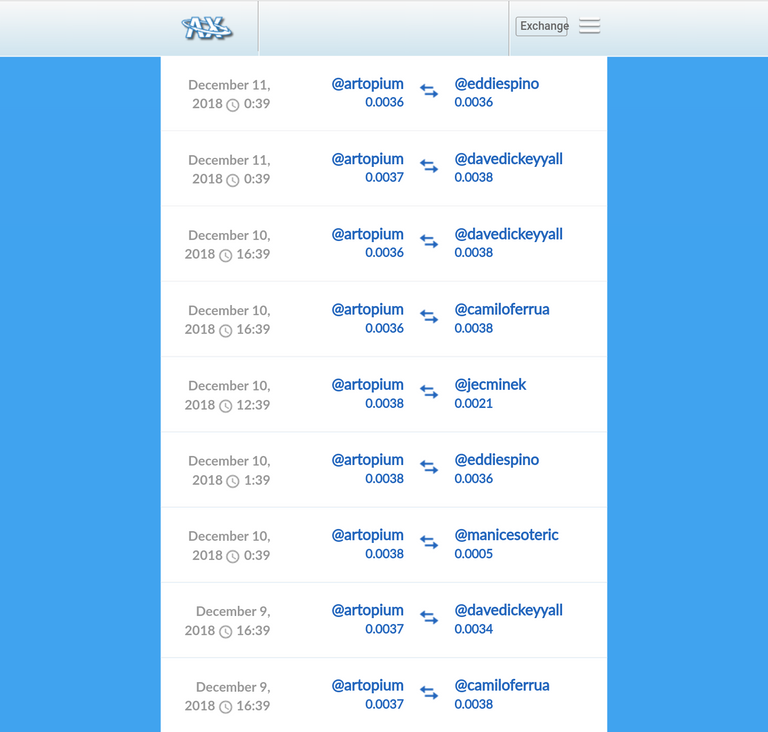 Exchange History (SteemAX.info/history)
This is one very long page that shows all the vote exchanges that have been done on the platform. Unlike the Trade page, the History page is a public page. That means you don't have to login to see all the exchanges. It shows the two steem accounts that were involved in each exchange. It shows them in a defined order, inviter vs invitee. Hovering around the usernames shows links to articles upvoted.

For example, the oldest vote exchange can be found at the bottom of the page. It was between Artopium and Davedickeyyall. The date is also shown. It was on the 9th of September, 2018 (at 9:39 am). The vote trade was unequal. The amount exchanged was 0.0029 vs 0.014. So, I would say Artopium profited more from the vote trade.
Exchange Info (SteemAX.info)
The steemax.info page redirects to steemax.trade. It's the website where users data can be seen. You can check a user's history by visiting steemax.info/@username. The most seen username on the history page is Artopium. I can check his history by replacing "username" with "artopium." Here's what it displays: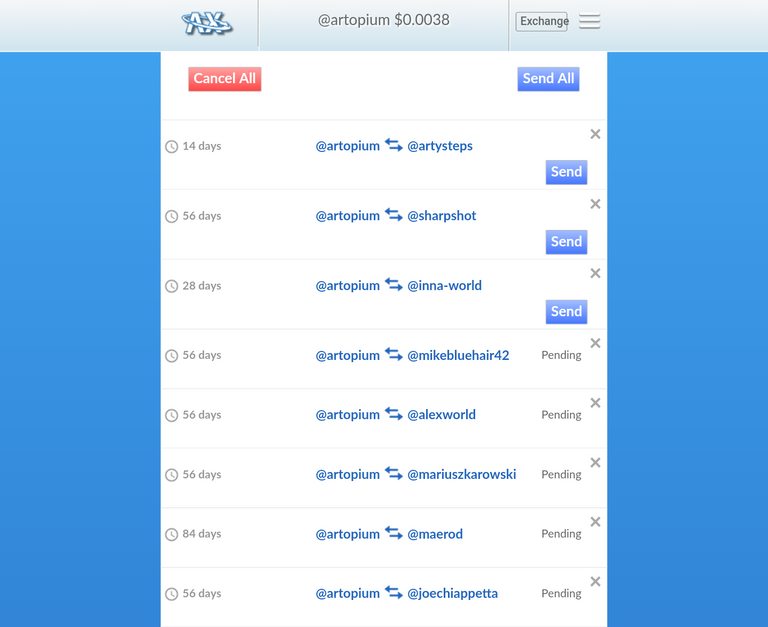 Artopium's page shows the different invites he has sent on the platform, and active invites. The page also shows pending invites that were made by the user.
Suggestions
Although I'm not @artopium, I see the options to cancel and send invitations. I think it shouldn't be so, even if it doesn't work.
There could be a search bar to easily search for a user's history, instead of having to edit the url each time I want to see an account's history. Implementing a search bar would improve the website's navigation.
Security
SteemAX is made up of two urls - steemax.trade and steemax.info. Different urls were created to improve security. SteemConnect is integrated only on steemax.trade. Steemax.info doesn't require steemconnect, because it only shows user data. It's only normal to see SteemConnect integrated in most of these steem-related websites.
SteemAX vs SteemAuto
SteemAX and SteemAuto are automation tools on the Steem blockchain. SteemAX is used to automate votes trades between two users, whereas SteemAuto is used for automation of votes on users, trails, comments and a few other features. You can read my review of SteemAuto on my blog.
On SteemAuto, there's no polite way to tell a whale to upvote your posts. But on SteemAX you can simply invite a whale to trade votes with you on the platform. I like both platforms, and I think they have their different use cases.
Conclusion
SteemAX has prospects. The platform provides a way to upvote others with vote weight proportional to what will be received, whether equally or unequally. The number of users on SteemAX is still few, promotional contents may really help. As a project in the beta phase, the developer is still working on the project. Therefore, its adoption may grow with time.
Official links
• SteemAX Trade
• SteemAX Info
• SteemAX on Github
Series Backlinks
This is the first post in the series.