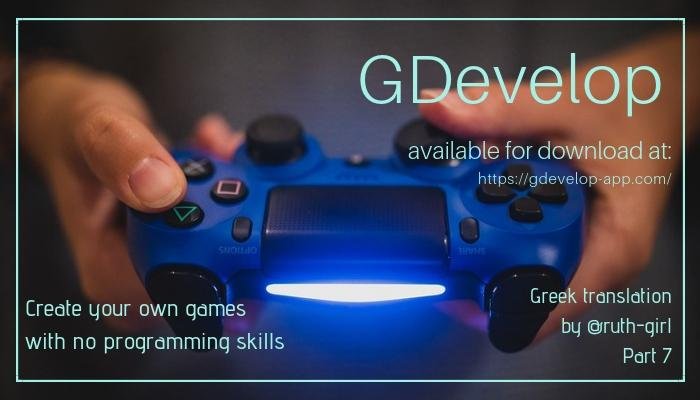 ---
GDevelop Repository on Github:
GDevelop on Crowdin:
https://crowdin.com/project/gdevelop
---
The basics...
Project Details:
GDevelop is the desktop version of the GDevelop Website I completed some days earlier. After having worked on the Website translation, I felt it right to go on and translate the program as well.
According to its official website:
"GDevelop is an open-source, cross-platform game creator designed to be used by everyone - no programming skills required."
Let your creativity run wild and create any type of game you wish!
The tools?
Plenty!
Use the revolutionary tool of "events" and create games from scratch without any special programming knowledge. You can publish your work to the web, iOS, Android, Windows, Mac, Linux and even Facebook Messenger; and if you are using the app, you can easily export your game to Android.
Tutorials and guides are available to help you make your first steps, and for the more advanced users, some Javascript will surely send your game to the moon... and further!
You can either make your games online or download the program on your computer and... let the game begin!
Our developer Language Manager, @dimitrisp, will be in charge of proofreading and reviewing this project.
---
Why this project?
After completing Mura CMS, the open-source content management system, I had to go through the whitelisted projects again and find myself another piece that would not only be suitable for my skills, but also close to my interests. GDevelop seemed like a fun project with lots of potential and benefits to offer, so I spared no second thoughts and started translating it into my native language.
I am a creative person myself, therefore a project that "feeds" on people's creativity and offers chances to promote it and have fun, while sharing the final results with so many other users, seemed like something I'd like to help and spread the word about. The fact that games created with GDevelop are compatible with almost any platform, raises the chances of it being adopted by new users more easily. Don't forget that it's like a "game creator for dummies", armed with guides and tutorials to help the average user who wants to experiment and create their own game to share with their friends and why not... the rest of the world!
For all the above reasons, I would like to see more Greek speaking users try this game creator out, and this is why I am translating the project into Greek.
---
Contribution Specifications
Translation Overview:
The original text contains 25,312 words to translate, a number quite big. This project will be completed in at least 18 parts.
When I first started working on the GDevelop project, some strings were already translated and approved. My job is to read those again and make sure they are correct and follow the wording and writing style I use throughout the project. If I come across bad translations, I will of course fix them.
In terms of difficulty, this project seems a bit harder in some parts, but I worry not as my guardian angel... ehm, guardian LM I meant, will be on the watch and give a helping hand when things get messy... Gaming (as if I didn't see that coming) and developing terms raise the bar of difficulty in various parts, not only because I need to understand their exact function in the program, but also because there is not a complete word bank in the Greek language and the English terms are preferred most of the time.
Languages:
The original text is all written in English and it is my task to translate it in Greek (my mother tongue).
---
Sounds interesting?
If you liked the description above and feel tempted to give it a try and see what you can make with this powerful tool in your hands, go through this link:
https://editor.gdevelop-app.com/
and check out the online GDevelop editor.
If you like it, you can download the desktop version from here:
https://editor.gdevelop-app.com/
---
The current session...
Activity Overview:
Session number 7 is not very difficult. I keep translating new strings and asking for @dimitrisp's opinion about some terms and the wording he'd prefer me to use. Again, we choose to translate certain strings in a specific way or leave some words in English (as in some cases the English term is widely used in our language), although in this part, I didn't encounter many terms that I left in English.
A few random strings from this session:
"Angle offset:" ="Μετατόπιση γωνίας:"
Let's see what this is about:
"This angle will be added to the angle the object must take when following the path" = "Αυτή η γωνία θα προστεθεί στη γωνία που πρέπει να πάρει το αντικείμενο όταν ακολουθεί τη διαδρομή"
In this part we are translating the behaviors of an object in the game, so we are dealing with the options the creator has.
"Change the angle offset" = "Αλλαγή της μετατόπισης της γωνίας"
or
"Add an offset to the angle of the object" = "Προσθήκη μετατόπισης στη γωνία του αντικειμένου"
still refer to the same parameter.
---
Word Count:
According to Crowdin's word count tool, in this session I translated 1271 words. After subtracting a rough 7% for:
a) untranslated words that were mainly programming and gaming terms like "shooter" and "platformer" (I chose to leave such words in English as they are common words Greek gamers meet every day, so the original English word is better understandable for them), which were not so many in this part and
b) a few duplicate strings,
I can say that I have translated about 1154 words.
Note: The previous part was about 1195 words.
The project is already by 44% completed, as I have started working on my next contribution (part 8), which I'll be posting over the next few days.
---
Proof of Authorship:
---
Note: No Activity Screenshots were added after the new guideline we were given on August 2nd, 2018.
---
TL;DR
I finished the 7th part of the GDevelop, game creating software. This part was not very difficult and I translated new strings, as I didn't find previous translations in these strings. Like I did in my previous contribution, in the 7th session I asked for @dimitrisp's opinion on some terms before submitting my final translation in order to see what wording he preferred, this really works in every project as it makes the translator's and the proofreader's work a lot easier. If you have agreed on a "common glossary and syntax" to follow in each project, then the translator already has basic guidelines to follow (as they already know how to say specific things) and the consistency throughout the text as a whole is achieved for sure. In this session I translated about 1154 words and the project is now completed by 44%.
---

The Greek translation team is proud to announce the birth of a team effort @aristotle.team!

I am Aristotle, this is my introduction!
@aristotle.team is an account that was created by the amazing Greek team: @dimitrisp, @ruth-girl, @katerinaramm, @lordneroo and @trumpman. It is taking shape in the hands of @dimitrisp and the brainstorming among our resourceful members focuses on how to improve our productivity on translations, how to make our work easier, keep it more organized and provide public stats in order to be as transparent as possible.
@aristotle.team starts as a small, organized effort and we soon aspire to see it grow thanks to @dimitrisp's dev skills and the team's commitment and hard work! Please, consider following @aristotle.team for more updates on translations and many many more!
We'd love to listen to your feedback!
What we've done so far:
Aristotle app! Thanks to @dimitrisp our team has an amazing app, a tool that aims to become an LM's personal assistant. An app to keep our work organised, help us keep track of our team's work and progress and give us invaluable statistics of our work so far. Check out @dimitrisp's post for more:
Aristotle App - An app to supplement the Utopian Translation Teamwork
We are now testing the demo to help @dimitrisp figure out if everything works as it should. If you are an LM and are interested in giving us a helping hand, don't be afraid to contact him on Discord dimitrisp#4810.
We have already set a curation trail to follow the @davinci.vote trail and as a "thanks, mate" all content @utopian-io is posting at a 10% of our voting strength.
If you want to learn more about us, have a look on @aristotle.team's latest posts:
Meet the Team - The Greek Moderators & Meet The Team - The Greek Translators
---
At this point, we would like to thank @rosatravels for her wonderful feature of the whole Greek translation team in one of her posts, feel free to check it out!
CM Report - Meet Our Greek Team with New Web-App Rising on the Horizon
Thank you for your time!
---
Credits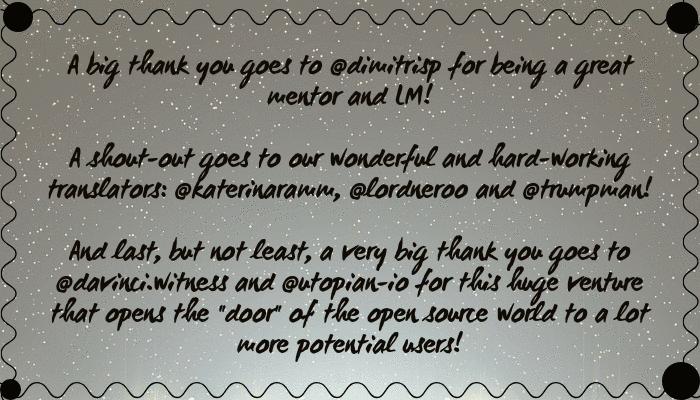 ---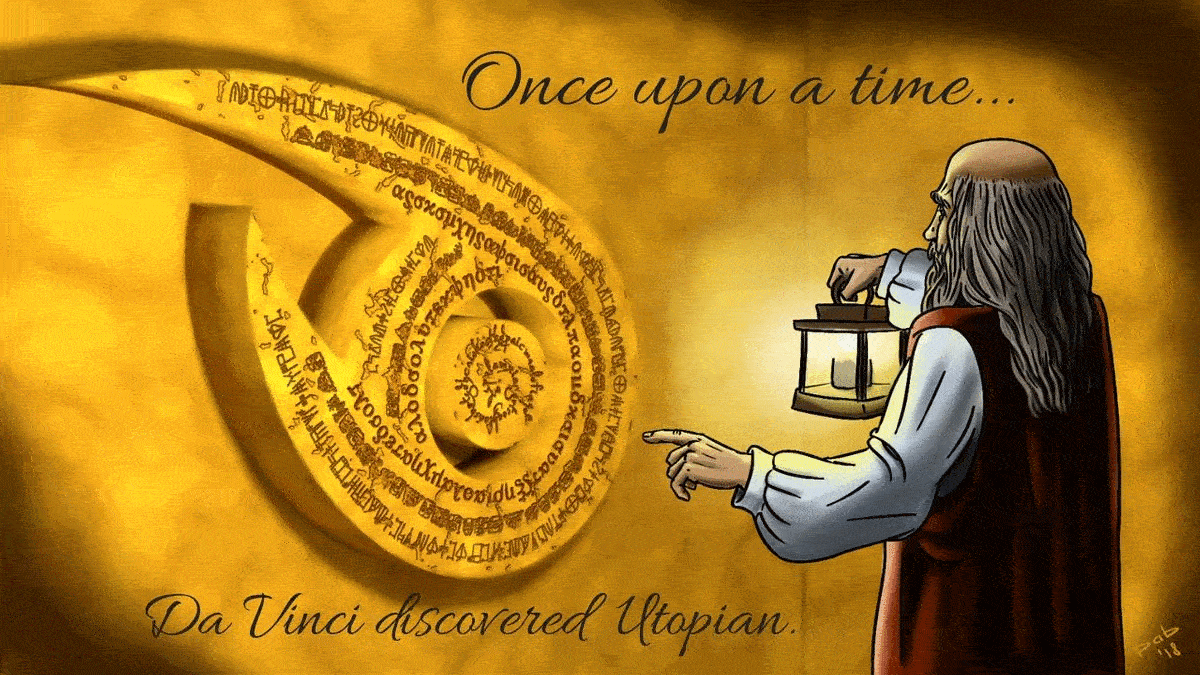 Credits for the first and second images of this gif: @pab.ink
The rest comes from the Public Domain