Repository
https://github.com/nirvanaitsolutions/swapsteem
Introduction
What is SwapSteem
SwapSteem is a peer-to-peer, no custodian exchange platform built on the Steem blockchain. The main vision behind Swapsteem is to create a platform to enable Steem users to trade their STEEM/SBD for Fiat, Cryptocurrencies tokens, or pretty much anything with other users. It is a completely open source software licensed under AGPL and the license and source code can found on our github repo.
We have installed a dynamic system on the SwapSteem UI, where trading parties signal each other for instant trading, and we connect the trading parties together to relate their terms and conditions of trade,and upon agreement a trade is initiated between the users. For each trade a trusted escrow agent is assigned for the cases when a dispute arises between the parties involved in the trade.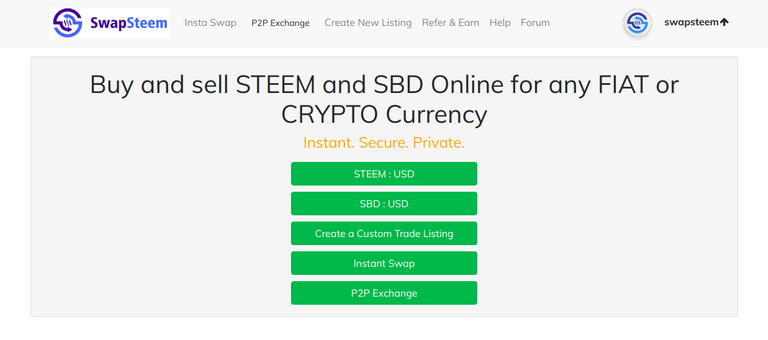 Problem Domain
Markets : As of coingecko, There are only 18 markets for STEEM as of now. STEEM is listed on only 7 exchanges. Similarly there are only 10 pairs for SBD and it's listed on same 7 exchanges. At Swapsteem, we have currently enabled BTC and EOS crypto currencies on the Demo and Alpha, but we are planning to list more Crypto Currencies in near future.

Prices : STEEM prices are very fluctuating. The trades must be finalized as fast as possible to get the best prices for the trade. At Swapsteem, we enable p2p trading with prices derived from coingecko for the pair at the time of order creation. The price can NOT be changed after order creation.

Fees : Trading STEEM also comes with some fees. Exchanges usually charge some percentage of the trade as fees. There is also fees for deposits and withdrawals on traditional exchanges. Blocktrades.us provides a fast way to trade STEEM to other Crypto, but the prices are lower than market due to their commission which is 1%. At Swapsteem, We take a fee of 1% for fiat trades and 0.5% for Crypto trades, which are the current standard fees. We also give discounts to delegators as mentioned in our fundition campaign.

Security : When you deposit your funds to an exchange, you actually don't own your funds anymore. The exchange might be hacked or taken down at anytime and you may loose your funds as seen in many previous cases. At Swapsteem, We respect the proof of keys movement. You never have to deposit your funds to @swapsteem. Upon creation of an Order the funds will need to be moved into an Steem escrow transaction with @swapsteem as agent. Only you can release the funds in the Escrow until a dispute is created. In case of dispute, @swapsteem will have authority to move funds to either party. The funds in Escrow can never be sent to anyone other than the traders involved, not even to the agent account. So you can be sure about the security of your funds in escrow.
The Solution : Peer-to-peer (P2P)
In peer-to-peer trading, individual parties trade with each other directly. Such as our everyday transaction are mostly peer-to-peer: buying lunch in a cafe, selling wares on eBay, or buying electronic gadgets from Amazon. These are examples of private trades between people or businesses, where each party chooses whom to transact with at a specific period.
---
How SwapSteem Works
Sign-up
Steps to create a Steem account on SwapSteem. We have integrated account creation services using Credit and Debit card for a fee of $2.5 using the @steem.ninja account creation service run by @oracle-d. Please read the post linked below for information about account creation on https://swapsteem.com.
Swapsteem - Steem Account Creation is now live!
Login
Once you click on the "Login" button on SwapSteem, you will be redirected to SteemConnect Signing page. SteemConnect provides a two-step login layer to enable Steem accounts to interact securely with DApps on the Steem blockchain. You will be required to accept SteemConnect in the first login layer as an interacting layer between your Steem account and the SwapSteem platform, which will give us authority to post custom_json transactions on behalf of you to post data on the blockchain. Once you agree and click on continue, you will be requested to provide your Steem username and your owner, active keys or master password.
Input your login details and click sign in, you will be redirected back to the SwapSteem UI, with access to all trading features offered on our platform.
Neither SteemConnect or the SwapSteem platform stores your keys.
Swap
Swap is a term that means exchange of assets between two individuals where Steem based assets are stored in steem escrow escrow transaction. Swap is a convention to encourage a genuine shared biological community for exchanging anything for STEEM blockchain based assets.
Swapsteem utilizes the inbuilt Escrow feature provided by the Steem blockchain for the security of funds. The STEEM/SBD is locked with a third party Escrow agent account until successful processing, who will have the authority to release the funds to either side in case of a dispute between the traders.
There is a time window of 2 hours for the Seller and Buyer to Initiate the escrow transaction and approve the escrow transaction. If the traders fail to complete the transaction until the deadline, the trade is canceled/rejected and any locked funds will be released to the Seller.
If the Escrow is transferred and approved by the traders, the agent will need to confirm the escrow too within the same deadline.
After the agent approval, again there is a window of 3 days from order creation for the Buyer and Seller to confirm the payment and Release the escrow respectively. If a dispute arises where the seller doesn't release funds after confirm payment or Buyer confirm payment without making a real deposit, or in case funds not released within the deadline, the escrow agent will have the authority to release the funds to either party depending upon the proofs presented by both parties.
The Swap Process in Detail
Buying and selling of Crypto on SwapSteem vary from other exchange platforms or a common escrow administration facility.
In contrast to other exchange, SwapSteem doesn't acknowledge stores or procedure withdrawals, and there are no programmed coordinating calculations for trading. The SwapSteem escrow management doesn't hold any Steem/SBD or fiat in trust; the Crypto bit of the exchange is placed in confidence through a decentralized escrow system utilizing SteemConnect.
Trading works like this on the https://swapsteem.com platform:
Step 1 : Create Listing Buy/sell offers are posted openly for any other interested trader to discover. An offer is a trade promotion expressing a dealer's expectations to swap a specific quantity of Steem/SBD for fiat or a particular Crypto (an example, "Kelly, needs a Crypto-Crypto/Crypto-fiat swap, the volume of trade").
Step 2 : Creating an Order : When a trader search for a buy/sell order, he reads the terms and conditions applicable to each order. He responds by clicking the buy/sell button on an order, which he is willing to fulfill its terms and conditions.The buyer fills the buy order form with the amount of Steem/SBD he wants to purchase, and the amount of fiat/Crypto he's willing to trade with the seller. By filling and creating the buy order, the buyer's order form is sent to the seller for confirmation to initiate a trade. Once the seller accepts and confirms the buyer's vv terms he confirms the deal. Then a trade deal is initiated between both parties, and locked with Steemsmartcontract. Now, Kelly a nd Sean are locked in a SwapSteem trade with Steemsmartcontract.
Step 3 : Placing Steem/SBD in escrow Immediately a trader clicks on the buy/sell button. A trade contract is initiated where the seller places the Steem/SBD in escrow. Placing of Steem/SBD into escrow is an automated process busing the Steemsmartcontract provided by SteemConnect (with one click). Once the funds are received by escrow, the order status is updated as "escrow_transfer". Note: Orders cannot be manually canceled once escrow transfer is successful. It will, however, be automatically canceled if Escrow transfer and approval by buyer and agent remains unconfirmed within two hours of initiating the deal. Once the Steem/SBD deposit is confirmed by escrow, the buyer will receive the seller's Bank/Paypal/Crypto address details. When the Steem/SBD is recieved in escrow, a payment window commencement is initiated. The buyer is required to start and finish payment inside this three days window, or else the seller will be able to revert the escrow. To help keep the seller's assets from being bolted because of inert buyers.
Step 4 : Payments happen outside SwapSteem Once the buyer realizes that the Steem/SBD is securely stored in escrow, the buyer can safely send fiat/Crypto to the Bank/Paypal/Crypto address provided by the seller in the sell order. Without a secured escrow, the seller could disappear upon receiving payments from the buyer. Once the buyer makes payment and clicks the "confirm button," the seller won't be able to cancel the escrow. Immediately the buyer has made full payments to the specified account/Paypal/Crypto address provided by the seller in the sell order, the seller needs to confirm payment by clicking the "confirm button" and patiently wait for the seller to confirm the receipt of payment which will automatically release the escrowed steem/SBD to the buyer's Steem account wallet. On the off chance that the seller/buyer doesn't fulfill their end of the deal, inside the three days window given to complete the trade. A dispute resolution process is initiated by the affected party.
Step 5 : Confirmation of payment and escrow release Scenario A: The buyer confirm payment, and seller acknowledges receipt of payment by confirming payment and releases funds in escrow to the buyer. And trade is completed! The Steem/SBD is released to the buyer, and both traders are happy. Now, both traders can give written feedback on the transaction. And rate the trade with the rating system between a star and five stars.
Step 6 : Raising a dispute in case of non payment/Fraud Scenario B: one or both traders raise a dispute Either party can raise a dispute if the opposite party has violated any term of trade in the order. A third party mediator (currently the SwapSteem agent) is introduced into the trade to resolve the dispute.
Our dispute resolution process
Dispute button is available as soon as the buyer confirms payment.
Buyer/Seller raise a dispute from the trade, by clicking the dispute button.
Dispute request is created and sent to the Mediator (currently SwapSteem agent) in charge of the trade.
The Mediator sends a memo to both parties (Buyer and Seller), inviting both parties to a discord chat.
The mediator asks for proof from both parties on discord.
If everything seems fine to the mediator and sees a delay in inter-bank transfer. He requests for more patience from the seller while monitoring the transaction.
After the expiration of the three days window, and no confirmation by the seller. The Mediator asks both parties for their bank's official statement of account. In case a Crypto transfer was made as payments for the exchange. The buyer is asked to submit the transaction hash ID used for payment. The mediator also asks for the seller's Cryptocurrency address provided to the buyer, for a proper review. It might take between minutes to weeks for the mediator to determine the rightful owner of the Steem/SBD in escrow, depending on the complexity of the dispute and response time frame from both parties.
Once the mediator is satisfied with his review from both parties, he releases the Steem/SBD to the rightful owner. The Steemsmartcontract contract code doesn't allow the mediator to send Steem/SBD anywhere else. The Crypto involved can only be sent to any of the two parties locked in the Steemsmartcontract trade.
The party responsible for attempted fraud will be blacklisted from the SwapSteem platform by the mediator.
Note: A valid statement of account must show transactions from the date the trade was initiated. The statement of account must be stamped from the bank and sent in clear quality pictures, to enable a proper assessment of the document by the Mediator.
A time frame is given to both parties to provide these documents, to be reviewed by the mediator in charge.
Insta Swap
Insta Swap is a term that means exchange of assets between individuals and exchange that provide a service to convert a crypto currency to other based upon the current market price. Insta Swap is a convention to encourage a genuine shared biological community for exchanging steem based assets to other crypto assets securely and near instantly under moderation of a centralized exchange for quick automated withdrawals.
To swap your Crypto currencies instantly, you can use our Insta Swap feature powered by our partner @onepagex. The Insta Swap feature enables you swap largest number of crypto currencies provided by any instant exchange with more than 140 coins supported and counting. Best thing is that is the only instant exchange with such facility that supports STEEM as one of the main pair besides blocktrades.us that support cross-chain swap.
Please read the following post to know more about how to instantly buy or sell cryptocurrencies for the lowest fees online.
SwapSteem - Swap Crypto Currencies Near Instantly!

The Swapsteem Forum
It requires some familarity with steem to be able to trade on swapsteem. Since a lot of users are not so comfortable with the technical details we get a lot of questions by the community in our discord and steemit blog.A forum is centralized platform for keeping track of such queries so that others can also see the questions previously asked without having to chase people for answers.
Tokenbb is a forum manager which enables steem users to create and manage community forums. Tokenbb incentivizes both forum owners and users with steem upvotes. You can access the swapsteem forum at swapsteem.tokenbb.io and create a new topic to talk about. This topic will be visible to others and can be curated and commented by other users.To use the Swapsteem Forum, you will have to log in to swapsteem.tokenbb.io with your steem/email account. Users can also choose to stay anonymous on the forum.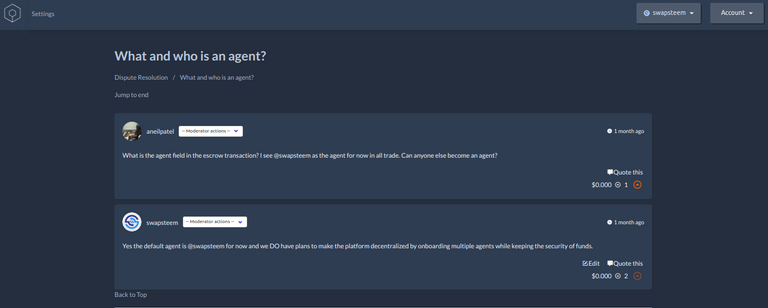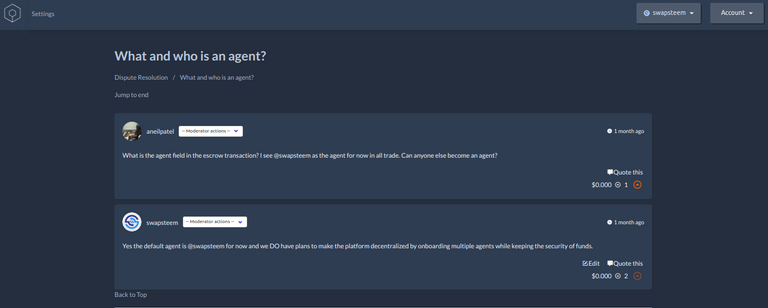 What will We offer in our Beta
In the Beta, users will be able to create a trade listing as per their preferred payment method, coin/fiat pair and margin over current market price. They can also directly Buy/Sell from other users listings if they agree on their price. The trade is securely monitored by escrow transactions from the UI itself. You can find tutorials on how to use swapsteem at below links :
Fees and Discounts
How much fees does swapsteem charge
For Trades in all makets except fiat, we will charge 0.5% of the trade amount as fees. For trading in Fiat market, the fee will be 1% of the trading amount. The fees will be paid by the the person who has created the listing. The final payment amount is calculated after deduction of fees according to order type. Third party agents will be able to set their custom fee.
Discounts
We will give upto 100% discount to SWEET holders on their weekly trades worth up to the worth of SWEET they held/staked for the week. When they exceed the discounted trade amount, the Normal fee is charged.
Note: Discounts only valid on trades where you choose @swapsteem as the agent.
SwapSteem Escrow Agent
The SwapSteem group/staff must expel/ban suspicious traders from our platform. Users can be suspended from the SwapSteem platform on the off chance that they're found harassing, spamming or endeavoring to defraud other users.
Good users can report suspicious users to the SwapSteem staff via our discord channel. The SwapSteem team will likewise suspend a user who takes part in actions that is by all accounts of corrupt nature.
How to become an escrow agent at SwapSteem
To become an agent of SwapSteem, you will need to fulfill all the criteria we have laid down. These criteria are meant to help safeguard traders funds on our platform.
An aspiring agent must stake some SWEET with SwapSteem. The value of deposited SWEET, however, depends on each agent.
The amount of staked SWEET is equivalent to the amount of trade the agent can escrow at a time. For instance: Aaron wants to become an agent, and he staked 1000 SWEET by making a deposit to SwapSteem, he will be able to escrow trades that sum up worth below 1000 SWEET at a time. Aaron can increase his deposits to increase the maximum volume of Trades he can escrow on the platform. The deposited Steem stands as collateral if Aaron decides to fraud the system and help one party to defraud the other.
---
SwapSteem Exchange's (P2P) Features
Technological Architecture
The SwapSteem platform is built on the Steem blockchain, programmed with Angular 6, SteemConnect and Steem-keychain((Under active Integration) for the Web app front end, while the back end is developed with Node Js And our open souce project Steem-Automation which is a reliable application to stream the steem blockchain and automate stuff on the blockchain easily.
All transactions carried out on our platform will be posted as a custom JSON file, from creating a buy/sell listing order, confirmation of orders, escrow signing amongst others and tracked by our back end. Traders Bank/Paypal/Cryptocurrency addresses will be safely encrypted in JSON Memo for optimum privacy and security.
Features we provide on our platform
At SwapSteem we aim to provide a wide range of services to support the ever-growing Crypto population in peer-to-peer exchange. We have created a simplified user interface for all levels of traders, to understand and make use of our platform easily. The need for prior knowledge to trading is useful but not necessary in making use of SwapSteem for your Crypto exchange.
SwapSteem main feature is the Steem/SBD (P2p) exchange, and we offer the following peer-to-peer market exchange to our traders:
Fiat market.
Crypto market.
Ethereum ERC20 Market
EOS EOS20 Market
Tron TRC20 Market
BitShares UIA Market
1. Fiat Market At SwapSteem we offer the fiat market for traders to exchange Cryptocurrency for local currency. We are aware of how some countries have placed ban/restrictions on their citizens to perform Crypto trade, which makes trading their Crypto for fiat difficult. Citizens from such countries can quickly and safely exchange their Steem/SBD for fiat on our platform. We currently accept two payment methods on our fiat market, A. Bank transfer. B. PayPal. Fiat currencies we currently support on our platform: 1. Indian Rupee (INR). 2. Korean Won (KRW). 3. Canadian Dollars (CAD). 4. Euro (EUR) 5. British Pound (GBP) More coins will be added soon as we deem fit, or as per requested by our traders.
2. Cryptocurrency market We offer a Crypto Market where sellers and buyers can exchange Steem/SBD for their preferred Crypto coins. We currently support the following Crypto currencies for peer-to-peer exchange with Steem/SBD:
BTC
ETH
EOS
TRX
XRP
LTC
BCH
ENU More coins will be added soon as we deem fit, or as per requested by our traders.
3. ERC20 Market We offer ERC20 Tokens Market where sellers and buyers can exchange Steem/SBD for their preferred ERC20 tokens. We currently support the following ERC20 Tokens for p2p exchange with Steem/SBD:
BNB - Binance Coin
More tokens will be added soon as we deem fit, or as per requested by our traders.
4. EOS20 Market We offer EOS20 Tokens market where sellers and buyers can exchange Steem/SBD for their preferred EOS20 tokens. We currently support the following peer-to-peer Crypto exchange for Steem/SBD:
KARMA - KARMA Coin More tokens will be added soon as we deem fit, or as per requested by our traders.
5. TRC20 Market We offer TRC20 Tokens market where sellers and buyers can exchange Steem/SBD for their preferred TRC20 Tokens. We currently support the following peer-to-peer Crypto exchange for Steem/SBD:
ANTE - Tronbet Dice Token
More tokens will be added soon as we deem fit, or as per requested by our traders.
6. Bitshares UIA Market At SwapSteem we offer BTS UIA Market where sellers and buyers can exchange Steem/SBD for their preferred BTS UIAs like bitUSD, bitCNY etc. We currently support the following peer-to-peer UIA exchange for Steem/SBD:
bitUSD - USD backed bitShares Asset
More user issued assets will be added soon as we deem fit, or as per requested by our traders.
Upcoming features on SwaSteem Exchange Launch
Decntralized Escrow Agent
We will enable Steem users to become an escrow agent and escrow fees in the beta version. Please note that agents need to deposit funds to Swapsteem in order to get the role. These funds will be reserved for cases where an agent goes dishonest and helps one of the parties to execute spam. In return for the deposit, the agent will be able to moderate trades worth up to his deposited amount and set his own fee. The traders will have the ability to choose their favorite agent while creating a listing and then choose the desired agent at the time or trade creation.
P2P SteemMonsters Market
Users Will be able to trade SteemMonsters Cards for Steem/SBD peer to peer with other steemians at their desired price.
P2P Upvotes Market
Users will be able to Buy/Sell upvotes for liquid STEEM/SBD at their desired price on our exchange with other steemians. Anyone with a steem account will be able to put up his upvotes for sale at a custom price.
P2P Delegation Market
Users will be able to Buy/Sell Delegation from other steemians for a custom APR and duration as per their choice with security of escrow. Anyone with some spare SP in their steem account will be able to put up their SP for lease at a custom price per day/Week/Month.
Please tell us what things you want to swap your STEEM/SBD with in the comments below.
---
Swapsteem is running a SWEET Airdrop!
@swapsteem has decided to AirDrop 2.1 Mil of our platform utility tokens SWEET, which is 10% of the total supply, to the steem community in return of support to the project as announced in our posts Participate in the SwapSteem Airdrop and Claim your SWEET TOKENs and SwapSteem SWEET'Drop is Live - Claim your SWEET Now!.
The airdrop has already been started on 5th April, 2019 at 12:00 AM UTC. Steem users can earn upto 500 SWEET daily just by following some simple steps to help @swapsteem reach to the greater audience. To know how to claim your SWEET Tokens and maximize your rewards, Please read the Rules sections below thoroughly.
Rules
Steem users can participate in the Airdrop in multiple ways and claim their airdrop tokens in their wallet for performing some actions to help swapsteem as mentioned below
Upvote our posts Your votes are precious and we need them to keep the Development going. Users who upvote posts made by @swapsteem account including this one will be rewarded with SWEET amount equal to 10x of the upvote value in STU. So, if a user upvote generates 1 STU on our post he will get 10 SWEET after the post rewards are paid out and claimed. For the votes less than 0.100 STU, users will get a minimum of 10x 0.100 SWEET as the reward.
Resteem our Posts Resteems help people reach a great audience to promote the application. Users who resteem posts made by @swapsteem including this one to their followers will be rewarded with 0.001 SWEET per follower. So, for example, a user resteems this post to his 1000 followers, he will claim a reward of 1 SWEET after resteem operation is broadcasted which will be sent to him in the next distribution round.
Write a review post about Swapsteem People need to know what swapsteem is, what features we provide, security mechanisms and advantages over other exchanges. This can't be done without the community writing about the project and sharing with others. Users who write a review post of Swapsteem with #swapsteem will be rewarded with an amount up to 100 SWEET according to the quality of the post and curation done by steemians.
Refer your followers Referrals are a great way to promote an application while rewarding users for sharing the word with others. You can refer your followers to use swapsteem and you will be rewarded with 10 SWEET tokens if the referred person logs into swapsteem with your referral link. The referred person also receives 10 SWEET. You can refer your followers only by creating a comment on their post with comment body as written below.
Hey! Please checkout @swapsteem, A secure peer to peer exchange built on steem. Use 

my

 referral 

link

 to earn some free SWEETs! [https:

//s

wapsteem.com/?

ref

=YOURUSERNAME](https:

//s

wapsteem.com/?

ref

=YOURUSERNAME)


Note : Referral rewards will only be released if the referred person already follows you. Please don't spam on posts created by people who do not follow you or have already been referred.
Join us on our Discord Channel Discord is a great place for communities to hang out. To build an organic community of traders on steem, we are inviting steem users to join our Discord. Users who join our Discord and link their steem account with discord account will get a random reward between 0.5 to 5 SWEET as soon as they link their steem account name. To claim the reward, users need to join our Discord server at https://discord.gg/prVyhgp and claim their tokens in #sweet-drop channel simply by sending a message with command !claim STEEMUSERNAME
Hunt Bugs on our platform Anyone having a steem account can test the Fiat and Crypto pairs on our Demo by creating a new listing or simply buying/selling from existing listings. Please find the link to Demo and tutorials on the process in the links below. Bugs acknowledged by us will be rewarded with 50-500 SWEET Tokens based on the severity of the bug.
Delegating to Swapsteem Swapsteem is an open source project, recognized and supported by @utopian-io. Please consider delegating to @swapsteem to help us with the Development and maintenance of the application. Delegators will be rewarded SWEET tokens equal to the 10x of Daily STU generated from the delegation. So, if a user's delegation adds 1 STU worth to our vote value will be rewarded with 10 SWEET daily. The delegation will be used to upvote the Development and other contributions towards @swapsteem.
Posting a promotional video on dTube D.tube is a decentralized video sharing platform built on top of steem. It is a great way to communicate information with followers on steem in a visual format. Users who create a review video about @swapsteem with #swapsteem will be eligible for a reward of 50-500 SWEET Tokens based on quality and curation of the video.
Supporting our Fundition Campaign Fundition is a decentralized crowdfunding platform on steem that helps steemians raise funds for different causes for the community. We have created our Fundition campaign to fund the Development of this platform. We will be giving some rare perks to the supporters and backers of our Fundition campaign along with 10x SWEET for every 1 STEEM funded in our campaign. Check out our Crowdfunding Proposal to find more about the campaign and the donation perks offered.
Airdrop Schedule
The Airdrop will start on Friday, April 5th 12 AM UTC and run until all the 2.1 Million tokens are distributed.
Important Note
SWEET is a smart contract based token created on the STEEM based sidechain called Steem-Engine. Steem-Engine is created by @aggroed, @yabapmatt @harpagon and @someguy123 who are some of the most influential people on the Steem blockchain.
You can view your tokens in the steem-keychain browser extension built by @yabapmatt @stoodkev and team. If haven't already installed it go ahead and download it from respective add on stores on Google Chrome, Firefox and Opera Browsers.
You can trade the SWEET claimed during the airdrop for STEEM, BTC, LTC, DOGE, etc on https://steem-engine.com as soon as they are issued to your account. You can also buy and HODL SWEET to enjoy HODLer perks like discounted fees up to 100% and ability to register as an escrow agent and earn fees by moderating trades on our platform.
You can also check the current market price and volume of the SWEET Token on the Market page at https://steem-engine.com.
We too will have a Dex integrated at our Beta to enable trading of most of the Steem-Engine tokens as more exchanges emerge on top of Steem-Engine and the coingecko API starts supporting Steem-Engine token prices.
There is a cap of 500 SWEET per day as rewards, which means an account cannot get more than 500 SWEET airdropped in a day.
---
Advantages of using SwapSteem
1. Easy to use
The SwapSteem UI is built to work on virtually all browsers without the need for any extra software. We have a dedicated FAQ section on the UI to assist users to trade smoothly.
2. Non-custodian platform
SwapSteem is decentralized and does not hold/store traders crypto or fiat. To avoid security issues involved in storing traders funds. Traders Steem/SBD are stored in an escrow system on inbuilt escrow smartcontract provided by Steem blockchain.
3. Super fast transaction
The peer-to-peer platform system on SwapSteem allows for quick and smooth exchange between traders.
4. Payment flexibility
SwapSteem has provided a robust payment system for the exchange of Steem/SBD. Traders can exchange their Steem/SBD through bank transfers, PayPal, and crypto exchange. Payments occur outside of the platform between traders and are invisible to SwapSteem team. We do not monitor payments between traders, and we only get involved when a dispute is raised.
5. Free for all
We do not collect any form of registration fee in making use of the platform. Once you own a Steem account, you can log in and trade on our platform.
6. Worldwide adoption of Steem and Crypto
The platform encourages mass adoption and use of crypto for our daily transactions, most especially the adoption of Steem/SBD. Which will, in turn, bring more users and investments into the Steem ecosystem.
---
Useful Links
---
Witness Campaign
Please vote for our Advisors and Steem Witnesses @firepower and @bobinson who have been constantly guiding us to build a secure and reliable exchange to bring masses to the Steem blockchain!
---
Resteem and Upvote this Post and Follow Us to maximize your SWEET token Rewards!
---