Food was meant to be healthy & fun. When we have healthy relationship with food (and our own SELF), we can create amazing treats for our Self and our loved ones in a blink of an eye (ok, maybe a few blinks).
Making the following desserts is as easy as making a cup of tea, really. Anyone can do it, from my life-long experience of teaching food creating, even kids enjoy making treats like this. Why not? Making your own food, especially this delicious and easy - is a form of art, and we are all artists - it is a messy, yummy, creative & joyful experience.
If you have a blender (no need for anything sophisticated,) a few spare minutes and some coconut cream - you can make all following treats right now, and even of you don't have a blender, you can still make most of them.
I do not know what fruits you have in your kitchen today and how much food preparing you usually engage in, but I know this - once you make any of these treats, you will make sure that you have some frozen fruits and berries in your freezer for the next time. Just a little time and imagination creates miracles.. edible ones in this case, as long as you have a coconut cream - you are a god/goddess of dessert-making, believe it or not.
You can use fruits and berries, fresh, frozen, or dry, you can mix whatever you like and how you like. You can also use cacao or carob powder, other super foods, edible flowers, essential food grade oil to enhance the flavor of your creations.
Coconut Cream is a wonderful replacement of the the dairy not-good4U cream.
I often joke that I moved to Thailand so i can eat as much coconut cream as i wish. Here we have it in two forms - fresh (from the coconut man (Thai "milk man" who makes it right there in the market corner - from real coconuts), and we have it in a paper carton from any shop (even 7/11). I have been playing with this luxurious plant derived heaven for many years and still marvel at all the possibilities.
Plant based desserts made from coconut are the best - cakes, nice creams, truffles, chocolate (milk variety), sweet spreads, cookies (oh, that is another story) etc. There is so much we can make from this heavenly edible, and isn't it nice to know - it is cell-friendly, it comes from a tree, from mama Nature, just avoid the one that has been canned, as we know - nothing canned is good for us.
Here we go - delicious and fun treats with just a few minutes invested.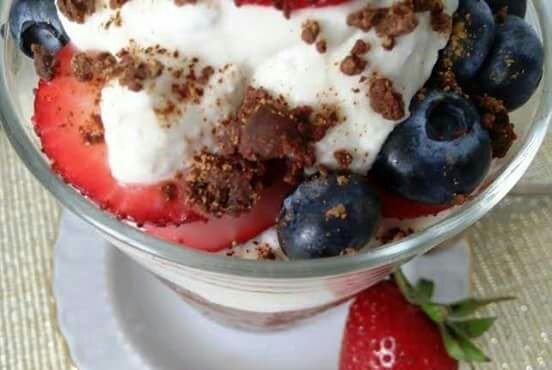 VERY BERRY CREAM CUP (image above). We need: any berries: blueberries,strawberries, raspberries, blackberries (frozen or fresh)/
new earth sweetener of your choice: maple syrup, coconut flower crystals, stevia/coconut cream/ chocolate shavings (optional). No blender needed. Just mix and enjoy.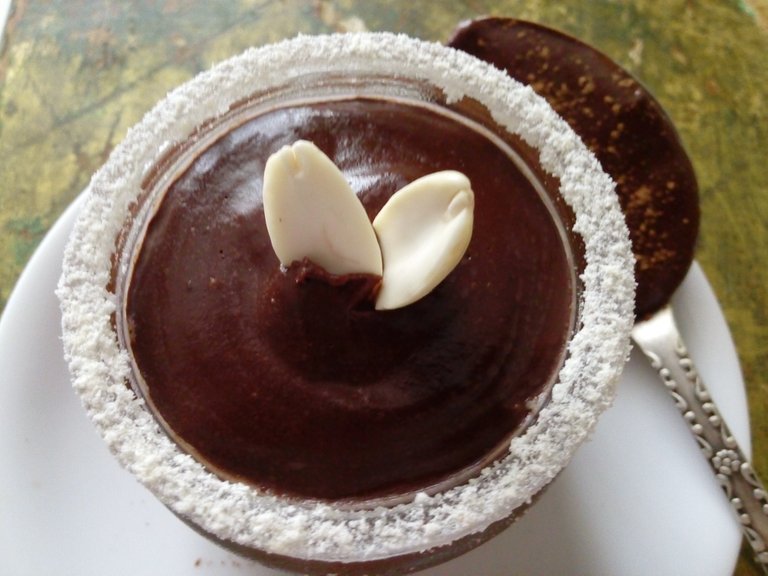 CHOCOLATE MOUSSE (image above). We need: avocado/maple syrup/unrefined cacao powder, coconut cream. Blend. Serve with a touch of imagination.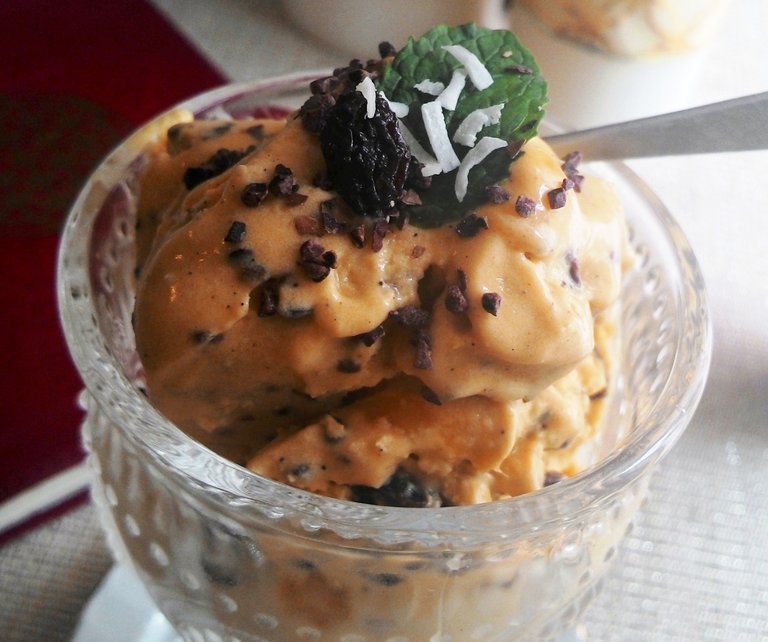 MANGO NICE CREAM (image above). We need: ripe mango/coconut sugar/coconut cream/raisins OR goji berries/raw cacao nibs (optional). We blend first three ingredients and add the fruits and nibs after.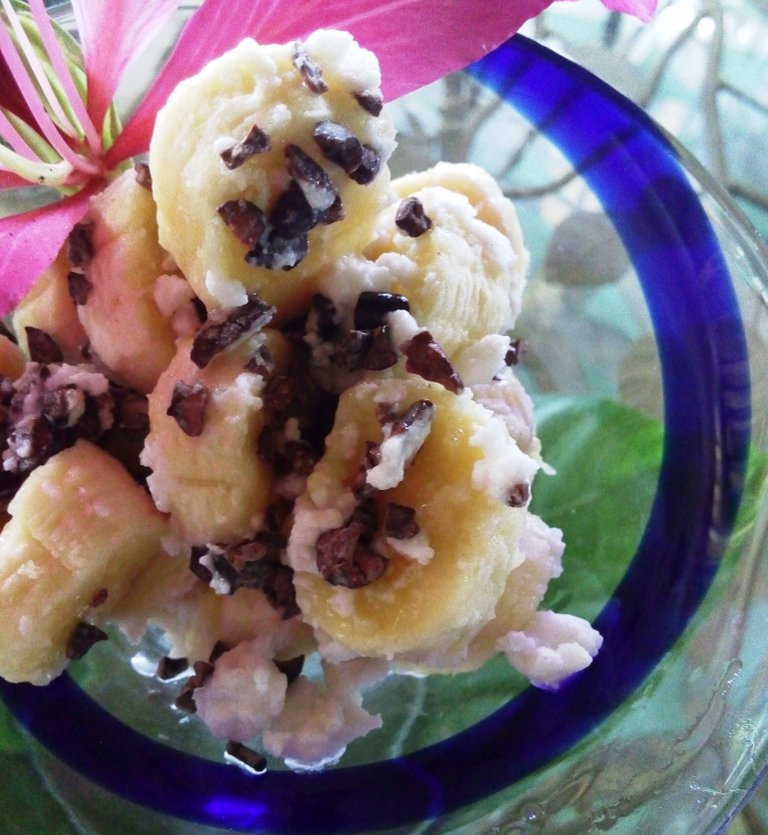 JUNGLE BOWL (image above). We need: bananas/raw cacao nibs/coconut cream. No blender needed. Chop. Pour. Mix and enjoy!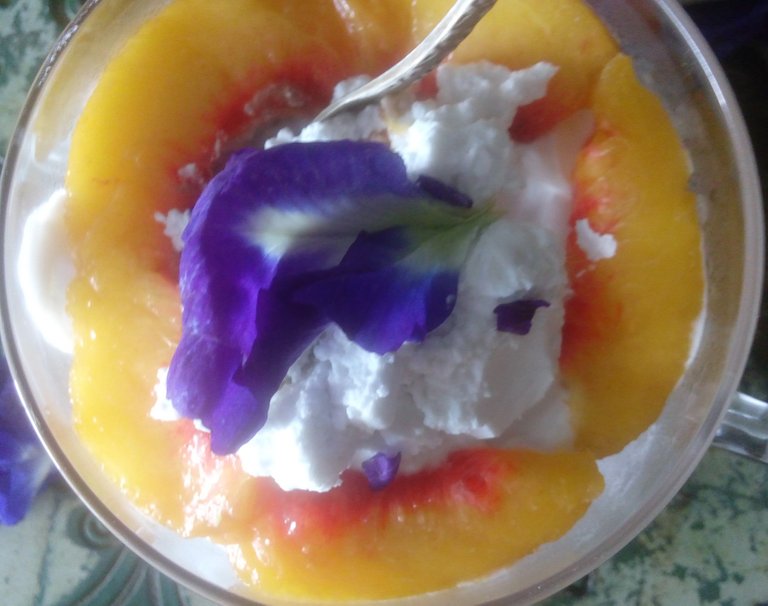 PEACHES & CREAM (image above). We need: peaches /maple syrup/coconut cream.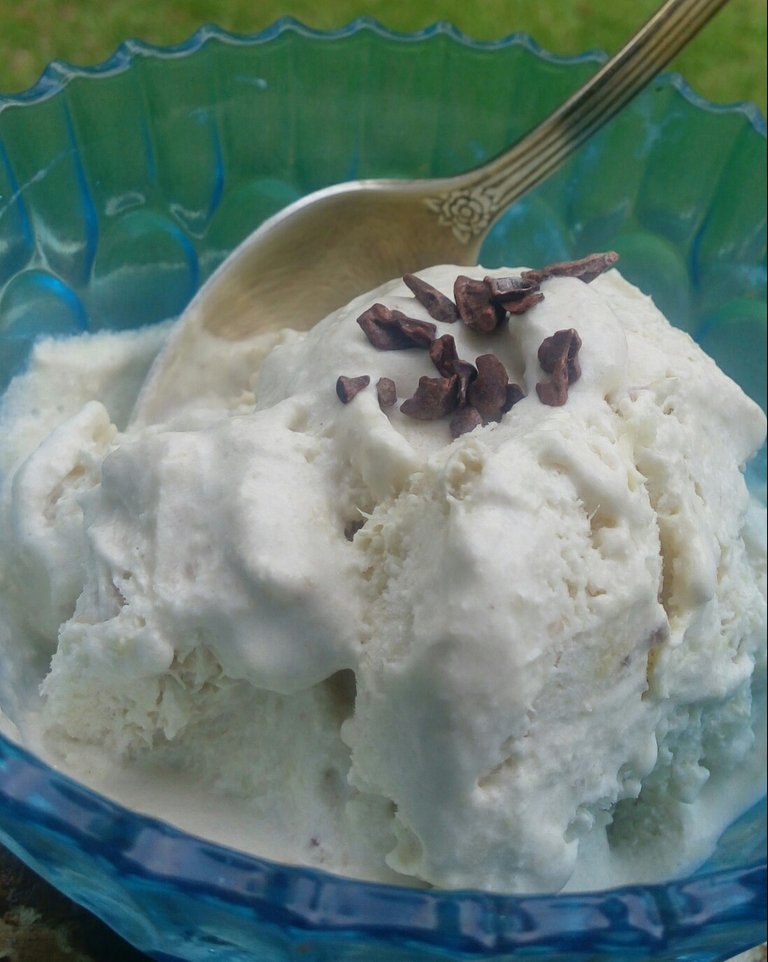 PINA COLADA NICE CREAM, my recent favorite.
We need: frozen bananas&pineapple chunks/vanilla/coconut cream. Just blend & enjoy. You can sprinkle it with coconut shreds or cacao nibs... or vegan cookies, which I will share the recipe soon.
Thank you for reading and supporting my passion for alignment, consciousness and evolution.
Be well. Take good care of your Self and the loved ones, so together we take care of the planet we are visiting.