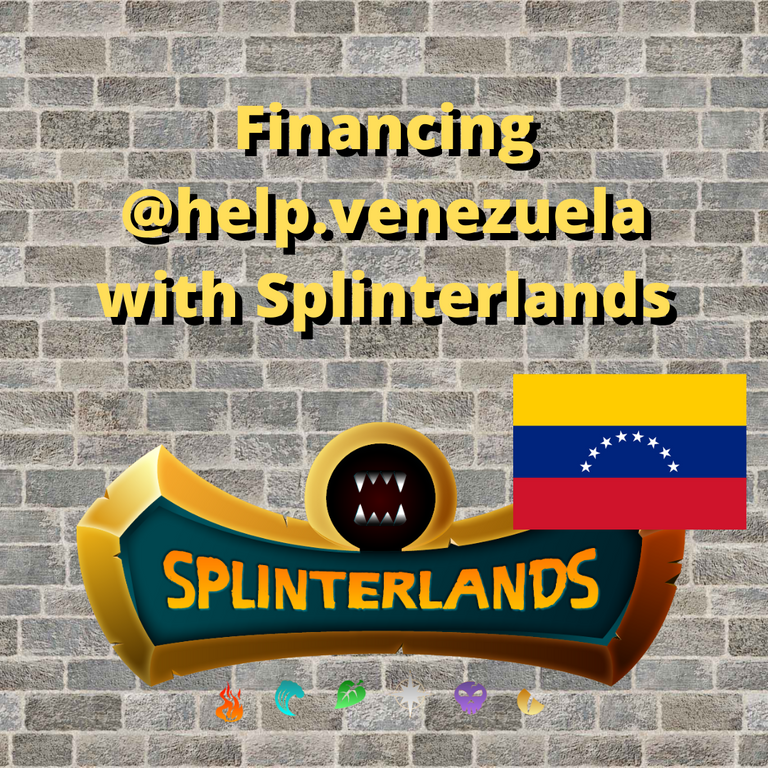 With our program @help.venezuela we try to support steem authors from Venezuela by upvoting their posts. Unfortunately, probably due to lower steem prices today, the number of posts from Venezuelan people has decreased. When posting something on steem means that you have to fight your way through black outs and very slow internet connections, it is understandable that people think it over twice whether it is worth to publish on steem. Especially when every cent counts.
Lower steem prices mean lower upvote value
Because of the lower prices, the upvotes that we can provide with the program have also lost some of its importance. We would like to provide powerful upvotes that really matter. For Venezuelan people the income generated through their posts is the basis that keeps them motivated to post and grow on steem. So a couple of months ago, we tried to come up with a way to bring fresh funds to the program.
How we finance @help.venezuela with Splinterlands
I (@achim03) have been playing splinterlands for quite a long time and I'm regularly reaching diamond 1 level at the end of a season. I realised that I had some same cards in alpha, some in beta and some in gold foil. It's simply not possible to play the same card several times. So I began to take my double gold and alpha foil cards and created a new deck under the name of @help.venezuela. With this deck I play regularly and get new reward cards. Together with my other deck I try to maximize the decks to make them more powerful.
However each time I win a battle, I also earn DEC tokens. These DEC tokens will then be used to finance the account @help.venezuela.
Lucky with reward cards
Last season I finished at a level Gold II with the @help.venezuela account and I got 26 reward cards. Among these cards I got an epic Gold card.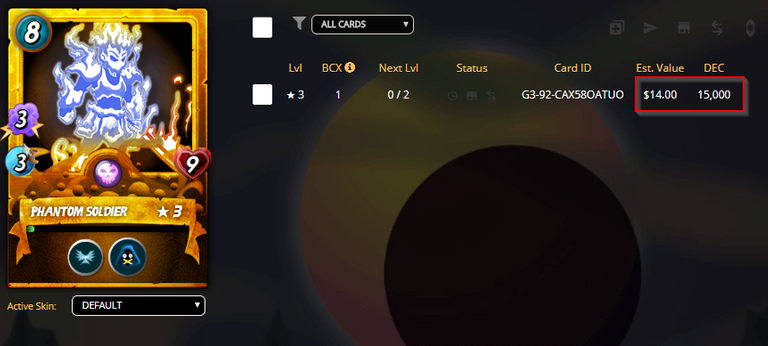 source: Splinterlands
Because of its high manna this card is very difficult to use in games. On the other hand it is quite powerful in terms of value being a gold card. You can actually burn this card and get 15'000 DEC in the process (around 13 USD). So I've actually burned this card and I got 15'000 DEC tokens. Together with the DEC that have been earned while playing, the account has now 22'000 DEC.


source: steem-engine
At the end of the season DEC prices are a bit low normally. So we will wait for better prices and exchange these 22'000 DEC into SP and power up the account. This will give a boost of around 130 SP to @help.venezuela which will give the upvotes some more value.
Playing the game makes the account stronger and the income potential higher. In the long term I believe that thanks to Splinterlands we will be able to make the @help.venezuela grow even more and be able to provide more and more powerful upvotes to Venezuelan people.
Free slots open
Since the people supported by the program tend to post less frequently, there are new spots available. If you are from Venezuela and you create quality posts and are on steem for at least 3 months you might be eligible for to be supported by the program. Just write a comment below and we will check it out.
@fucho80, @hendersonp, @jadams2k18, @jenina619, @juanmolina, @lanzjoseg, @reinaldoverdu, @roronoa07,
@yomismosoy, @sacra97, @hlezama, @chiminguito, @jennimorillo, @darthgexe, @equipodelta, @garybilbao,
@topfivefamily, @manuelgil64, @por500bolos, @nachomolina, @peraza82, @spirajn, @tramelibre, @yonnathang,
@pedrobrito2004
***
Support this project to help people from Venezuela to fight a catastrophic economical situation: