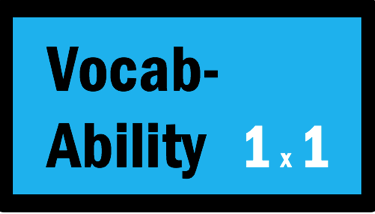 Each daily
"Vocab-ability 1x1"
post has 2 main features, as follows:  
One "Vocab-ability" entry
By spending 5 minutes reviewing today's "Vocab-ability" entry (below), you can learn the vocab roots and many high-level English words.    
One "Vocab Practice" exercise (for UpVotes) 
By spending another 10–15 minutes, you can practice using today's words by composing your own sample sentences. Your practice efforts will be rewarded with UpVotes.     (See "Vocab Practice" rules and notes below)

   Today's "Vocab- ability" entry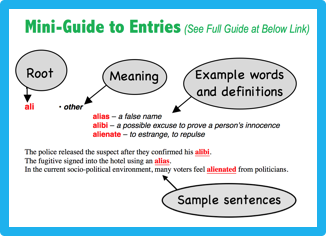 With this
'Mini-Guide,'
you can identify the components in the
"Vocab-ability"
  entry above.
(To facilitate your quick reference, the 'Mini-Guide' has been minimized. For the full "Guide to Entries," right-click here.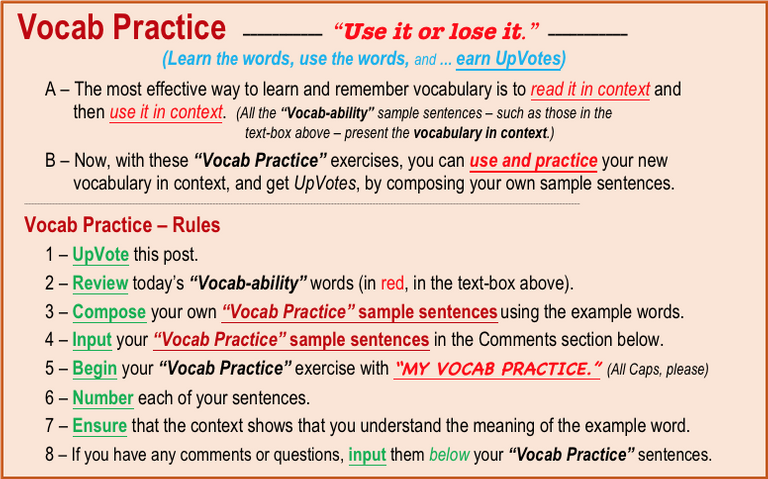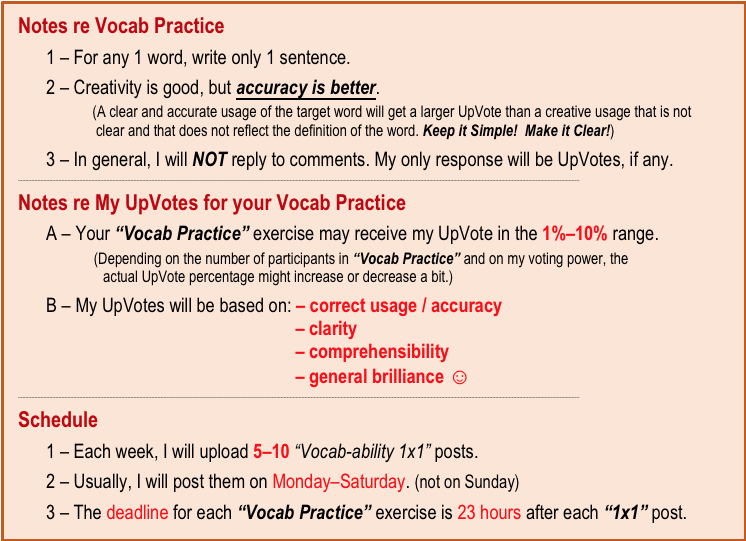 Introduction – For "Intro to Vocab-ability," right-click here
      Guide – For full "Guide to Entries," right-click here
      Index– For "Index" to all Chapters and Sections, right-click here

Note re Copying each Entry
Each separate post in the "Vocab-ability"  series consists of one entry (one text-box). To use any of these "Vocab-ability"  entries for your personal study or in any classroom, you can download them by clicking and dragging the text-box that you want to use, and then print them out.  
Note re Free Use 
Please feel free to download the above text-box, copy it, print it out, and distribute it for any and all educational purposes. If
"Vocab-ability"
 helps you or your students to increase your English vocabulary, it will have served its purpose.   
(I hold the copyright to the original "Vocab-ability" guide, which was published in 2002. I hereby grant free use of all the material contained in this post and in all other "Vocab-ability" posts on Steemit).