Waivio is proud to introduce the first fully operational open Business 3.0 process - https://Dining.Gifts
Dining.Gifts is a decentralized global platfrom for restaurant rebates.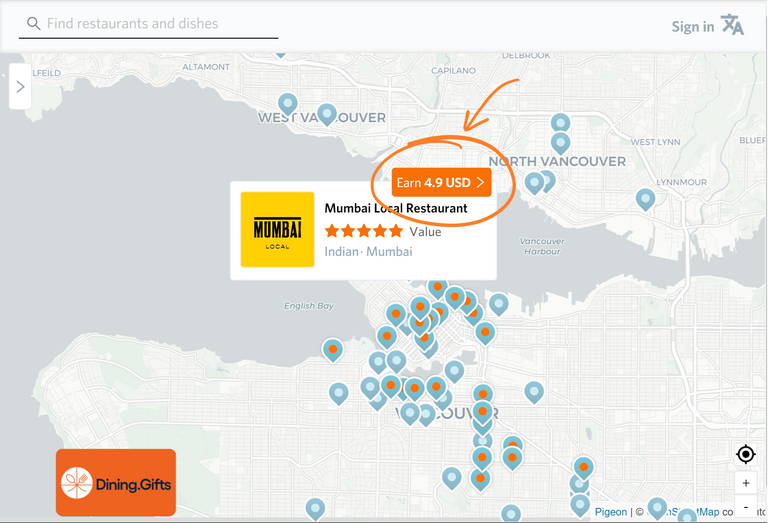 Dining.Gifts is a type 3.0 business and it is using an open business process. This approach allows independent parties to operate as a single, well-managed business and collectively achieve the scale they could not achieve on their own.
Open architecture allows the free flow of information between participating businesses. All the information about restaurants, menus and rewards is published on the Hive public blockchain, and can be freely accessed by all users, guides and apps.
Dining.Gifts website is operated by Waivio Technologies Inc., but all of the data, including user profiles, social graphs and transactions is coming directly from the Hive social blockchain. In fact, you can launch your own highly interactive social website within minutes using Waivio.com and it will have all the restaurant listings, menus, rewards, user profiles, influencers and news feeds. And you don't need to ask anyone's permission to use all that data or to start your own Dining.Gifts business.
Users are no longer "owned" by websites
Traditional websites are trying to build their own user databases. And this creates a lot of inconvenience for the users, because they have to remember many passwords, create and maintain multiple social profiles, their followers and connections are very fragmented and on top of that their accounts can be censored and closed, causing them to lose all their work!
But there is no central authority on a decentralized social network. Control is now in the hands of users themselves. Users are no longer "owned" by websites and they can use any Hive-compatible website, as their followers will be informed of their posts and comments, regardless of the Hive app they are currently using.
The open social blockchain allows users to maintain full control over their privacy, posts and votes, social connections, and funds in their accounts. Users thus become the main beneficiaries of their own work and attention.
Open access
All participants in an open business process have equal access to all data and user information.
When one of the websites brings in more users, everyone benefits, as the additional users make new connections, publish new content, and all of this is synchronized between all the other websites through the Hive social blockchain. When one guide adds one more restaurant, updates menus or launches new rewards campaigns, all the other websites will also be able to present new content and rewards to their visitors.
On one hand, this increases the visibility of the rewards, but on the other it also allows websites to offer a wider selection of rewards to their visitors and receive commissions for facilitating transactions.
The open business process transforms competition into synergy and turns a zero-sum competition into a shared success, allowing independent players to operate as one entity.
Rapid scaling
The open business process is designed for rapid scaling.
First of all, no permission is required to participate in the process. Anyone can join and receive payments for their work.
Second, participants can focus on a specific role in the business process without having to build everything else. A good salesperson can focus on managing rebate programs for restaurants, while a good marketer or influencer can focus on building an audience for their branded website and collecting fees for distributing rewards to users.
Third, it can be scaled internationally, as the same open source technology can be used worldwide, while business operations can quickly adapt to local context, pricing and legal requirements.
Improvements in technology and services become immediately available to all participants. Best practices can be freely shared because the success of each participant contributes directly to the success of everyone involved in the project.
Fair distribution of benefits
The decentralized social chain does not have a central authority or a gatekeeper. It does not need to maximize quarterly profits for shareholders. Instead, any benefits that arise from the increased scale of operations are shared among all parties based on their ongoing contribution to the business process.
Dining.Gifts business roles
There are many key roles in the Dining.Gifts open business process:
users - earn tangible rewards for sharing dish photos;
restaurants - bring new customers and create social impact, while paying for results only;
guides - manage rebate programs for restaurants (ex, 25%+ commissions);
influencers - promote rebates to end-users through branded *.dining.gifts websites (earn 7.8%+ from distributed rewards);
data admins - add new restaurants & menus, maintain accuracy of existing data (fee based services for guides);
moderators - fraud prevention and community moderation (monthly service for guides);
token holders - use voting power to increase profitability for guides to stimulate business activity for the token and provide DeFi liquidity to earn exchange commissions (ex, 0.5% from inflows and outflows);
server hosting - Waivio is an open source project and it can be replicated by partners who have sufficient technical expertise (5.2%+ in processing fees) plus website hosting fees.
Please review Tutorials for additional information and hands-on training.
waivio
dining.gifts
hivedev
business3