I'm working on creating more witchcraft related infographics and quotos to use as spoiler space prevention for my Tarot Tuesday posts (as well as just for sharing). To give myself a bit of a nudge, I figured I'd put them in their own post on Mondays. I'm also seeing if I can drive some of my Pinterest traffic here instead - I'm planning a separate post all about that soon.
For now, here are a couple of graphics for the upcoming full moon, formatted for Pinterest and Instagram. Please feel free to share on your favorite social media sites!
Instagram sized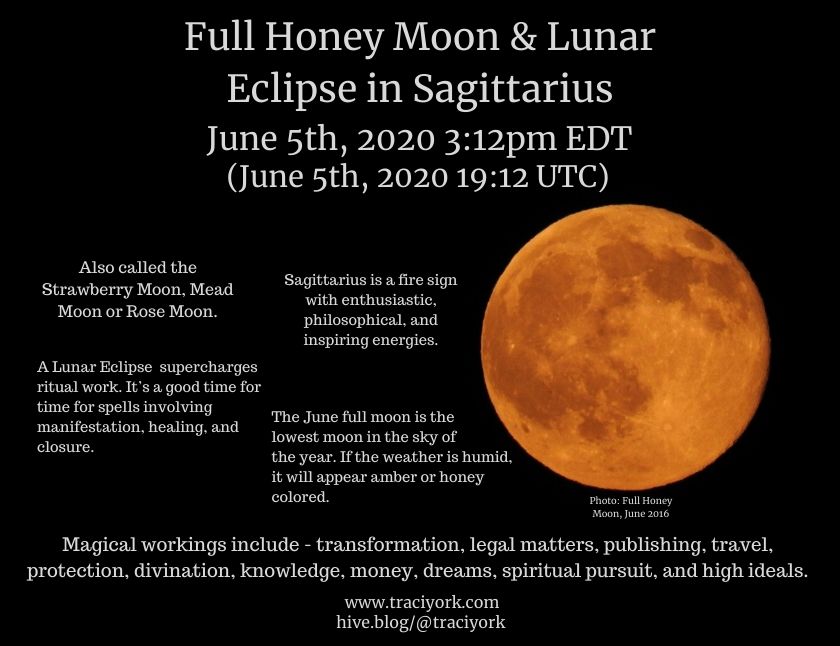 Pinterest sized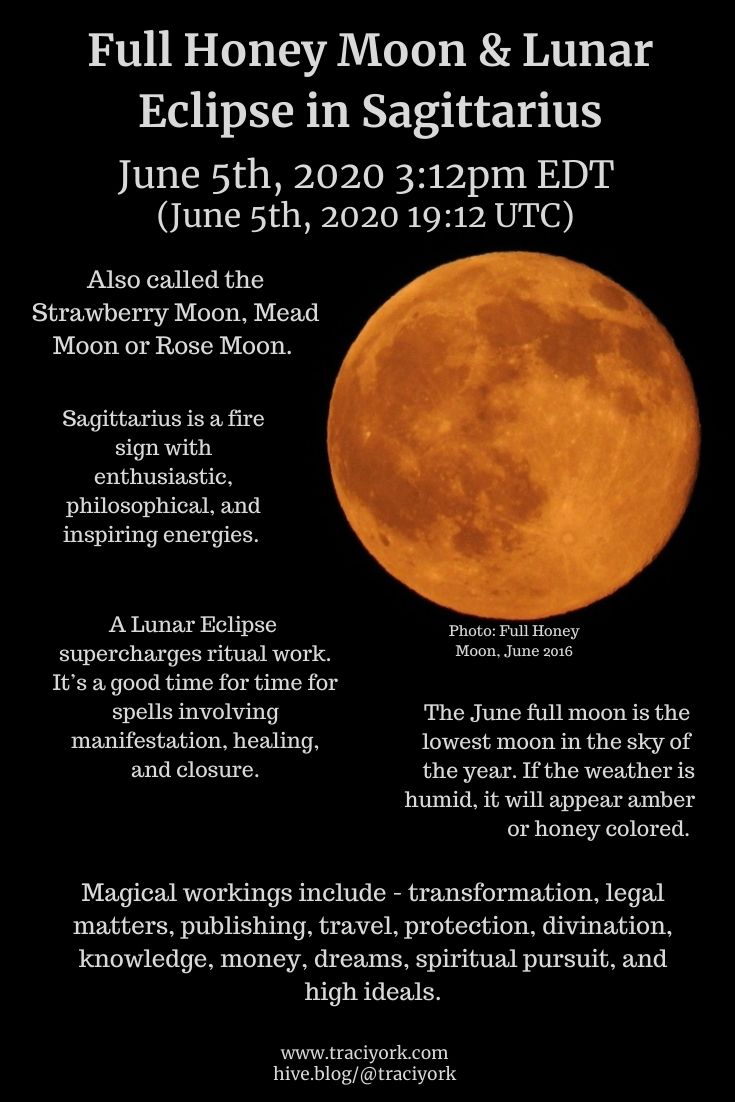 Infographic Text

Full Honey Moon & Lunar Eclipse in Sagittarius
June 5th, 2020 3:12pm EDT
(June 5th, 2020 19:12 UTC)

Also called the Strawberry Moon, Mead Moon or Rose Moon.
Sagittarius is a fire sign with enthusiastic, philosophical, and inspiring energies.
A Lunar Eclipse supercharges ritual work. It's a good time for time for spells involving manifestation, healing, and closure.
The June full moon is the lowest moon in the sky of the year. If the weather is humid, it will appear amber or honey colored.
Magical workings include - transformation, legal matters, publishing, travel, protection, divination, knowledge, money, dreams, spiritual pursuit, and high ideals.

Thanks for stopping by!

My posts may occasionally contain affiliate links. If you click through,
I might get a wicked small commission, with no extra cost to you.
Blog graphics created on Canva
My photographs are taken with my trusty Nikon,
sometimes utilizing my handy dandy tripod.
All words and images are mine (unless otherwise indicated),
and can sometimes also be found on my various social media sites.
Speaking of witch which...

I have one billion many homes on the interwebz.
Here are a few...