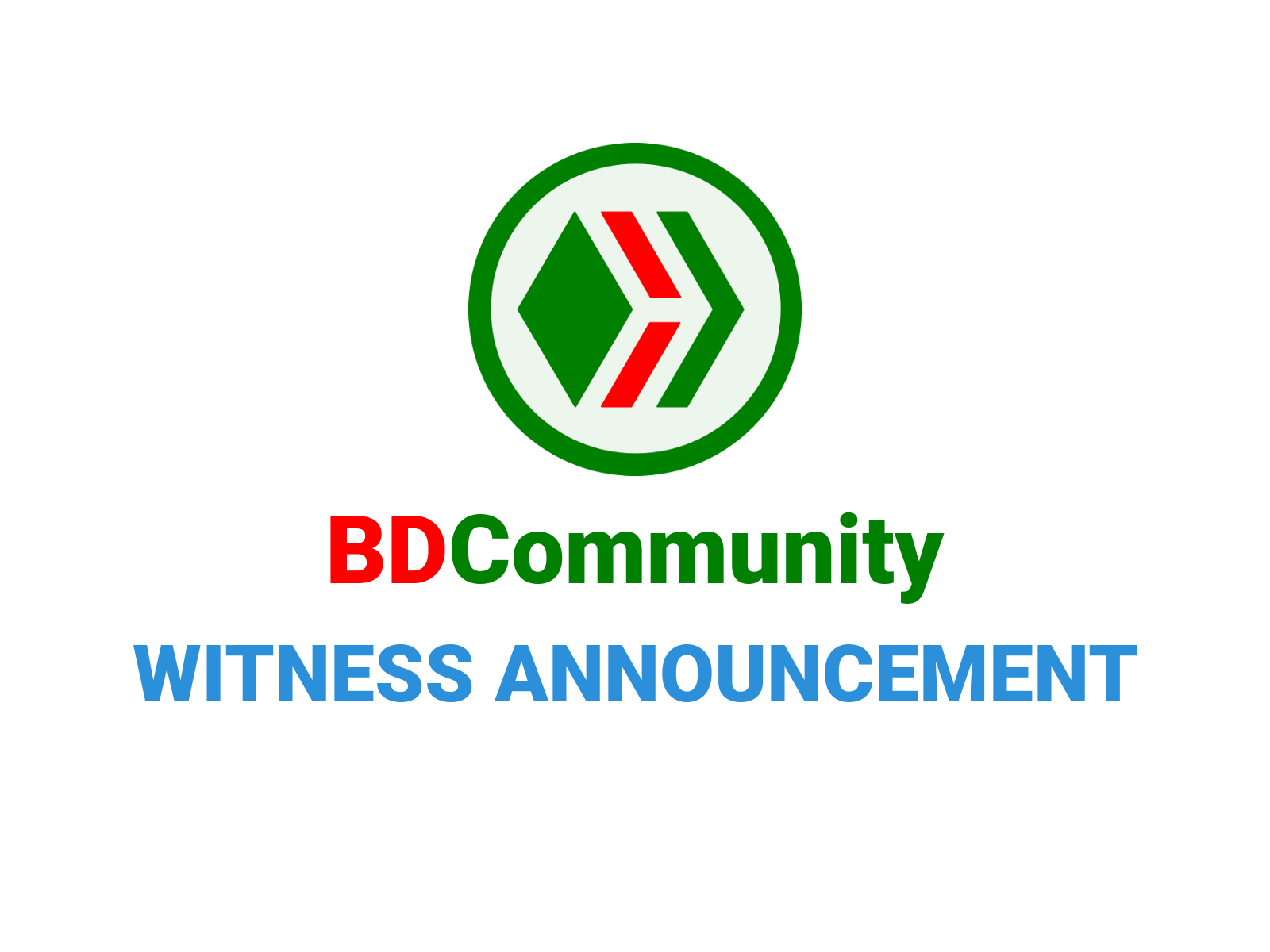 BDCommunity now is a Hive Witness. We have produced our first block #42355054 2 days ago and produced a total of 3 until now. Our full rank is #111 and active rank is #95.
What's a witness?
Hive Witness is a person or a group of persons who run the Hive Blockchain software on a computer which produces blocks on the Hive Blockchain. They also publish HIVE price feed which helps the blockchain determine post payouts and such.
Witnesses are elected by the community through a mechanism called delegated proof of stake. Witnesses receive HIVE POWER as rewards for producing blocks (processing transactions).
Why a new witness?
For a decentralized network like Hive Blockchain, the more people run the software and validates the transactions, the better. In our mind, a witness is a voice or representative of a community. We felt that our community is under-presented in the blockchain and we plan to alter that. We prefer to give small players a voice. We like the say to the greater hive community that consider us as friends, consider us as your representative so that we can voice your opinion to the governing body of this blockchain.
What are the configuration of the witness server?
We are running the witness node on VPS from @privex with the following configuration.
CPU: 4 Core




RAM: 8 GB




SSD: 500 GB




OS: Ubuntu 18.04



This basic setup is for $50/month. The monthly expense is substantial in the developing world, however, we are willing to sacrifice that for the visibility and representation. We need your support. Until we qualify for the top 20, we can't represent you to the full extent. So that should be our common goal.
Running price feed from a Vultr VPS. At this moment we do not have a backup witness node but planning to get one in the future.
What's in it for BDCommunity?
BDCommunity has been on the chain for almost 2 years curating contents, helping and representing Bangladeshi and Bengali speaking community. Now we want to show your support for the chain by taking part in the governance and security of the chain.
What's in it for the Hive community?
We like for the greater community to enable us as a sounding board, not only as a representative of a specific part of the world but also to rise above the tunnel vision that is typical of many blockchain projects. We want to bring something new to the table. This is in the form of bringing emerging content producers; writers, artists, music producers, comedians that we see in our everyday life, to the hive blockchain. This will not only enrich us at a personal level but it will give the small players a voice, a vision, a unique experience. For investors, and venture capitalists; we like to offer competitive return-on-investment without the hassle in daily monitoring. We are manual curators and will always be the human touch on this blockchain.
How can an individual be involved?
Hive being a DPOS blockchain, every user has a say in the governance of the chain proportional to their HP. We have recently proved that every vote counts. So, vote us as a witness or set us as your witness voting proxy.
Who are running the witness?
@reazuliqbal - Full-stack freelance developer. Developer and Moderator of BDCommunity.
@zaku - Business and idea guy. Moderator of BDCommunity.
What have we done previously?
Content Curation
BDCommunity started as a content curation project for Bengali speaking community as there weren't any back then. Now we curate contents from both Bengali and non-Bengali users using the community curation account and sister project @bdvoter.
Onboarding
We create free accounts for legitimate users who want to join the Blockchain and help them understand the basics and norms of the chain and how to secure their accounts.
Tools
Projects
MonsterMarket - Splinterlands cards and pack marketplace.
BDExchange - A Discord HIVE and STEEM, and Steem-Engine wallet. Which as provides escrow services for peer to peer transactions.
What will you do in the future?
We are planning to enhance our curation projects and develop more tools and projects on top of the Hive Blockchain.
What is the mission statement?
BDC has a vision to curate and support of content across all over the hive interface. There is a desire to on-board not only new members but members who are emerging players in their respective fields. Introduce the power of social media on the blockchain to already established or emerging cultural leaders of the broader ecosystem is what BDC plans to achieve in the near future. This helps Hive community in 2 ways.... first: enrichment of the platform itself; and second: the spread of 'hive' to a more prominent segment of the social media by enrichment via the 'star content producers'
How do I vote you as a Witness?
Hivesigner
Hive.blog
At this time we are not in the top 100. Please go to https://wallet.hive.blog/~witnesses and search for bdcommunity at the form below the witness list.

Peakd.com
Please go to https://peakd.com/witnesses and search for bdcommunity Click the check button to vote for us.

---
Proceeds from this post will be donated to Bidyanondo Foundation