Greetings Steemians,
It has been a while since I gave an update so here is an overview of what I have been working on.
Price Feed/SBD Conversions
With the concern over the SBD in the past few weeks, I have been working to support the system in a few ways.
(In regards to the recent price increase, I will be watching the SBD situation closely and may be updating these policies if the situation improves and stabilizes)
Price Feed Discounting
Following Dan's post about witnesses adjusting their price feeds I began to adjust my feed and have settled at a discount of 10%. The goal of this discount is to incentivize conversions and the repayment of SBD debt, however this repayment comes at a cost in the form of increased sell pressure on STEEM. If this sell pressure is increased to rapidly, it could potentially be detrimental to the system and because of this I am limiting the discount to 10% for now.
SBD Interest Increase to 20%
To further support the SBD peg, it was suggested to increase the interest rate on the SBD. I believe this to be a useful complement to the feed discounting as it pushes sell pressure into the future. In my opinion, this future sell pressure is a lower risk under the assumption that the current situation is more of a growing pain and not of a cyclical nature. While it is possible to see additional spikes and high SBD debt loads in the future, I believe these situations will be more controlled due to a better overall awareness of the importance of SBD conversions.
SBD Conversions
To help alleviate the high SBD debt, I have been powering down and converting the maximum from my accounts for the last few weeks and will continue to do so until we reach a more reasonable debt ratio. As of writing lafona-miner0 has converted over 22k SBD at a rate of ~6k SBD a week.
Statistics/graphs
What originally started in an interest in new user retention, ended up in the creation of several interactive graphs which I would like to share with the community. Right now they can be accessed at steemgraphs.com. The first graph looks at the composition of daily active accounts based on the age of those accounts.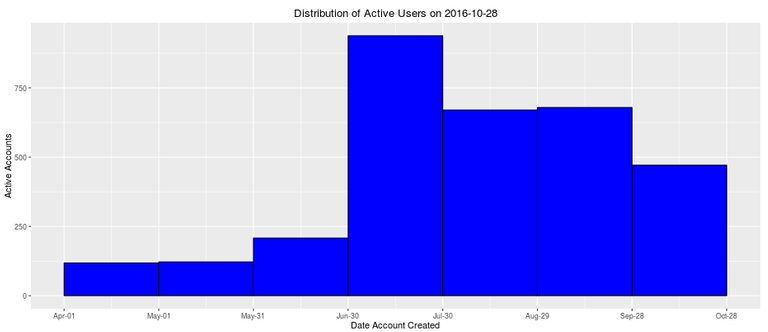 The second graph looks at the distribution of weekly active accounts from the more casual (active only a couple of days a week ) to more serious(active almost every day).

Right now it is limited to the two graphs but I plan to add more as I try to better understand the user retention scenario. If you have any suggestions or requests for additional graphs please leave a comment and I will do my best to include them.
Thank you for your time and please feel free to show your support by voting for witness delegate.lafona