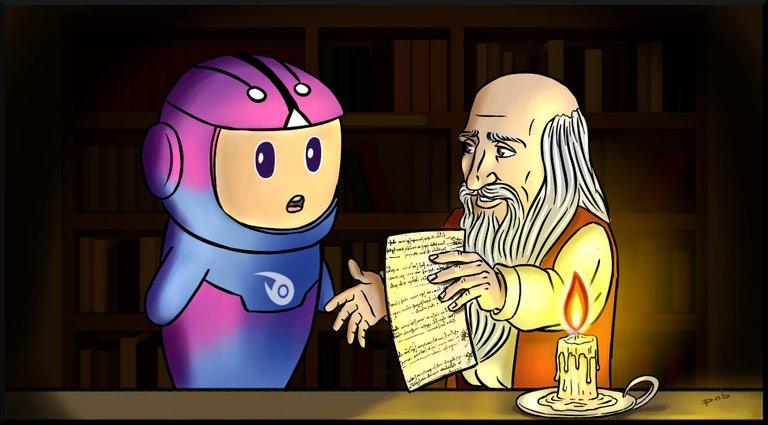 Thanks to @pab.ink for making this fantastic drawing!
This is report #32 of the translation activity conducted in collaboration with @utopian-io (you can find the previous report HERE).
There is quite a lot to say in this report/update so let's go straight to the point. As you can see in the table below there is a slight improvement of the situation and the missing rate went down from 45% to 21%. The issue is that the distribution of the VP we have in our cateogory is clearly unbalanced, we should never see a single team draining most of the VP but this is what is currently happening so we must put some rules in place to prevent this from occurring again.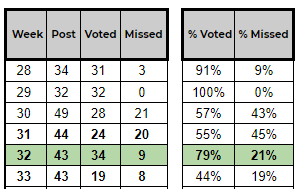 Something that was discussed in chat several times was the introduction of maximum caps per team, there was a large consensus towards this measure and we think it's time to adopt it. For this reason we will place the maximum of cap of 5 weekly contributions per team and decrease the cap of 2 weekly contributions max for each translator/LM. The new rule will be implemented from Sunday February 10. Please note that it is your responsibility to comply with the rules, users or teams that break the rule will be suspended. We will tag all the LM in this post so we nobody can say they were not informed. If you look at the table below you will see that in the current conditions nothing will basically change for most teams so the number of users affected by this measure will be minimal.
Below you can find the stats for Week #32:
January 20 2019 -:- January 26 2019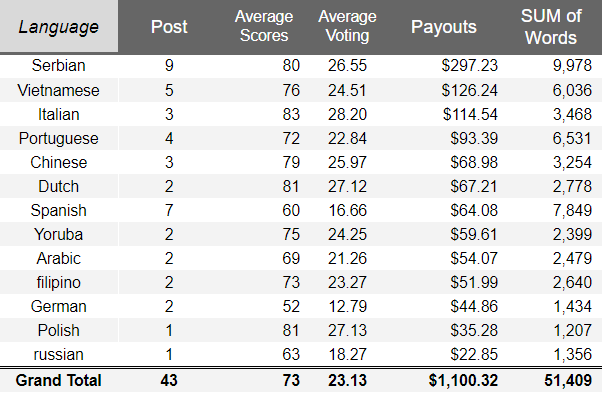 There are teams like the Turkish team that have been waiting patiently for months to have a chance to contribute, it's time to give them a chance. We are pleased to announce the Turkish team:
also in the past weeks a small team of korean translators helped us perform our first non-open source translation for Steem Monsters and they did a great job, we also want to welcome the korean team:
Please note that we kept the size of these teams small to ensure that their activation won't disrupt our balance.
Also, considering the latest developments and the shortage of VP we want to make sure that the system remains as fair as possible so we decided to intensify controls on past contributions to deal with eventual abuses. For this reason we decided to add a new member to the staff, welcome @akireuna! She is a translator for the italian team and from now she will also help us monitor the fairness of the scoring. Obvious cases of abuses will result with the suspension of the single user or of the full team in the worst cases.
When we revised the questionnaire we prepared also a document that explains it, we will be adding also the new rules shortly, here there is the link for your convenience:
https://docs.google.com/document/d/1uvTIr_mi0a5tUteBlsDMTyCaL9awxS5T8fWRjegvR4k/edit
LMs
@dr-frankenstein, @libanista, @sunray, @aafeng, @minersean, @misslasvegas, @ruah, @leyt, @egotheist, @infinitelearning, @dimitrisp, @ruth-girl, @nv21089, @imcesca, @mcassani, @jestemkioskiem, @villaincandle, @leurop, @portugalcoin, @tata-natana, @alexs1320, @scienceangel, @fbslo, @alejohannes, @marugy99, @carlpei, @zoneboy
---
Additional Charts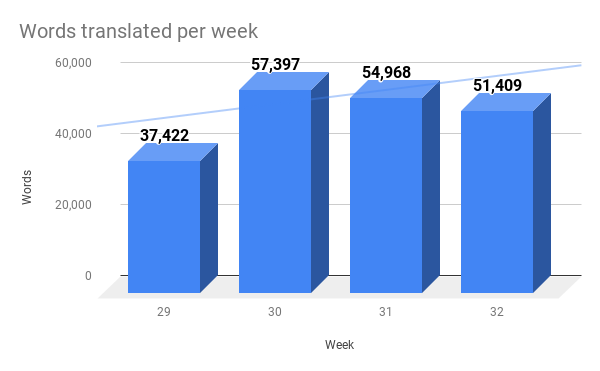 ---
Stay tuned for the next report!
The aim of this report was to provide complete transparency
about the development of this project.
---

CC0 Image - Creative Commons, thanks to @mrazura for ITASTEM logo.
CLICK HERE AND VOTE FOR DAVINCI.WITNESS
DAVINCI WITNESS TRAIL


If you are the owner of an Open Source project on Crowind platform and you want to translate it with our help and the support of @utopian-io please join our discord server and chat with us.


DAVINCI WITNESS DISCORD SERVER


If you would like to delegate to Davinci.Witness you can do so by clicking on the following links:
50 SP, 100SP, 250SP, 500SP, 1000SP, 5000SP.
Be sure to leave at least 50SP undelegated on your account.