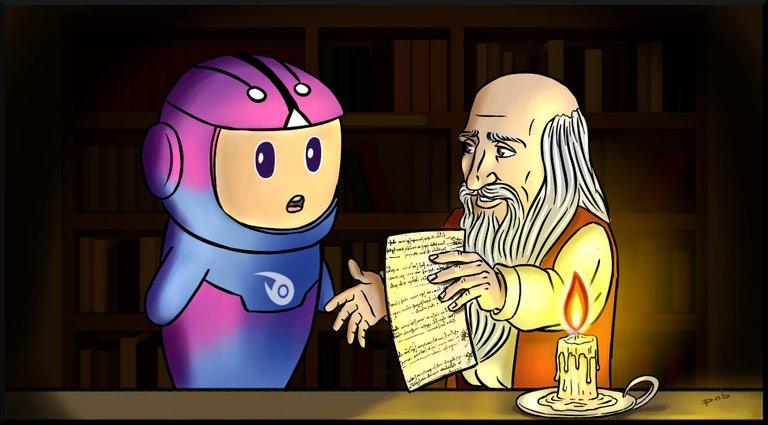 Thanks to @pab.ink for making this fantastic drawing!
This is report #33 of the translation activity conducted in collaboration with @utopian-io (you can find the previous report HERE).
We recently received the results of an independent audit performed by Utopian to assess the status of our category and the results are that most teams are doing a great job!! So we wanted to thank you all for the work that you are doing!
The period covered in this report preceded the introduction of max caps per team, but from the stats below you can see why we had to introduce it. A whopping 49% of the contributions were not voted in the week from January 27 to February 2. To help counter balance this problem the DaVinci team has created a voting trail that votes all your translation contributions, you can follow it on steemauto, it's called davinci.vote.
Alternatively, also Utopian has created a second trail that votes all categories, you can find more info here: https://steemit.com/utopian-io/@utopian-io/utopian-is-now-enabling-you-to-benefit-more-by-supporting-open-source-projects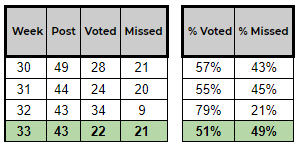 Since the votes are limited, now more than ever it's crucial that we ensure that contributions are voted fairly. It's inevitable that within the teams, relationships arise, that is actually a good thing. We understand that the LMs want to reward their team-mates for their good work, but please try to be fair with the scores and not too generous. We are trusting your common sense on this.
We want to remind users that this is not a job, but it's voluntary work that we try to incentivize, as such we need to ensure a fair distribution of our incentives.
Although the audit found that overall, we are providing good quality, it also highlighed some small issues in all teams (they are no big deal). For this reason, we decided to add @akireuna in our staff and she will try to address all these issues with the various teams. These things are no big deal and we hope that nobody will take things personally. The audit was conducted by independent users that had nothing to do with DaVinci or Utopian, we are just trying to improve our category even further by addressing all the weakenesses. Please understand that @akireuna doesn't have a pleasant task so we will be grateful if she can be met with cooperation by all teams.
Below you can find the stats for Week #33:
January 27 2019 -:- February 2 2019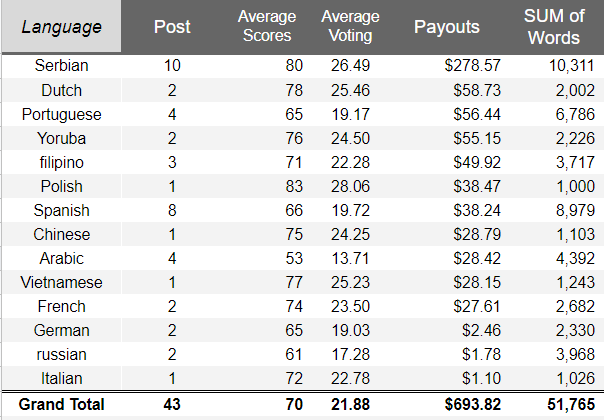 Another thing we should mention is that the davinci-utopian front-end is currently down. For now we kindly ask translators and LM to use Steempeak to set the beneficiaries (@utopian.pay 5% and @davinci.pay 10%) and make sure to use the tags #utopian-io and #translations. We may eventually launch a new front-end, in the meantime let's use steempeak and please let us know if you are encountering any issue.
---
Additional Charts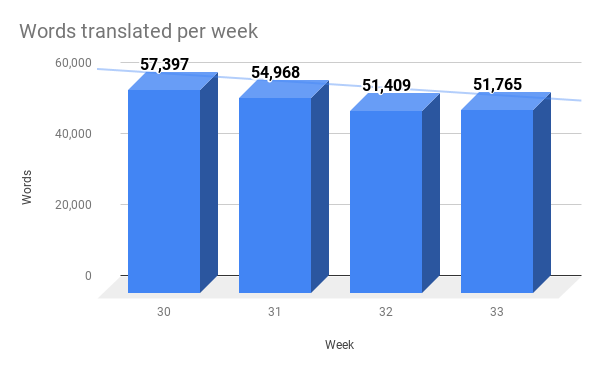 ---
Stay tuned for the next report!
The aim of this report was to provide complete transparency
about the development of this project.
---

CC0 Image - Creative Commons, thanks to @mrazura for ITASTEM logo.
CLICK HERE AND VOTE FOR DAVINCI.WITNESS
DAVINCI WITNESS TRAIL


If you are the owner of an Open Source project on Crowind platform and you want to translate it with our help and the support of @utopian-io please join our discord server and chat with us.


DAVINCI WITNESS DISCORD SERVER


If you would like to delegate to Davinci.Witness you can do so by clicking on the following links:
50 SP, 100SP, 250SP, 500SP, 1000SP, 5000SP.
Be sure to leave at least 50SP undelegated on your account.