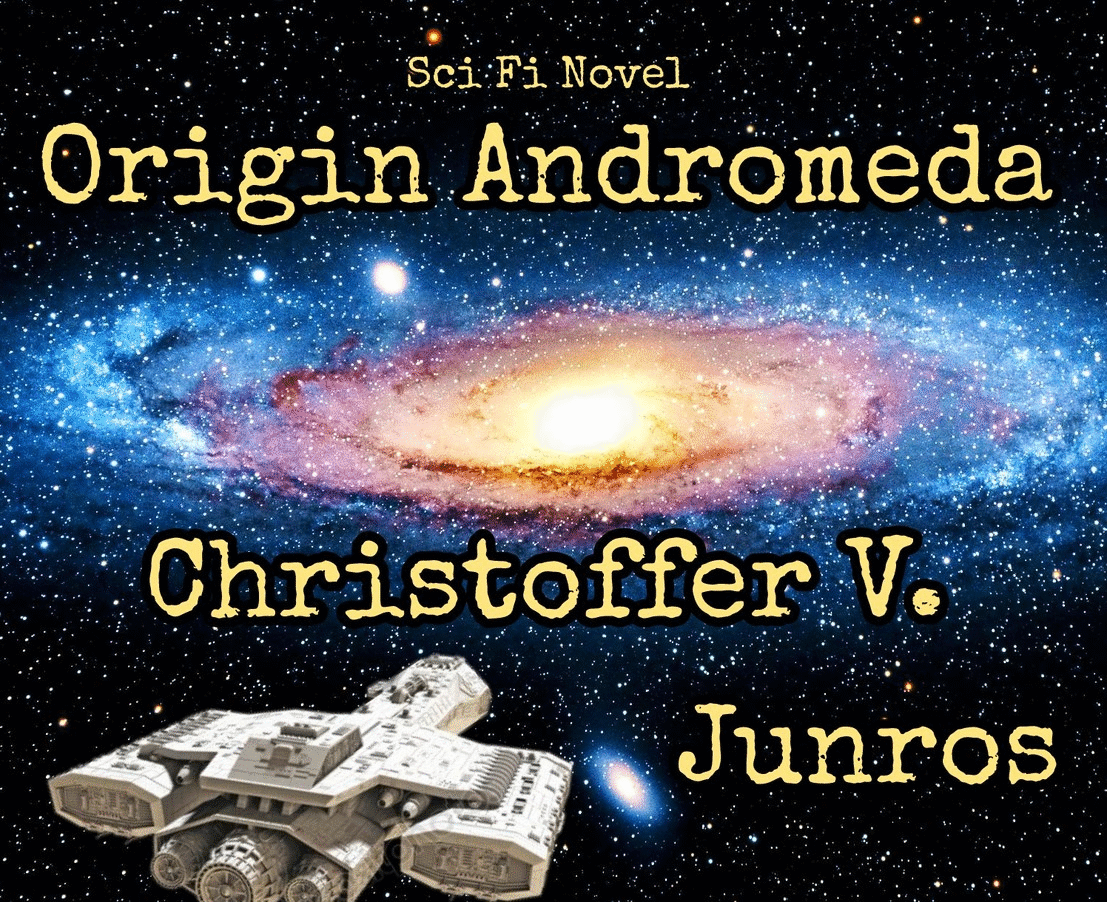 Part 14
Around two weeks has passed by, Henrik and Joanna is back to their daily routines, filling their days with learning about the history of Andromeda, working out together in the gym, enjoying delicious food with the crew and on the afternoons they join in with Bjorn and Rob at the bridge as they discuss on how they will achieve their goals.
It is late on the afternoon and they are just finished for today with developing their plan as Bjorn makes an announcement on the ships intercom.
"We are closing in on Odyssey station, going out of hyperdrive in ten minutes, your two week long rest is almost over, time to start our next chapter in our story"
Henrik and Rob walks over to Joanna who is standing at the front of the bridge, she is looking out through the window as they come closer to Odyssey station,
"It's an impressive sight" Joanna says as they look with awe upon the station.
Rob answers with an voice that makes him sound just like an experienced tour guide who is still just a little bit impressed by what he sees.
"It surely is, the design is taken from older stations, they are calling it retro design, as you can see it is built with an dual torus shaped design that consists of two separated torus rings, spinning in opposite directions to each other, the upper one is used for plant cultivation and the lower one is storage facilities the metal dome shaped structure above is packed with an impressive arsenal of weapons, it's more of an fortress then a station in that way"
He pauses for a second before continuing.
"If you look below the torus rings, you see that the docking ports are organized so that each shuttle easily can approach and depart without generating to much confusion and traffic"
Around and all over the station several ships are either sending out shuttles, receiving cargo or are stationary, some very huge and some smaller ships, there are movements in and out of the station at all time.
"This is probably the most visited station, since it is located so close to Zouud, and every ship needs to have approved clearance from this station to proceed towards the planet"
"It's an amazing sight" Is all that Henrik can say as his eyes goes from one ship to another.
Bjorn tries to open contact with the station control.
"Captain Bjorn on Eclipse with crew, requests docking permissions for two shuttles, signing transaction now, over"
"Transaction confirmed, use ports Y-4 and Y-5 and await further orders" the station replies a few seconds later.
"Let's go to the shuttles and begin our next step in our journey" Bjorn says with a light and enthusiastic voice.
"Joanna and Henrik, you are with me, we'll take one of the shuttles, Sofia and Rob you take the other, prepare it so that we can use it in an emergency if we need to depart very rapidly from the station"
"Yes sir, we begin the preparations immediately" Rob answers.
Seated in the co-driver seat, Joanna watches as they slowly approach one of the gates, a large sliding door is opened, the floors and walls inside the large docking bay is painted completely white, she sees that there is an control room furthest in.
"This bay is built for the mid-sized shuttles, they built the different sizes to accommodate different needs, we got this one since they scanned our shuttle size and model"
The shuttle slows down and the landing feet's are secured to the floor in the bay.
"One guard is standing in the control room, ready to come out as soon as the bay is re-pressurized, he will go through our papers and then a standard search procedure will be done, nothing to worry about…if anyone ask, just state that we are a cargo vessel seeking further permissions from the station to approach Zouud and they will not bother you anymore" Bjorn says
Both Joanna and Henrik nods and at the same time says.
"Understood" Henrik gives her a smile.
"First time we are on an actual space station my love"
The guard leaves the room and walks towards their shuttle, he looks like an tired old man, wearing slightly worn out uniform, ready to retire.
Bjorn is the first one to get out of the shuttle, walking down the short ramp on the back of the shuttle
While he hands over his papers he says.
"I know you are going to ask, and no it's not my first time at the station, frequent visitor here, you have my member key on the paper"
The guard doesn't give away any emotions when he scans the paper with his control pad and confirms it with the ledger.
"Everything checks out, you are free to leave the shuttle and wait on the designated area until the scan is complete" he says as he points his arm towards one of the corners in the bay.
Joanna and Henrik leaves the shuttle and follow Bjorn to the area the guard pointed out for them, the guard enters the shuttle and pushes a button on his control pad.
A blue and green laser scans the shuttle, going from one end to the other.
The guard comes out again, walks over to Bjorn and says.
"You are cleared, stay within the permitted zone and welcome to Odyssey"
Bjorn takes the paper that is handed back to him and they begin to walk towards the bay exit door.
"Sofia, report your status"
"Sofia here, our bay is still being pressurized, meet up outside the bay in five minutes or so"
"Good, see you soon"
Bjorn, Joanna and Henrik walks out of the room and through a tunnel that automatically scans their body as they pass through.
The area outside is filled with people, busy with their daily work and business, an enormous energy is sensed through the masses as they see people selling food and services, the ceiling is set high above them and Bjorn starts to give them a little background information regarding the station.
"This is the Odyssey market, it takes up the rest of the space on this level, the market is divided into four different zone areas, food, clothing, technology and miscellaneous services, there is also a residential area, it's always crowded and pickpockets are known to roam around sometimes" Bjorn explains, as he is done he sees Joanna and Rob entering the area from the door next to them.
"Good, now that we are all here we can begin our search" Bjorn adds.
"I want to look around the market for any parts that we might need to stock up on, I'll take Joanna with me, is that ok Bjorn?" Sofia asks.
"Sure, feel free to look around while we search for our friend, we meet up here in about two hours, just remember bay Y-4 and Y-5 and you should come back here easily, shall we go my friend?"
"Let's do it" Henrik says as he gives Joanna a warm smile and says.
"See you soon love, and be careful" They move into the crowd and disappear.
"Let's have a little adventure on our own" Sofia says with a spark of excitement in her eyes and before Joanna can answer she adds.
"Before we search for parts I want to see if I can find Gox, an old friend who hopefully still has his bar near the technology area, let's see if he's still around"
"Sure, I follow you" Joanna answers, Sofia grabs her hand and off they go.
They quickly moves through the crowd, the technology area is at the other end of the market, on the way Joanna sees a lot of differently dressed people, she glances at the merchandise that is sold, people bargain and shout to each other, the market is a mish mash of different stores, some are more well developed than others, using holo displays that shows commercials about their products and offers walk in stores, others look more simple and basic, using paper signs and simple tables to showcase their products.
Suddenly her glance gets stuck at one particular person, she sees an unusually long and well-dressed figure, wearing an elegant dress that almost touches the floor, with a broad and silky scarf hanging down from the neck, the persons face is smooth and in a light tone of blue-green, the eyes are completely orange.
Without slowing down, Joanna asks Sofia.
"Who or what is that?"
"That is an Youllian, don't look to long at her or you will draw to much attention and they have a reputation of being ruthless, thinking that staring is offensive" she answers and pulls Joanna further in to the crowd.
Soon they reach the bar that Sofia talked about.
"Here it is, hope that he is here"
They walk in, the bar wasn't as crowded as Sofia anticipated, but there are a few people inside, looks like mostly older men and a couple of younger Youllians. The light inside is dimmed down and all the decoration is glowing in neon colors, glowing blue ceiling lights and sparkling green tables combined with muffled music that is played in the background, the bar desk is lit up in a bright white tone.
They approach the bartender, who is a stylishly looking middle aged man, wearing a white shirt that reflects the colorful decor of the bar, they order one drink each and Sofia takes the opportunity to pass him a note with the name Gox written on it and a question mark, the bartender reads the note as he serves them their drinks, he begins to nervously look around the bar, before he leans towards them and quietly says.
"Don't ask me about him, he is not here, probably in his flat, don't look for him"
"May I ask why we shouldn't look for him?" Joanna ads.
"He is in trouble, they are looking for him, he owes them a lot of credits, I can't say anything more than that, please stop talking about him now"
"One last question, who is looking for him?" the bartender doesn't answer, Joanna looks around the room, no one seems the least interested in them or appears to be eavesdropping.
"I hear you, thank you for your answer" she says before picking up the drink and smiles towards Sofia before continuing with.
"Let's get out of here after we are finished with these drinks, would look suspect if we just order drinks and leaves right after, is there any way we can figure out which flat is his?"
"Not sure, we can ask around a little discretely I guess" Sofia says with a tone in her voice that lacks her previous sparkle, they drink up and leaves the bar.
"Where is the residential area, maybe someone can show us his flat there?"
Sofia begins to walk down the road, her mood is down and Joanna notices her distress.
"Do not worry, we will find him in the end, who is this Gox person to you Sofia?" she asks her as she walks beside Sofia.
"Gox is my oldest and most trusted friend, it worries my that he is in debt and in trouble, it's not good to be in debt in this place…things happens"
"I understand, perhaps we can help him out?"
"Maybe, first we have to find him"
End of part 14
Prevoius parts:
Synopsis
Part 1, The Cube!
Part 2, Run!
Part 3, E.B.A.A.T!
Part 4, The Awakening
Part 5, Kionidoo
Part 6, The Tour
Part7, The Pick Up
Part 8, Lift off!
Part 9, Sabotage!
Part 10, Rescue mission
Part 11, Belly of the beast!
Part 12, Loukh!
Part 13, Halfway there!
---
Thank you for reading this, hope that you find my story interesting and exciting.
Dedicated to my lovely wife who gives me inspiration to write.
Hope that you like it and will continue to read.