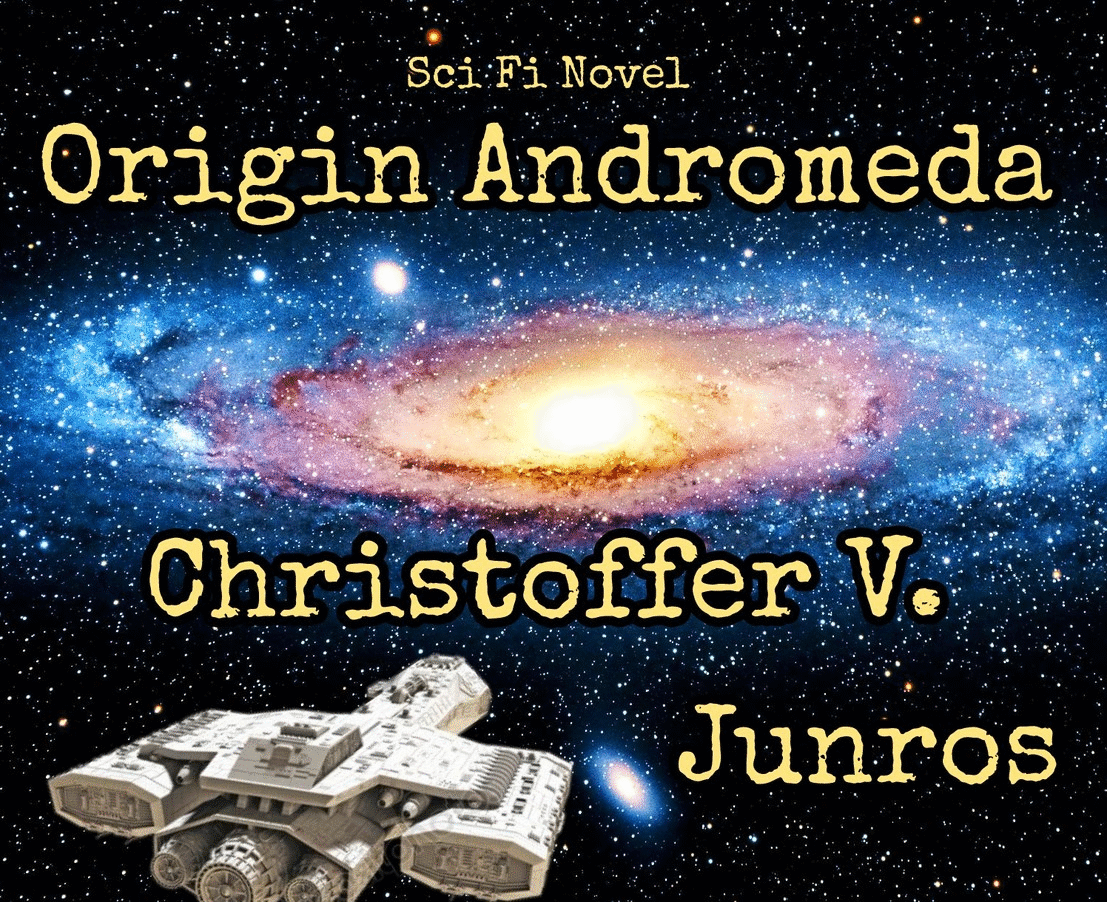 Part 21
The airlock area is once again calm, no sounds are heard as Henrik releases the tension that he built up in his body by letting a deep breath of air be forced out of him, regaining him his focus. He is still facing the open airlock hatch, the buttons have disappeared. The sight of Loukh's body returning to normal state had felt calming and satisfying, the atmosphere in the room was quiet.
"That was something else, wasn't it?" he says with a low voice more as a statement as he turns around, walks out of the room, leaving the airlock, feeling satisfied with his efforts in this test.
He walks along the corridor, once again past Loukhs quarter, the emergency lights are turned of and the entire ship feels empty of life, of energy itself. Henrik decides to inspect the bridge, uncertain of what the purpose might be but that is what feels like the right thing to do next. The walk up is slow, on the way he passes his and Joanna's quarter "If I only could have you by my side now, you always make everything so much easier my love" forgetting that almost everything is possible in this environment.
As Henrik walks out from the corridor and into the bridge the air is filled with voices from crewmembers, discussing different objects, controlling outer and inner statuses of the ship on bright displays, the entire bridge is buzzing with energy. Henrik notices that something has happened in here, some sort of conflict, parts of the bridge is destroyed and uncountable fragments of wooden shrapnel from exploded crates are all around the huge bridge area. Henrik smiles as he sees Joanna and Bjorn standing furthest out on the bridge, inspecting and moving in a fast pace around the holographic screen that visualizes some sort of huge man-built construction. They seem to be highly engaged in a discussion of some sort Henrik notices as he closes in on them, they haven't seen him yet.
"We need to move immediately, do all that it takes to return the artefact to our possession, without it we can't complete the process, we will be stuck here in the absolute void of space" Joanna's voice is calm and controlled, she has always been a born leader.
"I am aware of that my dear, a shuttle is being prepared as we speak" Bjorn answers.
They both turn around to greet Henrik.
"Glad that you are here my friend, we need to move out quickly, as you are aware the creature took the artefact and escaped down to the asteroid base by hijacking one of the escape pods, give us the order and we move immediately" Bjorn says.
"What creature are you two talking about? I'm sorry but I didn't see it up close unfortunately" Henrik asks.
"What do you mean my friend, you were the one that first sound the alarm before it attacked!" Bjorn answers, sounding a bit perplexed that Henrik asked what he asked.
"Anyway" he continues "It is unlike any other living thing we have come across on our journey so far, fast as a tachyon and earily dark as the inside of a tube, almost as if it was made of smoke, it didn't even bother to kill it just throw things around as if they were made of feathers, when it found the ancient artifact it disappeared as quick as it had attacked, and you are telling me that you didn't even see it my friend, I'm telling you, this is something else" Bjorn looks away and around the bridge.
Joanna hands Henrik a pulse gun that he swiftly holster, a smile and a warm passionate kiss.
"No doubt that it was moving like a whirlwind, but maybe Bjorn exaggerates it just a little bit, let's move out and reclaim the artefact my love, we need to find the strength and courage to do all that is required from us, we can do it together" her voice is just as sweet in Henrik's ears as it always is.
"I will always do my best for you my love" Henrik answers as he drowns in her eyes.
"Hrm hrm" Bjorn interrupts "lovebirds, we need to go now" he says as he begins to move down the bridge and towards the nearest exit. Henrik and Joanna follow.
Once they reach the shuttle Bjorn hands over a protective suit, it is completely black except from yellow stripes that goes parallel from the helmet and down towards the boots.
"Suit up, as we believe that the auto-defense system is operative on the base we will not be able to land on the asteroid so we need to use the existing gravity field to make a jump from our shuttle and hopefully land on the steel platform below" Bjorn says as he too changes to the same kind of outfit, the only difference being that the stripes on his suit is red.
As soon as Henrik sits down the shuttle begins to move, with a swoosh sound the craft passes the shield of Eclipse and a trajectory is plotted towards the asteroid base. They quickly arrive above the base, it looks dead as no other lights are seen other than some sort of rotating lights positioned on top of antenna like structures, they shine in the same sinister green shade as Henrik has seen previously.
"Time to jump, all ready and set?" Henrik takes command and asks the handful of crewmembers inside the shuttle, including Joanna and Bjorn.
The shuttle closes in as near as possible, around four hundred meters away from the platform that they must fall controlled and hopefully land on their feet. The shuttle hatch opens, as Henrik takes one step outside he is stopped by Bjorn's strong grip.
"What if this doesn't work my friend?"
"Don't worry, it will work, trust me" Henrik answers and takes the leap out from the shuttle, headfirst towards the surface of the asteroid.
The fall isn't as rapid as Henrik first thought it would be, the gravitational force from this far out isn't strong enough to pull them fast towards the surface, the fall is more of a careful descent.
As Henrik falls he makes small adjustments on his trajectory with the suits built in minimal nozzle thrusters, making sure that he aligns himself with the rest of the group. Halfway on the trip he rotates his head and body so that he can see if the others are in correct positions, they are all synchronized in the descent. "This goes quite smooth right now, wonder what the algorithm has in the plan for me" Henrik thinks as he remembers that he still is in a virtual reality environment, even though he feels that the experience is almost impossible to distinguish from reality itself. He rotates back facing the asteroid base, he can now distinguish different details down below, the entire asteroid looks to be hollowed out and filled with passageways, both inner and outer metal gangways where parts of the railing is incomplete is built alongside the passageways, perhaps they could be used for inspections and reparations Henrik reason. The sinister green lights flashes rapidly around the antennas that are positioned all along the base, on almost every corner.
The velocity is greater as they get near the artificial gravity field, they are around forty meters away from the platform as Henrik curls up to a ball to begin the rotation of his body so that he falls feet first , the nozzles thrust holds him aligned with the surface. The other follow suit and does the same maneuver. "Where did I gain this knowledge of how to manoeuvre this type of suit, must be some subconscious act of interplay with the algorithm powering this simulation" Henrik's silently concludes. He adds "To simplify and enhance the experience I suppose" to complete his own conclusion.
Thrusters located in the boots suddenly explodes into full power as they reach the last meter before landing on the surface, a few seconds later they are all standing on the dark and cold base.
"Let's set up parameters somewhere along the way, the creature is somewhere on this base" Henrik says as he looks across one of the passageways going straight towards the middle of the base. No sign indicating that they aren't alone on this abandoned base.
End of part 21
Prevoius parts:
Synopsis
Part 1, The Cube!
Part 2, Run!
Part 3, E.B.A.A.T!
Part 4, The Awakening
Part 5, Kionidoo
Part 6, The Tour
Part7, The Pick Up
Part 8, Lift off!
Part 9, Sabotage!
Part 10, Rescue mission
Part 11, Belly of the beast!
Part 12, Loukh!
Part 13, Halfway there!
Part 14, Odyssey station!
Part 15, Gox!
Part 16, Answers!
Part 17, One step closer!
Part 18, Arrival!
Part 19, Satisfied Nakamoto
Part 20, Intergrity and hard choices
Thank you for reading this, hope that you find my story interesting and exciting.
Dedicated to my lovely wife who gives me inspiration to write.
Hope that you like it and will continue to read.
Any feedback or editing suggestions regarding this series is very appreciated
---