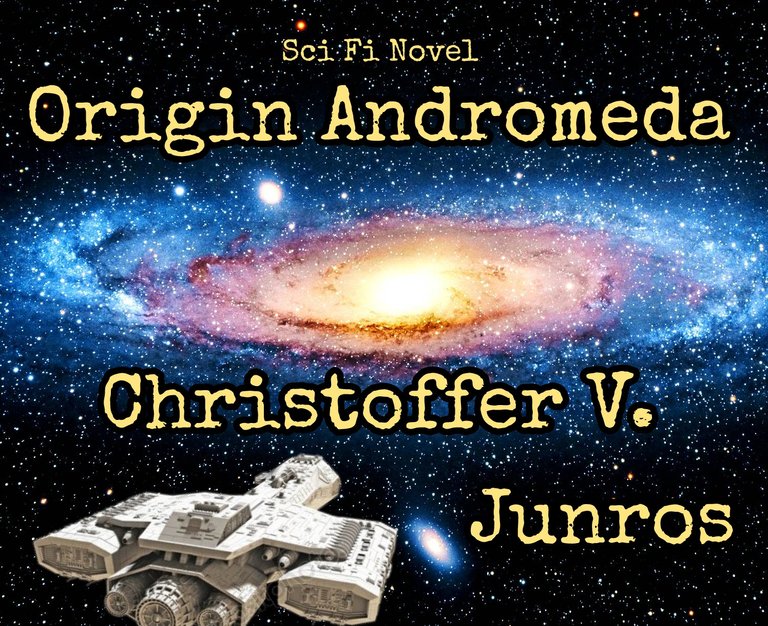 Part 7, The Pick Up
Bjorn is sitting in a comfortable position on the captain's chair, going through details of the work down in the engine room.
Henrik is in front of him, studying the hologram of the ship, thinking about all that has happened during the day, feeling a duality in his mind regarding being the said heir of Andromeda, a tingling fear and at the same time an urge or more specifically a strong sense of curiosity towards taking on his new mission in life, to set his foot on Zuood for the first time, and to work together with the Alliance to take back what once was his father's town, planet and galaxy.
But first he has to let Joanna know that he is alright and will be back soon.
"I need to call my wife, she's probably worried, she hasn't heard from me all day, but what should I tell her, how should I explain?" Henrik wonders
"Just say the truth, that you have been with me all of the day and was unable to call her, we'll explain everything later when she is onboard" Bjorn replies.
"Can we expect E.B.A.A.T to be there?"
"We can most definitely expect that, we land carefully in the backside of the house, hopefully they will not notice us, I will contact our field agent before we leave"
Henrik makes a short call to Joanna, she sounds worried on the other side of the line, but feels relieved that Henrik is alive and well, Henrik explains that he has been with Bjorn all of the day and has been unable to call her, "there is something wrong with her voice" Henrik notices, "best to act normal to not draw any suspicions if she's not alone.." he continues to say that something life changing has happened, that they will soon come home and explain everything
"See you soon honey, I love you, we have to get moving now" Henrik says before he hangs up the phone call.
"Something wasn't right Bjorn! there was something in her voice that sounded very strange" Henrik says with a worried voice.
"I know Henrik, I am also unable to get in touch with our agent, I think that we have to presume that E.B.A.A.T is inside the house and awaits us, take this, you might need it"
Bjorn gives Henrik a grey handgun that pulsates slightly in blue around the muzzle and along the barrel, Henrik takes the gun in his hands with a stomach twisting feeling.
"Never fired a gun before.."
"It's ok Henrik, this is a pulse gun, it has two settings, pacify and incinerate, I've set it on pacify for you, this setting will only stun a person and I hope that you won't need it today, if any shooting occurs, let me take care of it first"
Bjorn and Henrik swiftly runs towards the shuttle area, there are four shuttles the size of a really large van on top of Eclipse.
One of the shuttles has been prepared already so they get in, the inside of the shuttle is quite empty, the walls are dull white and the only thing that sticks out from the walls are two displays mounted onto the doors, one on each side of the shuttle, along the side there is a foldable bench with seatbelts, they get seated in the pilot and co-pilot seat in the front.
"buckle up" said Bjorn.
The lift off is smooth and almost without any noise, Bjorn explains that the lack of sound is due to dampeners built in to the engine of the shuttle, when they get to a reasonable altitude Bjorn does something on the dashboard.
"I activated the shuttles cloaking device, so that no one will notice our arrival, we are now completely invisible to the electromagnetic spectrum and most sensors, or simply put, no one sees us…we will land in around five minutes"
The last five minutes feels like an eternity for Henrik, he can feel his adrenaline levels are rising inside him.
They land smoothly on the backyard of their house, opening the shuttle door so that the light from inside won't be visible from the house and walks quietly on the lawn to get inside the house, from the outside Henrik get the feeling that something isn't right, the lamps are off and Joanna is nowhere to be seen.
"Why is it so dark inside the house? Have they.." Henrik's thoughts gets interrupted by Bjorn who grabs him by the arm to stop him from moving forward, he has seen something inside the house.
He whispers to him to stay here as he slowly walks towards the house.
Henrik can only watch anxiously while Bjorn moves to the terrace door with his handgun ready, slowly looking in through the window before he opens the door cautiously and walks in, Henrik is still watching from the lawn, in a crouched position, seeing how Bjorn disappears into the darkness, everything is quiet.
A few seconds go by, nothing but silence until Henrik suddenly witnesses that three light pulses are fired from inside in a quick succession, three green flashes that fills the entire living room for a very short time with light. A shiver goes down Henrik's spline, after a few seconds Bjorn appears in the doorway, giving support to a wounded man dressed in a black suit with one of his arms while he signals to Henrik to come in with his other arm.
Henrik feels the relief flushing down on him as he also sees that Joanna is standing behind Bjorn, he rushes towards them and grabs Joanna in his arms, holding her lovingly in a big tight hug, she asks.
"What happened? Who were those men? They have kept me tied down in here for a couple of hours, not saying anything other than that they want to know where you two are..I was so afraid"
She's crying into Henrik's arms, shocked by the experience, but happy that they are alright.
with a soft voice Bjorn says.
"I am so sorry that you had to be a part of this Joanna, I hoped that they wouldn't dare to enter your house, I saw three men inside and I pacified two of the intruders but one got away, we have to move quickly to the shuttle before he comes back, this is Rob, he was sent here to protect you if, he's hurt so we have to be quick now, follow me"
Joanna asks with a surprised voice
"Wait!...so you know who they are! Who those men work for!?"
Henrik still holds her in his arms, looking straight into her eyes, he says.
"Trust me my love, we will explain everything to you, but first we have to get into safety" she nods, Henrik grabs her hand and all four begins to make their way across the lawn, Bjorn is still supporting Rob who has trouble to walking but manages to limp forward.
Bjorn stops in the middle of the lawn, standing next to the cloaked shuttle, the only thing that can be seen is a slight pressure in the lawn where the landing feet's are standing.
"Why are we just standing here on the lawn?" Joanna asks
Bjorn points his arm right in front of him and touches the shuttle door to open it and walks in together with Rob before he answers Joanna.
"We landed here my friend"
Joanna looks very surprised when she suddenly sees into a vehicle that shines slightly inside, but only sees what is shown through a door that somehow appeared from thin air, Bjorn places Rob on the foldable bench, securing him tightly with a belt before he turns around again, looking back to invite Joanna with a friendly smile.
"Landed?" Asks Joanna puzzled as she walks in, Henrik goes in last and closes the door again.
"It's a shuttle darling, best to sit down now, we'll go to a bigger ship, everything will be explained to you there" Henrik says as he buckles himself up on the bench, Joanna seats herself down beside him, tired after everything that has happened.
End of part 7
Next Part
Part 8, Lift off!
Prevoius parts:
Synopsis
Part 1, The Cube!
Part 2, Run!
Part 3, E.B.A.A.T!
Part 4, The Awakening
Part 5, Kionidoo
Part 6, The Tour