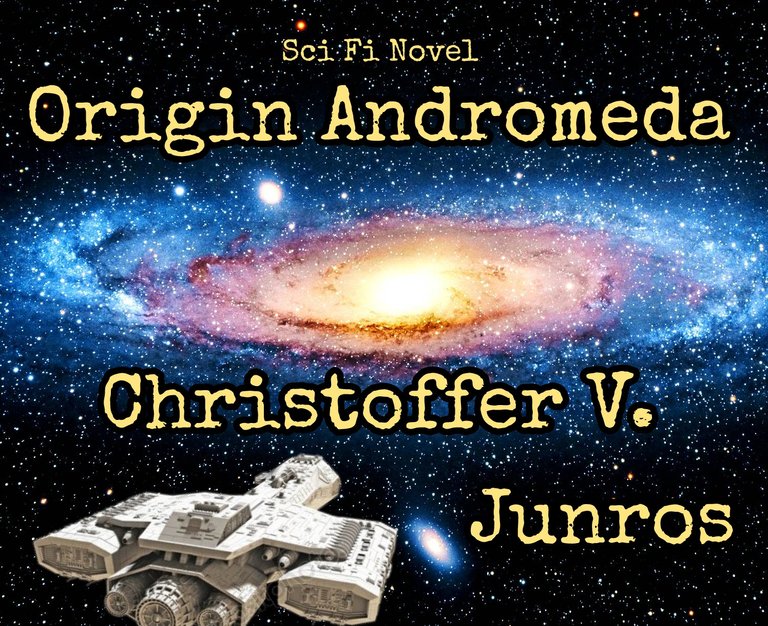 Part 8 – lift off
On their return to Eclipse Henrik and Bjorn briefly explains to Joanna what is going on, and what has happened, Bjorn starts to say.
"Long story short my friend, sadly there is no time to prepare yourself for what we are going to tell you… those men that where in your house are from an European bureau called E.B.A.A.T and they monitor and take action against alien threats found in Europe, that is the reason that we are all hunted by them…" Henrik who is holding Joanna gently in her hands jumps in and says.
"My love, as I said on the phone, something life changing has happened…" he continues to share his and Bjorn's entire day, starting from when he first arrived to the office, describes the chase and his experience from the cube, his previously lost memories about his mother, what he knows about Zuood, that he is the heir of the Andromeda galaxy and the tragic history about his father's fate, he finishes with saying.
"…I know that its much to stomach my dear, much to process, but I hope that you will want to join us on our journey to our home planet, we will take of near midnight today"
Joanna who has looked deep into Henrik's eyes with a remarkably calm facial expression during his entire explanation suddenly puts her hand soft against Henrik's left check and says.
"I just knew there was something alien about you my dear husband"
Both Henrik and Bjorn looks on each other, amazed over her reaction.
"so…you're not surprised or afraid of the fact that I am born on a different planet and that we are about to travel to another galaxy? Not even a little?" Henrik said.
"I am a bit surprised, and I must say that I am very nervous about going to another planet, but one thing that you should never forget my loved, is that I love you, and will always follow you, no matter what"
She leans in to give Henrik a kiss and then continues.
"If you aren't from this planet, so what?"
They all starts to laugh, the mood is good on the way back to Eclipse.
Once back on Eclipse, they meet Sofia and a team of medics that puts Rob on a portable stretcher and rushes away with him to the ships sickbay.
Sofia is there to greet them welcome, she gives Joanna a glass of cold water and a warming hug.
"Hello Joanna, nice to finally meet you, I'm Sofia, Bjorn's daughter and the chief technician of the ship.
"Hi Sofia, considering the current situation it is nice to meet you too " she said with a big smile on her lips.
"Sofia is the most skilled technician of the ship, she has spent countless hours of improvement, studying every corner of the ship, her knowledge comes from her late mother, an adorable lady and a talented technician on the ship, who sadly isn't with us anymore, Sofia was actually born on board, believe it or not…but now I want to show you all something, follow me outside for a minute" concludes Bjorn.
They all go into the elevator down to the ground and onto the meadow outside of starship Eclipse, it's night and the sky is filled with shining stars, so far out in the middle of a meadow, there are very few light pollutions and you can see the fascinating spiral of the milky way very clear all over the sky, it is mesmerizing and breathtaking.
"If you look up in the sky" Bjorn points his finger up towards the stars.
"Starting from Ursa major and the two stars that form the back of the wagon, imagine a line through these and then go down until you see the next strong star, you should now focus on the Polestar in Ursa minor, do not stay there, continue down until you see stars that together forms a W, it's Cassiopeja.
Focus your eyes a little bit further away, there is Andromeda, there is your home, your galaxy, your Zuood "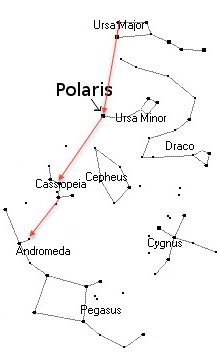 They follow Bjorn's instructions and soon both Joanna and Henrik stares together at the shiny point in the sky that is Andromeda.
"I see it now, it's amazing to think that we will travel there, thank you for showing us this Bjorn" Henrik say while his sight is fixed on Andromeda.
Joanna is speechless, unable to express her fascination on the idea of traveling to another galaxy, she is given a phone, handed by Bjorn, that shows a picture of Andromeda close up and an old picture of Zuood.
"This is what it will look like when we finally arrive, now I think that Sofia wants to show you something"
Joanna turns around to hear what Sofia has to say.
"Every time I look up at it I feel the same desire to travel there as you do now, I've never been there either, but now I want to give you the same tour that Henrik got from Bjorn so you can get acquainted with the ship and find out what's going on, come with me now, and I'll show you our amazing ship before we gather on the bridge for take of" Joanna gives Henrik a kiss and then she leaves with Sofia.
"Welcome to the Eclipse Space Shuttle, the ship is just over two hundred and fifty..." Sofia starts the tour and they walk towards the elevator.
Henrik watches as they enter the elevator before saying to Bjorn.
"That was a close one Bjorn, let's hope that everything will flow smoothly from now on, I don't want to put Joanna at risk like that again"
Bjorn answers with a confident voice.
"I can't promise you that this journey won't be free from certain risks Henrik, but I can promise you that I will do my best to keep this crew, including you and Joanna as safe as possible"
"I trust you, let's go to the bridge" is all that Henrik can say right now.
They both take the elevator up and into Eclipse, talking about old memories and laughs together when they remember that Henrik used to be really into old sci fi movies from the 80s, but always thought that extraterrestrial life wasn't something that he would ever see, that it probably would take thousands of years before mankind's first encounter would happen, and that Bjorn almost couldn't hide his urge to tease Henrik that he was one already.
About an hour later Joanna and Sofia arrives to the bridge after their tour, all preparations have been made now, both Joanna and Henrik are very nervous.
"Do you feel the vibrations? It's the engines that heat up, in a few minutes we'll engage the lift of "
They stand on the bridge looking out along the ship, with one hand they hold each other, and with the other they have a firm grip on the captain's chair.
The vibrations are getting stronger and stronger until the ship suddenly leaves the ground and accelerates incredibly fast, even with acceleration dampers Henrik and Joanna gets the same sensation as when they go up in high speed lifts, the same heavy pressure, the same sense of weight and inertia.
After a few seconds, they reach the clouds and continues accelerating, the sky is getting darker and the acceleration feels less heavy now, after a while, they leave the inner atmosphere of the earth, passes through the exosphere, the sky is now completely dark and stars appear clearer than ever before.
Bjorn points out into the emptiness and says.
"If you look at the left you will see a relatively small white structure, it is your dear space station ISS"
Joanna gets a quick glimpse of the ISS before it disappears again.
"We will visit one of our biggest stations later on when we reach our destination, it is an intermediate station where we will pick up a dear guest"
Bjorn shows them the solar system on the way out before they shift over to hyperdrive.
"You will get a quick tour through your solar system before continuing to Andromeda, we will slide past the moon in a few seconds before we move on to Mars, Jupiter, Saturn, Uranus, Neptune, and finally, let's not forget your dear Pluto"
"That's amazing, could never believe this would happen when I woke up this morning" Joanna said, Henrik can only agree to that.
"We're just passing by Pluto, the last planet of this solar system, do you want to see Voyager 1 before we get into hyperdrive?"
"Please take us there, It's not every day you get the chance to see it up close" Henrik says joyfully.
After they observed the lone probe a few minutes, cruising just behind it so that it is clearly visible through the window, Bjorn sends away the order to engage hyperdrive
"You will notice that the transition feels a little sticky, it's nothing dangerous, it could be described as the feeling of taking a step back while blindfolded and simultaneously taking a deep breath that suddenly interrupts half way in and usually ends up with goosebumps all over your arms the first few times around"
Looking out through the large observation windows Henrik says.
"We are ready for it, let's jump"
Bjorn engages the hyperdrive, Henrik's sight became blurred for a very short moment, then everything was normal again except that his hair is standing straight up, Bjorn and Joanna chuckles a little.
Though the windows they see the faint Tachyon shell glimmering around the ship like an egg shell and it looks like they are traveling through an purple and blue cylinder.
"This is really an astonishing sight, hypnotizing in its rhythm" Joanna says as her eyes is fixated against the outside, Bjorn replies as a hungry person does, with only food in their mind.
"The ship is more or less on autopilot now and I bet that you are hungry my friends, at least I am after this eventful day, there is a feast prepared in your honor, so let's get down to the dining room and join everyone else"
The thought of food makes Henrik realize that he hasn't really eaten anything except some fruit today, his stomach is more than ready to be filled.
They walk together down to the big dining room, its crowded and the room is filled with an amazing aroma from the food, Henrik smiles while pulling out a chair for Joanna so she can sit down, on the table her favorite dish, lamb with steamed rice and fresh salad on the side is served.
Music starts playing in the background, the whole crew is in the room and the atmosphere is on top, Sofia stands up, whistles loudly to get everyone's attention.
"Dear friends, at last we have Henrik and Joanna with us, let's welcome them the best way we can, let the show start"
In the middle of the room, a plateau is lifted up half a meter from the ground to create a scene, four people in white body suits are standing silently in a ring, with their backs against each other.
Their costumes begin to change in color and patterns, only slowly at first and then faster and faster, they begin to float, dancing and spinning over the plateau, like some kind of modern street dance mixed with classic ballet.
"This is a classical dance that tells us about our origins, from before we started traveling to space and visiting other habituated planets" Bjorn explains to them.
The feast continues with laughter and everybody comes over at least once to their table to present them self.
The crewmembers slowly starts to leave the dining room, going to their cabins, filled with good food and drinks and deserving of a good rest after their hard work to get the ship ready for travel.
"I know that you are tired and need some rest too, but please follow me up to the bridge one more time tonight, there is something you need to see"
As soon as they reach the bridge, Bjorn disengages the hyperdrive to show Henrik and Joanna the milkyway seen from far away, it was a wonderful mysterious feeling that is best described as an endless beauty, their entire view is filled up by the huge spirals that shine as strongly as the diamonds on Joanna's ring.
"What you see is your spiral galaxy, what do you think?" Bjorn asks
"That we are already so far away from Earth, from all our friends and family" Joanna answers, Henrik looks towards his former home galaxy and says with a voice filled with questions.
"Yes and our trip has just begun, wonder what challenges we will face, and how Zuood will receive us, I mean, my father was very popular, but will I be able to measure up against the expectations that they most likely have on me?"
Bjorn hears his friends doubt, and reassures him that he will be fine.
"the majority loved your father, but probably not many familiar with you, much has happened, we will introduce you with caution at first"
"Okay, you have to prepare me as well as you can during our trip"
"I will, I promise"
End of part 8
Next Part
Part 9, Sabotage
Prevoius parts:
Synopsis
Part 1, The Cube!
Part 2, Run!
Part 3, E.B.A.A.T!
Part 4, The Awakening
Part 5, Kionidoo
Part 6, The Tour
Part7, The Pick Up
---
Thank you for reading this, hope that you find my story interesting and exciting.
Going to release this novel on Steemit, in parts with a few days between each part, need to work on translating the next part before I post it. I have been writing on it for a few years but never getting it out before, originally written in Swedish.
Dedicated to my lovely wife who gives me inspiration to write.
Hope that you like it.