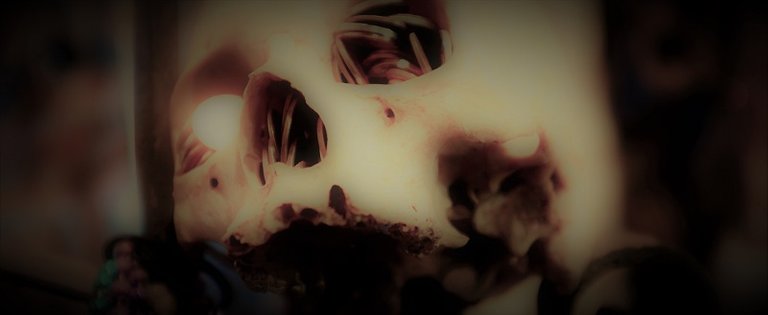 Source
Before you go any further, please start from the beginning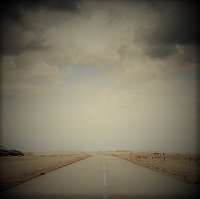 She wiped the tears from her face, shook off her emotions and started to think about her next move. She sat in the car, hands gripping the steering wheel, contemplating where she will go and what she will do.
Instead of feeling sorry for herself, she tried to embraced the moment, thinking of it as an adventure. She started the car and continued west, not having a clue of where she was going.
The windows were down, the radio was off. She was lost in her thoughts.
What did I do? How can things be so perfect this morning and now everything is so fucked up. Oh Adrian. I'm so sorry. I'm a monster. I'm no better than my father. I never expected to see Jada again. Why did she do this?
Her thoughts were interrupted by her phone ringing which reminded her that she needed to get rid of it. She picked it up, already knowing who it was and glanced at the screen to see she was right. It was Adrian. She wanted to answer. She pushed the button on the side to silence it. With tears streaming down her face and feeling more alone now than ever before, she threw the phone out of the window.
She had been driving for a few hours and her eyelids were starting to get heavy. She needed to get her head right and figure out what she was going to do but that wouldn't happen in the state of mind she was in. She needed some rest. She saw a sign, "Bayou Sunset Inn - The cleanest rooms in Lafayette - 2 Miles Ahead", and decided to stop and sleep for the night.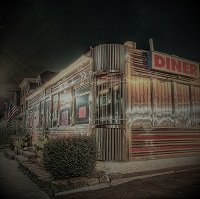 She woke up the next morning, her stomach rumbling as she hadn't eaten anything the day before. She looked out of the window and was pleased to see a retro looking diner across the street. After the usual morning routine she left the room and walked across the street. As she approached the diner, she noticed a "Help Wanted" sign in the window and had an idea.
Lafayette wasn't far enough away but there are places like this everywhere. She was a decent looking girl and knew with a little makeup she could make some decent tips. As she sat there, scoffing down a plate of French toast and bacon, her mind was a barrage of thoughts and ideas. When it came to trying to decide where, her mind always went to places she's been; Grand Isle - one road in, one road out, surrounded by waterways and the Gulf of Mexico… Ruston - small college town, Northern Louisiana, farmland.
She doesn't remember much about Ruston, last time she visited, it was with her parents when she was a child. That alone was enough to sway her decision. The thought of being somewhere familiar was more appealing.
She finished her breakfast, left cash on the table and walked back to her room to gather her things. She drove the car east until she got to the exit for Grand Isle then headed south to start a new life.
She knew that this wasn't a permanent solution and was thinking as soon as she saved enough money, she would make a move. After a few hours driving, the Grand Isle sign came into view as a subtle grin graced her lips.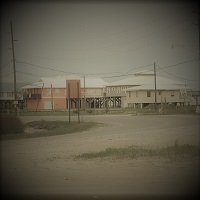 She had always loved this place. Charming, colorful and elevated fishing camps lined both sides of the road with clever names like "A Basket of Crabs" and "Tipsy Tuna". One small grocery store and a few 'mom and pop' shops selling beach gear and souvenirs and several restaurants that serve the best seafood she's ever tasted. Quaint Inns and Hotels on the water and fishing camps you could rent for the summer if you wanted something more cozy.
The little island town was buzzing with people. The annual Tarpon Rodeo was the next weekend and always brought the biggest crowds. Fishermen from all over would flock to the island for a week of partying and fishing.
She cruised down Highway 1 glancing around for a place she liked and found the 'Hurricane Hole' which was a small city in itself right on the water. A marina, bar, hotel, restaurant and marina store that had everything a simple, single girl needed. She pulled into the parking lot, shut off the car and soaked in her beautiful surroundings. She wasn't a religious girl, but in that moment she prayed.
Please, a room and a job is all I need was her last thought before stepping out of the car and going upstairs. She went to the hotel first to get a room and after seeing the crowd in town, she wasn't hopeful. At the counter was a young couple checking out early due to a family emergency. Perfect timing, the room was hers. She had the room for two nights. After paying for the room, she asked the lady behind the counter if she knew of any jobs in the area.

She replied with a yes and a sigh, "We need help in the bar, and here in the hotel. Are you looking for something specific?"
"Wherever I can make the most tips."
"The bar it is. It's the next building over but the boss had to run out for a while and won't be back till morning. I can take your name and ring your room when he gets in. I'd say around 10 most likely."
"Sounds perfect. Thank you. My name is Brooke."
"There's a live band playing at the bar tonight if you're interested."
"Thanks but I'm really tired. I'm gonna turn in early."
She went to the car to get her things and went to her room. She wasted no time stripping off her clothes to take a long hot shower. She closed her eyes, taking deep, slow breaths and cleared her mind.
After her shower, she collapsed into the bed and slept till the phone rang the next morning and startled her.
"Hello"
"Miss Brooke?"
"MmmHmm"
"I spoke to Roy about you, he wants to know if you could meet with him in thirty minutes."
"Who?"
"Roy… the manager… for the job.."
"Oh! Yes, yes… where?"
"At the bar. Do you remember…"
"Yeah I got it, thank you."
She hung up, and went to the bathroom to splash cold water on her face, in an effort to wake herself up, brushed her teeth and hair and got dressed. She was nervous but as always, hid it well. With fake confidence, she went down to the bar. Roy was older, slender, tan and white headed. As she walked in, their eyes met and they both smiled. When she got close enough they shook hands.

"Hey, I'm Brooke."
"Nice to meet ya Brooke. I'm Roy. I don't have a lot of time so I'm gonna cut to the chase. I heard you're looking for a job. I need a waitress, you got any experience?"
"I don't but I think I can handle it. I'm a quick learner."
"Well, we are gonna throw you straight into the fire, when can you start?"
"Now."
"You're eager, I like eager. Okay, we get extremely busy this time of year... it's not easy work. I'll put you on tonight's shift. We'll find out what you're made of. You can stay at the hotel for as long as you're working here at no charge. I will pay you ten bucks an hour in cash and you keep whatever tips you make. Your shift starts at nine sharp, don't be late"
He handed her a hot pink t-shirt with a hurricane in the middle on the front and 'Hurricane Hole' big, slanted and in a nice cursive font on the back.
"Wow! Okay, thank you! I'll see you at nine"
Having some free time before her shift, she decided to find something fun to do. She went to her room, dropped the shirt off and grabbed her keys and wallet.
She walked to her car with a smile on her face. She had a sense of hope that she may be able to escape the state before anyone finds out who she is and what she's done. She would give herself a week, make as much money as she could in that time and move on to somewhere else.
The ever looming black cloud that floats above her head has dissipated. At least for now.

Dear Loyal Readers,
Thank you so much for reading! I hope you have enjoyed Chapter 11. Please stay tuned for Chapter 12. I apologize for it taking a while to get this chapter out, life has gotten busy but I'll be working diligently to get the next chapter out soon.
Feel free to leave your thoughts in the comments as I love hearing what you all have to say. If you would like to be added, just let me know and I will be honored to tag you for the release of each new chapter. Thank you for all the love and support you've shown since starting this journey with me.
Thanks for stopping by y'all!
Love, Monch🐝

• @dreemsteem • @andysantics48 • @kiwideb • @enginewitty • @tamala • @andywong31 • @megiscrafty • @marblely • @misslasvegas •