Update 3 for Ripple (Prediction # 8) Target $ 5 Expected Date : Before 22 May 2018
Ripple will larking up towards $5
Most people don't like it.But I like it very much RIPPLE RIPPLE RIPPLE
Some one remember 10 days ago I posted about (best investment right now) when xrp was only $0.70
https://steemit.com/cryptocurrencies/@salahuddin2004/best-investment-right-now-if-you-can-t-afford-expensive-cryptocurrencies
I have 20,000 XRP coins with last entry at $0.70.(on 02.06.2018)
In update 2 our entry for ripple was at $0.84.
Any Price below $1.15 would be good buy entry.
Short term traders 1st target is $1.73 follow by $2.30.
Long term target $5 ( before 22 May 2018)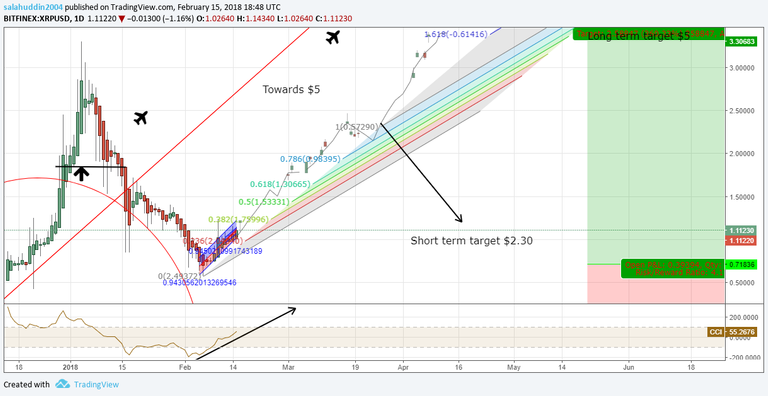 Bullish Harami seen at $0.70 (Uptrend confirmation)
On next day we seen Bullish Inverted Hammer which means that
Inverted Hammer appears in a downtrend and signals a bullish reversal.
MACD uptrend signal.
Want to become a good trader?
Go through lessons (by salahuddin2004)
Lesson # 1 (Support/Resistance levels)
https://steemit.com/bitcoin/@salahuddin2004/lesson-1
Top 70 Cryptocurrencies (Buying points/Target points) by me
https://steemit.com/bitcoin/@salahuddin2004/top-70-cryptocurrencies-buying-points-target-points
Don't Forget to Resteem.
Thank you.
Take care.