The ZCash, one of the main anonymous crypto-currencies, is about to know its first "hard fork".
This update, dubbed "Overwinter", should be activated in the next few hours, at block 347 500 - the network is currently at block 347-291.
Zcash is a fork of Bitcoin, which relies on a proof system with zero disclosure of knowledge. This allows its users to hide the details and amount of a transaction, while ensuring that it is recorded on the Zcash blockchain.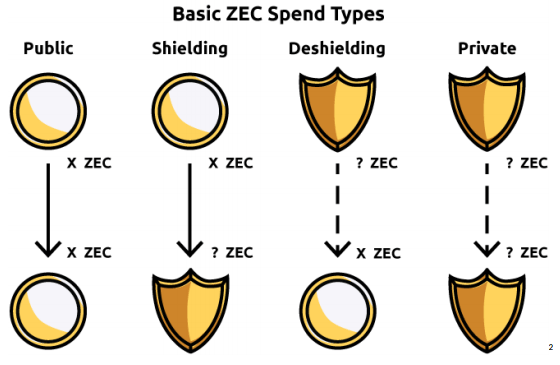 The company Zerocoin Electric Coin, the origin of this cryptocurrency, had announced this update last March on his blog, and had released a software compatible with this fork the following month. She says, "Overwinter's goal is to strengthen the protocol for future network upgrades, paving the way for the Zcash Sapling network upgrade to take place later this year." Overwinter includes "creating different versions, protection against replay for network upgrades, and improving performance for transparent transactions."
Sapling, which should be set up this year, is a protocol update that aims to improve the efficiency and "scalability" of shielded transactions, in order to promote the use of Zcash. Overwinter must facilitate the implementation of future updates such as Sapling.
Anonymous crypto-currencies in the viewfinder of US authorities
It should also offer a "new transaction expiration feature," which will automatically cancel transactions that have not been added to a block after more than an hour of waiting, to limit congestion. the "memory pool". This update must also fix a hash bug that makes some transactions heavier.
Many exchange platforms (Binance, Gemini, Bitfinex or Poloniex) will support this update. A few weeks ago, the Zcash - which is one of Monero's main rivals - was added to the Gemini platform, causing the price to rise. The owners of the site - the Winklevoss twins - had received approval from the New York financial regulator. They had to agree to prevent withdrawals to "shielded addresses", in order to comply with the anti-money laundering rules in force in the country.
Last week, an article published on the Forbes website reported that the US secret service wanted "additional legislative and regulatory action on anonymous crypto-currencies" to be requested. He quoted Thomas Ott, one of the executives of the US Financial Crimes Enforcement Network, as saying that billions of dollars in cryptocurrencies would have been used to "carry out suspicious activities." The man conceded, however, that "traditional methods [remained] the main vehicle for most of the illegal activities".
Users are advised to avoid any transaction one hour before the fork is set up. All the nodes of the network will have to use the last version of the software in order to continue operating on the "forked" chain.