I personally love robbery movies, most of them seem like super entertaining productions that allow us to see up close how big groups of bandits are able to plan amazing robberies that are recreated in wonderful ways in movies. Most thefts movies follow essentially a creative formula that rarely fails because it allows to create super intense and entertaining atmospheres, however today I don't come to share my opinion about the typical thefts movie that follows the formula that has made successful to that subgenre of films, the movie that today I want to share takes the genre of thefts to a more real extreme through more mature characters and the staging of a robbery carried out in a more direct way, without so many plans and without many ambitions behind the protagonists; in Hell or High Water the motivation of those who carry out the robbery is justified in a certain way and is also wrapped in a really great social mantle.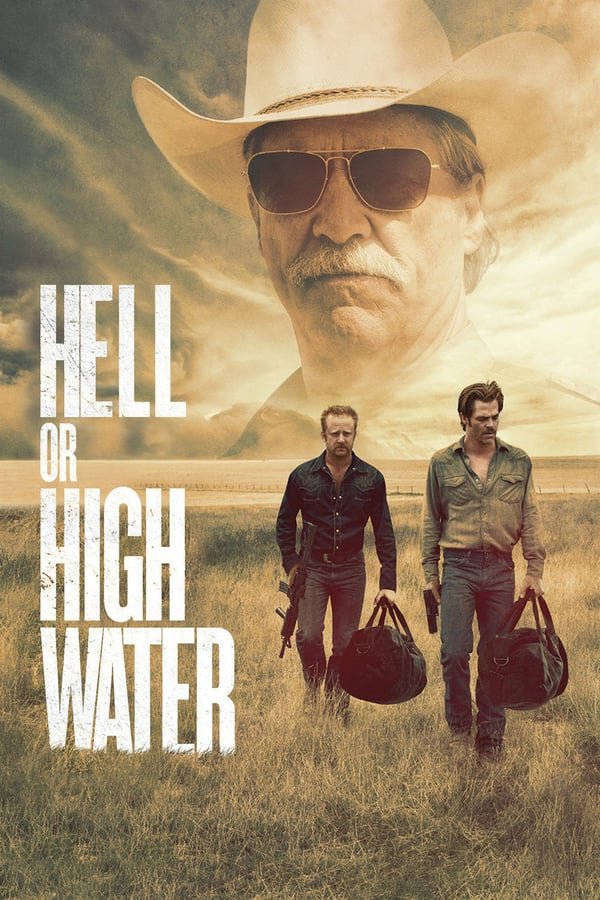 Source
Hell or High Water is how I told you about a movie where two brothers carry out a series of robberies to some banks in different towns with an objective behind that in a certain way justifies their actions and conceals any bad action that these two men have to do to succeed. The interesting thing about this film is that they have an impressive social contrast because it allows us to explore closely the constant scourge suffered by the humblest people by large corporations and banks that assiduously sought to take advantage of different situations to take advantage of their homes and land. Yes, that is the motivation of two brothers at the time of carrying out the robbery of a series of banks, a motivation that leads them to do everything to culminate a magically elaborated plan to succeed, and do not misunderstand me in this film the robberies to the banks are common, without so much planning; basically we see two men armed and hooded entering the banks and robbing them by armed hand, that's it, there are not many turns.
Source
What is really interesting about the plot is the way in which the robberies serve as a condiment to let us see up close the relationship of two brothers who despite not agreeing on many things come together to carry out a more elaborate plan behind the robberies, yes, here what is really exciting and even surprising is to see how after robbing the banks these men are able to "launder" the money and use it to combat a bank that wanted to steal their only assets.
The plot develops in a really great way with intense scenes of robberies and shootings to end with really great moments where we see the sacrifice of one brother so that the other gets out alive and face those who want to take what rightfully belongs to them. The scenes are very simple but give us a really great atmosphere where we feel transported to all this atmosphere of cops, thieves and chases in cars that make this film something different, dramatic and above all very intense, because in the end the film is filled with violence that turns the plot into something very exciting.
Source
When I began to see this film I thought I would not like very much because everything begins to develop at a slow pace, however everything changes and the plot becomes something fascinating because we connect with the cause of two brothers who only want an opportunity to counter the inclement conditions that make them run the risk of losing the heritage that in the future will be their families. Without a doubt, a great film that manages to marvelously establish different plot rhythms to highlight a story that feels fresh and that quickly became a carousel of shocking and exciting moments.
Source
---
My Score: 7,8/10