This is the precursor to the coming Utopian post
All @neutralizer healing comments are set to 100% beneficiary rewards to the flagged abuse fighter. This means in cases where a downvote is unable to be nullified that we can still reward an abuse fighter with Steem Power or vests.
Our colleagues have engaged a target that we had thought was within capabilities. Underneath the surface, an Orca grade abuser lurked. @neutralizer will be creating beneficiary replies to ALL flagged SFR mentions as well and my comments. We will soak up as much of their abusive VP as possible.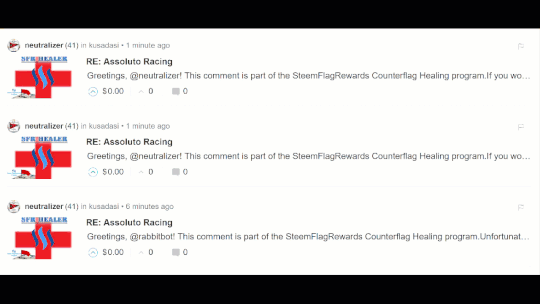 Tomorrow, I will receive the beneficiary heal code function that we are currently employing to compensate flagged SFR users. Furthermore, I still working on the overarching SFR healing project, of which beneficiary healing is just one facet.
Look forward to continue fighting the good fight against Steem abuse!
How can you help?
Keep an eye on the activity of @steemix-io and @supermarioo's downvotes. If you possess the SP to neutralize them, we would greatly appreciate it. The will soon realize the futility of their actions.
We have technology and the abuse fighting community at our side. Thank you all!
You may also delegate to the SFR Healing Initiative as we develop a more robust counterflag operation to bolster Steem Abuse Fighting! See delegation links below!
Quick Delegation Links
@neutralizer OUT!