Action Cameras Can Be A Great Option For You In Sports, Live Events, And Adventure Venues.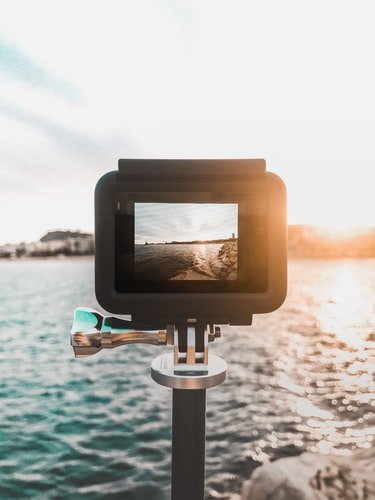 The action camera has less weight than the smartphone. Despite being too small, it can shoot the 4K and underwater shoots. It can be fitted from bicycle to car. Most action cameras do not have internal storage. It is connected to Bluetooth or Wi-Fi, from which it transfers the photo and video to mobile or cloud storage.
The action camera is more compact than any standard point and shoot or DSLR camera, it can be easily mounted anywhere. Through this, high quality videos and photos can be taken. Action cameras are made for places like sports, live events and adventure. They can be used comfortably in those places, where you can not use DSLR and smartphones. Before investing in any camera, it is very important to know about its features.
Wide Angle Video And Photos-
Most action cameras are able to record the high quality of 4 video without any difficulty. The big sensor in it easily allows you to easily transfer the best picture and transfer them to your smartphone via Wi-Fi.
Compact Size-
The biggest feature of the action camera is its size. It mainly comes in small sizes. You can easily fit it in your palm. It can also be installed on a tripod or monopod. There is a water proof casing above it, which prevents it from getting wet in water. It is much smaller than the DSLR camera and point and shoot camera.
Experiment With Sporting Acquisition-
You can also use the action camera with your own sports auctioneer. You can capture the Sporting Action from different angles by fitting it in Surfing and Skiing Equipment. In this you will find pictures and videos of close and unique angles. You can use them to see and correct their mistakes.
Car dash as cam-
You can also use the action camera as a dashboard camera in your car. It can fit your bike handle and its wheels. This will give you the video in the unique angle. Also its time lapse will give your root a strong view.
Some Of The Best Cameras In My Knowledge.
GoPro Hero 5
This camera is waterproof. It has a sensor of 12 mega pixels. With this camera you can do the recording of 4K comfortably. The camera captures the photo in a very short time. The camera can cover a range of 10 meters in the dark.
Ricoh WG-M1
It has a 14-megapixel sensor. Many different modes are given in the camera, with the help of which you can record excellent quality. The device has an underwater lens protector WG Flat.

Sony HDR-AS50
This camera has the XMor R Simos sensor. For this reason, the quality of the photo taken by this camera is quite great. Sony's device has a Zeus-teaser lens. This camera can do video recording of 4 with fast speed.
Furper Xiaomi Mi
The umbrella A12S 75 chip set is installed in this action camera. It supports recording of camera 4k. This device has a 2.4-inch display. Its sensor works in a smoother way. The device has an anti-shake of 6 axis to keep the picture stable. Multi shooting modes are given in the device for different types of photographs.
This is some action camera of my attitude. I hope if you buy a new action camera, then you get some suggestions from me.
 Note:- It's of my knowledge list. And my vest of view. Other Action Camera can be better than my list. So make your sure decision, if you buy a new Action Camera. I'm not fully expert on Action Cameras. I can give you only one suggestion for a better product. And the Action Camera images of this article may differ from the original Camera images. 
 Thank You For Coming And Reading. If you have any suggestion for me please comment.
Please follow me and if you like this post and Please Upvote me.
So bye friends meet in next post.
Your Pushpen