resteem and get my upvote, make a comment with 'resteemed'
Another great opportunity to get free money
Get 1000 free ALX tokens for signing up on Algebraix + 4000 ALX tokens for each friend you refer.
Link to sign up and receive tokens:
https://watch.getalx.com/login?referralCode=WYGP7W
What is algebraix?
---
Algebraix is a permission based advertising platform, fueled by the ALX token.
On their website you can watch advertisement and get rewarded with ALX-tokens.
Very interesting if you ask me.
For now it is in beta-testing. They promise to release the earned ALX-tokens once the are out the testnet.
This is a big earningopportunity here so grab what you can and defently take a look at this interesting website.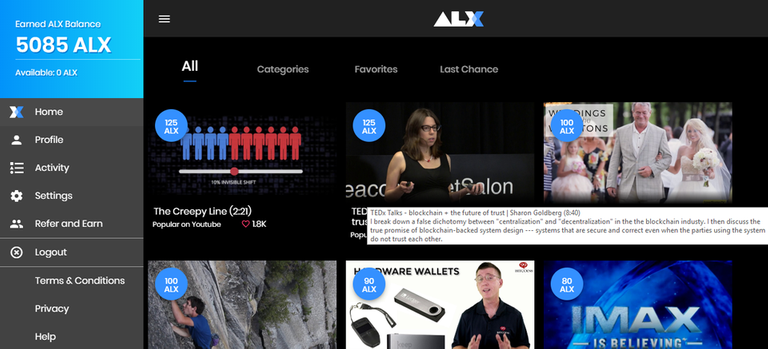 *edit:
A reader claimed ALX is not the same as ALAX ALX but algebraix ALX
however is is forbidden once a company has paid for patent on shortening to use the same ALX that makes me suspect they will use the ALX-blockchain, wich can also be suspected since the faq is speaking about solutions for their own blockchain.
also this is what i found:
The ALX Exchange
We plan for the ALX token to become an easy-to-use mainstream cryptocurrency. Our creating and
running a cryptocurrency exchange is part of that plan. It will help us in the following ways:
» We will be able to integrate it into the ALX platform. We intend it to be inexpensive.
» ALX members will be able to move between currencies quickly and inexpensively
» We intend to support fiat currencies. We expect that to be popular with members.
» The will available to anyone who wishes to use it - not just ALX members.
» We will be using ALX tokens as a bridge currency, to encourage users to begin to use ALX as a
metric of value.
edit I emailed the info of algebraix and they confirm that it is a different token then ALAX ALX.
resteem and get my upvote, make a comment with 'resteemed'