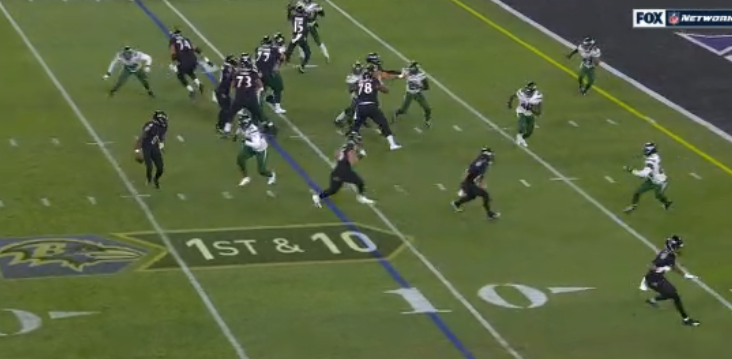 (espn.com/nfl)
Injury did not stop Lamar from playing today.
He loves running the football.
Despite his ability to throw, this mismatch confused the defense
so much.
Jets did come to play.
I guess Adam Gase wanted to put a break on this train.
That train was way too fast to stop.
If you follow the game, since you are not sure if Lamar will run
you are obligated to watch him and leave Andrew wide open up in the field.
This is a calvary playing the Ravens.
Ingram will eat up yards as well.
Scoring 40+ points show the power of this team to step all over you.
Jets did score 20+ points but way too late to put a dent.
Darnell threw an INT.
Same way the block punt may seem to bring life to Jets.
Lamar needs to be careful and avoid any unnecessary hit.
I do not think they want to hurt him long term.
Just want him to be one dimensional player.
The running part is the real threat in the game
Even Brady tries it against Houston and he was pumped up.
Lamar did pass Vick in the rushing yardage.
Will lamar be able to destroy team for more years to come?
Hard to think of it this way.
Hope he develops his throwing arm.
Avoid hit.
Run if needed but go to the sideline, slide like all other
QB does.
Ravens just secured home field advantage throughout the AFC.
Couple more wins and it is cemented.
Ravens will play
Browns
Steelers
Not sure how the Steelers game will go
but Browns will definitely get a whooping for pay back.
Both teams are pushing to conserve their playoffs spot.
Two more weeks left for Ravens.
Hopefully Lamar stays healthy to showcase his MVP shape.
Stay fit.