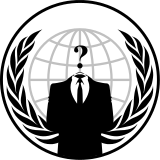 Anonymous is a loosely associated international network of activist and hacktivist entities. A website nominally associated with the group describes it as "an Internet gathering" with "a very loose and decentralized command structure that operates on ideas rather than directives".
In my opinion, Steem is the right medium for exchange of information for Anonymous. This could bring many users to Steem and offer them the platform they need:
decentralized
censorship-resistant
open source
Even though I have no direct association with this group, I would like to offer access to the anonymous Steem account for posting.
Anyone that replies to this post
with convincing reasons why he or she should be able to post as user anonymous and
that can provide a public key (or an existing Steem account to extract a public key from)
will be granted posting access to this account. (I am unaware of any limitations regarding the maximum number of public keys that I can grant access to this account, but I am willing to find out.)
Anyone with connections to Anonymous, please feel free to forward this message to them.