Today around noon, I realized I had lost about 70% of my trading capital. The right side of my face was numb because it had been planted on the table for a long time as I had unintentionally fallen asleep. It took me a bit of time to understand my surroundings. As usual, I wake on my bed, and the first thing I get to look at is my ceiling, not charts. But today, that is what happened. I woke up to an infinitesimally long red candle hanging from the top of my screen, vanishing towards the bottom. As my heart paced faster, I realized the gravity of what had transpired and its cost.
Last night before I dozed off unintentionally, I had opened a trade into a pair called LUNA/USDT. Most people part of and active in various crypto communities already know the project's infamous name. The token that went down so hard, it may have created a dent in everyone's tables. It did in mine too. Except for me, it's my mistake that cost me a large chunk of my portfolio.
For the better part of yesterday, I was observing the pair to understand why it was crashing so hard. Luna is the counterpart of an algorithmic stable coin called UST. Both tokens are intertwined in a complex mechanism that a short google search can tell you everything about. How they are intertwined goes something like this. UST is a stablecoin that, like USDT, BUSD or USDC, is not backed by fiat but by an algorithm. What it does is whenever you want, you can swap exactly 1$ of UST for 1$ of luna, and whichever of the token you initiate the swap with gets burned, and the other one gets minted. Almost like a snake shedding its skin.
As the stable coin dipped, it tanked hard and hit rock bottom at 22 cents. I saw an opportunity present as it's a stable coin, it's meant to return at 1$S at some point. I got in, and after a few hours, I was out with double the money I had put in. oh, what joy, right? It was like money rained on me for a while. A dream too good to be true! Except, I don't make these trades. It's rather gambling than trading. You have no idea what you are doing, and it bites you harder than you will ever be able to recover. Bite me, it did.
This winning trade had made me cocky. I saw its counterpart LUNA, a token once priced over 100$, come to 1 right before my eyes. So I thought, what could be the harm in putting some of what I earned into this instead. At 99.9% down its price, I wanted to get 500 of it. While doing a market buy, instead of that number, I mistakenly added 1 extra zero to it. And right after, the price in mins went down a few cents. When I saw the auspicious thing that I had done, I was shaken a bit alright. But I thought, what could go wrong. Moments ago, the token went from 69 to a whopping 7$s. So I said to myself, that must be them, the Luna Foundation Guard founders trying to recover it. And I'll get an excellent return like I did with UST. And while thinking about the Golden Goose called LUNA laying eggs, I dozed off.
I woke up at LUNA at 20 cents while Looking at my trading capital being halfway evaporated. I felt lost, like a kid in a candy store. The cost of not following the plan I had made, I guess. They say there's always a lesson in losing. I hope I learned mine. I know at least this much that I might get up from all this, but the image you see above will always be my screensaver. To remind me of my mistakes for the rest of my life. That veering off the trail makes you fall in the pit.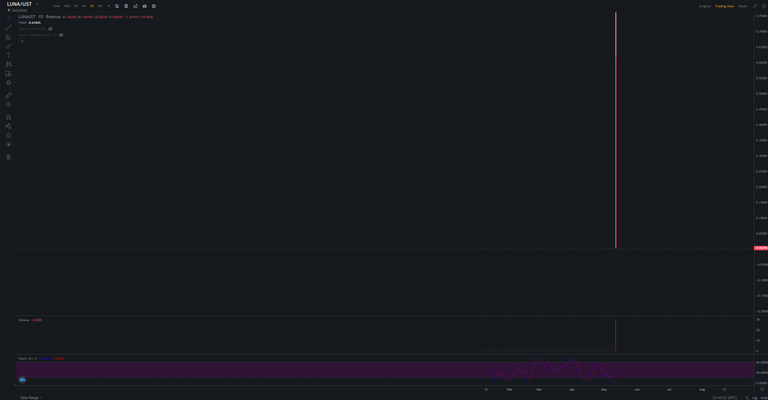 Screenshot taken from TradingView