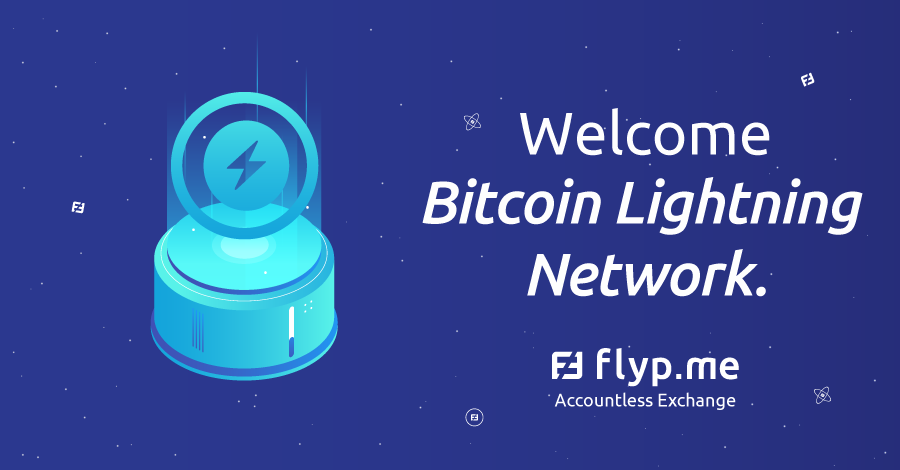 2021 has been an excellent year for the crypto industry so far. Not only did Bitcoin hit a new all-time high — multiple times — it managed to exceed $66k at the time of writing. With the attention once again on the world's largest cryptocurrency, the accountless crypto exchange Flyp.me has decided to add support for the Bitcoin Lightning Network (LNX).
What is Flyp.me?
Flyp.me is an instant cryptocurrency exchange that is easy to use, rapid, and secure. It requires no registration, making it convenient to work with smaller amounts of cryptocurrencies. Users can exchange different cryptocurrencies without the hassle of creating and logging into an account and in just a few clicks.
It was created to provide a beginner-friendly way to instantly transact cryptos. So far, the exchange supports 42 different coins and continues to add more.
The swap is very transparent and users simply need to enter the amount of the coin they have and select the coin that they wish to exchange it into. The amount that pops up in the next field is the final price, with all fees included, so the user always knows what to expect.
Flyp.me added support for Bitcoin Lightning Network
Bitcoin price is skyrocketing again, which makes people trade it in greater volumes. As everyone wants for their transaction to be processed first, they pay for greater transaction fees to attract the miners.
By using Bitcoin Lightning Network as a payment gateway, Flyp.me will allow users to use a secondary layer of Bitcoin's network — one that is capable of making instant and much cheaper transactions. The reason for this is the fact that not all transactions that travel through the Lightning Network have to be recorded on the blockchain.
This speeds up the process tremendously, and many exchanges have already either integrated Bitcoin Lightning Network for this exact reason, or are planning to do it at some point.
Crypto exchange Kraken, for example, pledged to integrate Lightning Network in 2021, and El Salvador added support for Bitcoin Lightning Network in the country. Many have suggested that 2021 is "the year of Lightning", and that the network — originally launched in 2018 — has improved enough to become a instant solution for Bitcoin's scalability.
About Lightning Labs
Lightning Labs develops software that powers the Lightning Network. Their open source, secure, and scalable Lightning systems enable users to send and receive bitcoins more efficiently than ever before. They also offer a series of verifiable, non-custodial Lightning-based financial services that bridge the world of open source software and the next-generation of bitcoin financial software.
About Flyp.me
Flyp.me is the professional tool for instant crypto trading. There is no registration necessary and no hidden analytics tracking you. Moreover, Flyp.me does not control users' funds, so your private keys are not at risk of being held on third-party services.
Flyp.me currently supports over 40 cryptocurrencies and is continuing to add more: Bitcoin, Ethereum, Zcash, Augur, Litecoin, Syscoin, Pivx, Blackcoin, Dash, Decred, Dogecoin, Flyp.me Token, Gamecredits, Peercoin, Aidcoin, 0x, Vertcoin, Basic Attention Token, BLOCKv, Groestlcoin, DAI, Power Ledger, Enjincoin, TrueUSD, Cardano, Storj, Monero, Maker, TetherUS, DigiByte, USD Coin, MANA, Enigma, Aragon, Chainlink, REN, Pax Dollar, FunFair, COMP, Pax Gold, AAVE, Liquid Bitcoin, Chiliz and now Bitcoin Lightning Network.