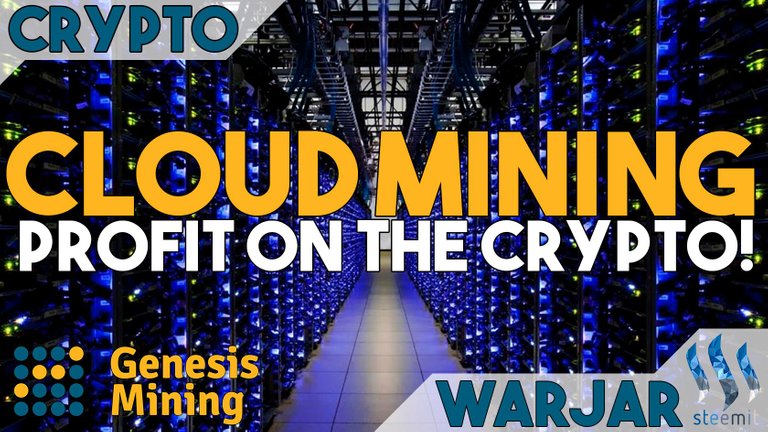 With Bitcoin prices sky-rocketing Mining is giving quite good payoffs. I want to share with you one way I am benefitting of this.
Setting up a mining rig can be quite demanding when it comes to knowledge and the maintenance. Not to mention lost sleep due to fear of something disastrous like a fire. A safer and much more comfortable alternative is cloud-mining. You simply buy hash power from someone else, and receive the earning into your crypto wallet.
I'm currently invested in Genesis Mining. They are a company I have researched and that I consider very reliable. Unlike other investments I have, this is a place were I feel safe. If you are interested after reading this article, check out all their videos and info before you invest anything. There is a link in the very bottom of this post.
Currently I would suggest the Bitcoin mining contract at Genesis Mining. For a one-time investment, you buy Hashing power on an "unlimited" time contract. Meaning your contract will run for as long as the mining is profitable. A maintenance fee is deducted from your earning on each payout. Currently at 0.00028USD per GH/s per day, which equals about 25% of the mined BTC right now.
I've calculated the profitability to see how low the BTC price can go until it breaks even with the maintenance fee. At which point you would risk ending your contract. At the current difficulty, this value is 2056 USD per BTC. Personally, I feel comfortable that my contract will last at least until I've earned back my investment – and then some.
You can use the Coinwars Minin Calculator (pre-filled for 20TH/s) to estimated your return profit. Fill in the following information if you want to change the invested amount:
Hash Rate (GH/s): 1000 per TH/s
Power (Watts): 11,667
Power Cost: 0.001 per TH/s
Pool Fees (%): 0
Hardware Costs (USD): What you pay for the contract (remember the 3% discount)
For my own investment, I currently have a 150 day return on investment. This will be affected by BTC price and difficulty, and I am prepared for it to take even longer then this to break even.


Figure 1: Earning just over 0.002 BTC per day on a 10 TH/s invest. Payouts every 2nd day at the moment.


Payments are normally sent out to a wallet address of your choice daily (PS! there is a minimum payout limit). Currently the payouts are every 2nd day. You can choose to receive your payout in BTC or in a selection of other crypto currencies. If you sign up for an Ether mining contract you can even get paid directly in STEEM!


Figure 2: Choose to get paid in the crypto currency you prefer.


Something I like about Genesis Mining is that you can be very anonymous. If you pay with one of the accepted crypto currencies, all you need to share is an email address and a wallet address to receive your payouts. Unless you chose to pay with a credit card.


Figure 3: I pay with Litecoin, due to the speed and low transaction fee.


By using the affiliate-code, that I will link below, you will get a 3% discount on every investment you make using the code. Buying a 20 TH/s contract or higher will give you the best price per TH/s. Although the smaller contracts are still a good buy in my opinion. If you use my affiliate-code I will also receive a bonus from Genesis Mining, which is an incentive for me to promote it.
Should you choose to make an investment at Genesis Mining, make sure to post also your affiliate-code in the comments below afterwards. Because on my next investments I will be picking a code form those who used mine and posted their own in a comment. Currently I'm doing 20+ TH/s investments. Which would give you anything from 65$ in BTC to the double or more depending on you rank in the affiliate system.


SUMMARY
Genesis Mining is the only investment I feel ok with promoting. If you choose to invest, you can use my affiliate code for a 3% discount. Pay in one of the crypto currencies to avoid fees, and a 30 day wait for your first payout coming with a credit card payment.
As always, NEVER invest more than you can afford to lose. You will receive daily payouts directly to your own wallet that only you control. Which gives you control and comfort.
After using my code, remember to add yours in the comments below! I will use the codes of those that used mine for my next investments!
My affiliate code for the 3% discount:
D7JxKT


Best of luck with your investments!
Regards,
warjar
---
LINKS
Genesis Mining
Coinwars Minin Calculator (pre-filled for 20TH/s)