Today marks the long-awaited launch of EOS 1.0 and its BitShares and Steemit siblings should be rejoicing.
It's kind of like the Jackson Five brothers may have felt when a very young Michael Jackson joined their group. The "Graphene Three" will be the stuff of legends - and who knows how big the family may become? (Yes, I know there are already at least 7 members of the Graphene Dynasty, but bear with me, I'm trying to keep this article short.) The group already processes 70% of the industry's public transactions without EOS and, with the addition of a new $4B lead singer, should go on to make beautiful music together. That was certainly the message of my Keynote Speeches at the Big Data conference in Guiyang, China last weekend.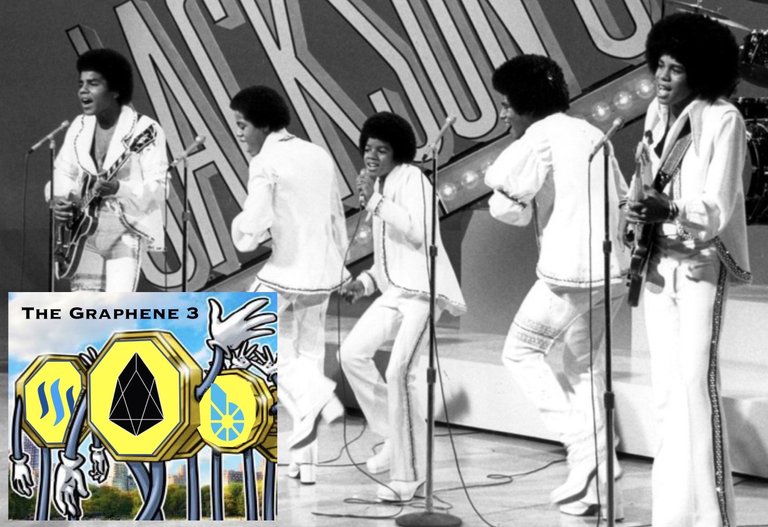 I laid out the framework for this two years ago with Blockchain Platform Surfing. In the Graphene ecosystem, we embrace platform independence and keep up with technology. Just like the BTS community did with the original BitShares "pitch fork" in October 2015. They completely pitched the version 1.0 code and switched to 2.0 code in three seconds without disturbing any user accounts or their holdings.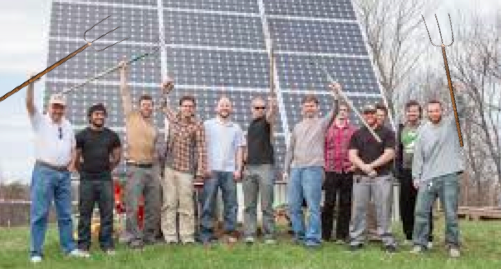 These days the community is more likely to keep all the fork tines, for backward compatibility, than to advocate big changes to any heavily used platform. But with air drop technology (another BitShares industry innovation five years ago), the addition of complementary parallel chains is the natural way to keep the holders of veteran chains whole as new components are added. Regulatory meddling may make this more complicated than necessary, but the outcome can always be engineered to achieve fairness to past supporters while using new chains to add functionality to the composite web of chains.
Now for the Meat!
A much appreciated bitspark article, How Will EOS Impact BitShares?, today made a lot of great points. I'd like to amplify and harmonize a few riffs on that article here.
First, a few axiomatic observations
BitShares does not need an EOS upgrade to do what it does best -- for a long time to come.
BitShares is better positioned to adopt selected EOS upgrades than anyone else because of its Graphene heritage.
EOS is designed for integration with other chains - it is not necessary to be on EOS to play with EOS.
EOS does open the door to others to achieve what BitShares already does, but...
...that door has always been open by simply forking BitShares - which no one has done successfully.
BitShares leads the industry in DEX transactions - no other chain is used as much as seen on blocktivity.info
BitShares may actually be a better investment target than EOS, because of its pedigree, track record, and room for growth in price.
EOS gives credibility to Graphene which gives credibility to BitShares - All three can be synergistically marketed.
Steemit can make similar claims from a technology standpoint. It's problems stem from the existence of anti-social whales that wreck havoc on the platform's good will. It's the community, not the technology, that matters. You can always get new technology, it's hard to build a new community.
Thus, BitShares and Steemit can still control their own fate by providing services and ecosystems that people want to use. EOS technology is not the issue. It will be there when either older sibling needs it and it is not the determining factor in their continued success.
Announcement - Billion Hero EOS Easter Egg
Today the Billion Hero Campaign announced that it will be adding EOS training and points for using EOS to its ways to earn voting power toward allocating a billion dollars worth of endowments to 12 voter-selected causes. Just another example of a way in which Grand Unification of the Graphene Ecosystem is taking place. I'll have a separate post on that.
Bottom Line:
What determines the success of BitShares is demand for BTS,
and EOS, properly embraced, will generate more demand for BTS.
We have access to all the technology and services EOS brings to the table to bring in new customers for BitShares products and services:
EOS technology.
EOS hype.
EOS customers.
EOS products and services.
BitSpark is an example where EOS wouldn't make a bit of difference - other than positive opportunities. There is an unlimited supply of such use cases where BitShares is a perfect fit. Michael Taggart just described BitSpark's synergistic role on Medium today: BitSpark - the New Blockchain Powered Remittance System..
As I work to bring new businesses like BitSpark into the Graphene ecosystem, I always paint the picture as a family of products and services that can be customized to meet their business objectives. And the place to start is usually BitShares - the platform that will never die because it can always leverage the strengths of other family members.
Ethereum, on the other hand, might not be so willing and able to adapt.
And that will make all the difference.
A, B, C
It's easy as...
1, 2, 3
Or simple as...
Do-Re-Mi
A, B, C; 1, 2, 3;
That's how easy this can be!