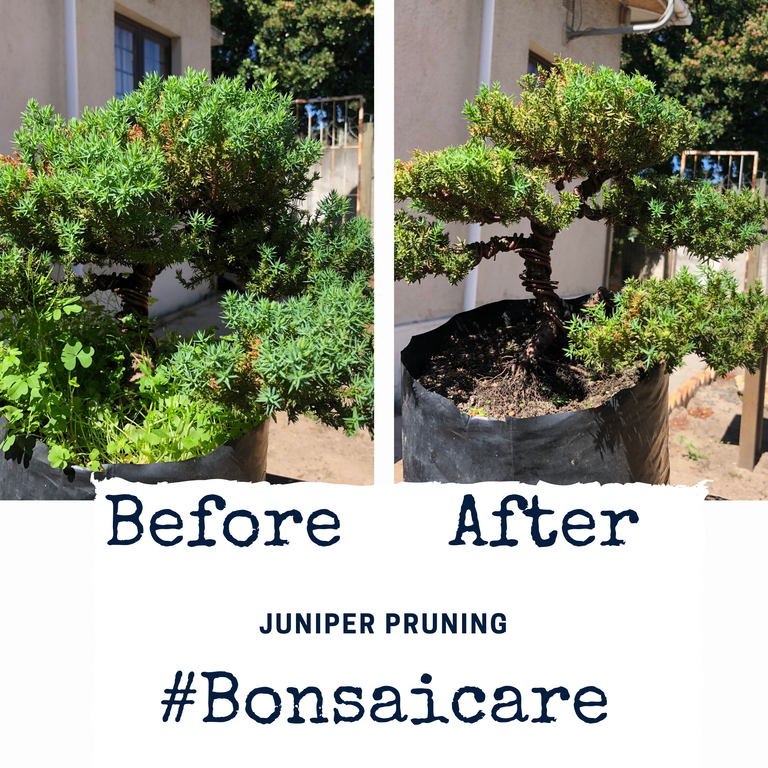 Last week and Friday I decided to take the day off to work on trimming a few of my trees. This turned out to be one of the best decisions that I could have made. I ended up trimming back more than seven trees that really needed the attention. It was also just what I needed after the busy week I had prior to that. I get my energy from spending time working on my bonsai collection. Nothing else gives me more joy.
If you follow me on social media you would have seen the photos that I posted and the short videos of the trees before and after I have trimmed them. For those of you that do not follow me on social media please see my social media handles below:
Twitter: @bonsaiwithroman
Instagram: @romanolsamuels
Facebook: @bonsaiwithromano
I will be showing you the how the trees looked before and after I have trimmed the trees. Unfortunately I did not take step by step photos of every tree as I just wanted to get a lot of trees trimmed in a short amount of time and was not thinking of the blog. In hind sight it would have helped with this blog entry.
The first tree I worked on was one of the trees that I styled during a young designers competition. The tree has been felt to grow and I only trimmed back the long shoots to encourage more grow closer to the trunk of the tree. I am letting the tree grow as I want it grown more branches so that I can redesign this tree. It's always nice to work on a tree that has been designed or styled in a certain way and after looking at the tree it just does not look as good as it can if a few small changes were made. So in these instances I allow the tree to recover from the initial designing process, I remove the old wire and then nurture the tree to it's optimal health so that more can be done to the tree in a shorter period of time. A healthier tree recovers faster.
Here is an example of me allowing a tree to grow wild!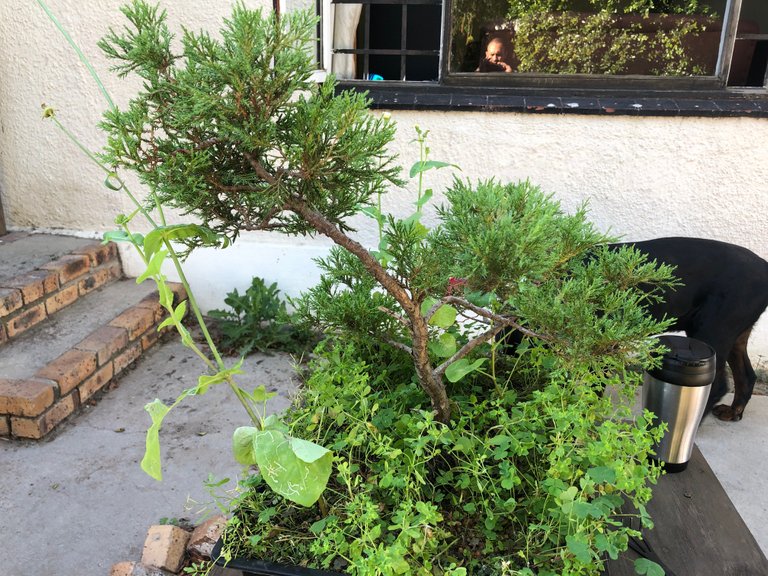 If you look pass the weeds, the coffee mug in the background and the dog trying to "photo bomb" this picture you will see a young Juniper in a growing container. When I worked on this tree I liked a cleaner, more manicured tree but I now realize that I might have removed way too much of the trees foliage. I planted the tree in a bigger growing container and I am now just trimming the tree on a regular basis to encourage back budding . It's going to take a few years before this tree will be considered for restyling as I still need a lot more to work with.
Here is the tree after I removed all the weeds and cut back the long shoots.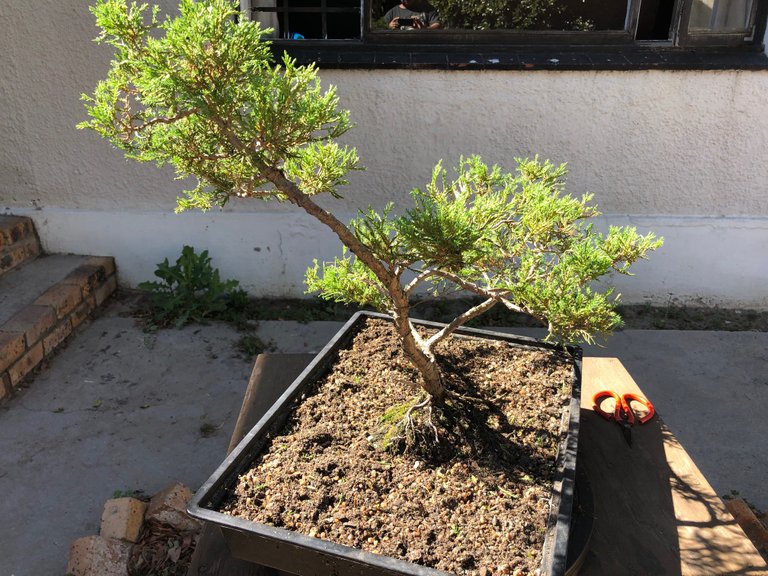 The next tree I worked on was my first tree I ever designed in a competition. I should probably give this tree away to a younger more eager bonsai enthusiast as it will be the perfect tree for them to practice their techniques on. Working on a young tree also boosts you confidence as it's less stressful then working on a mature bonsai tree.
Here is the tree before: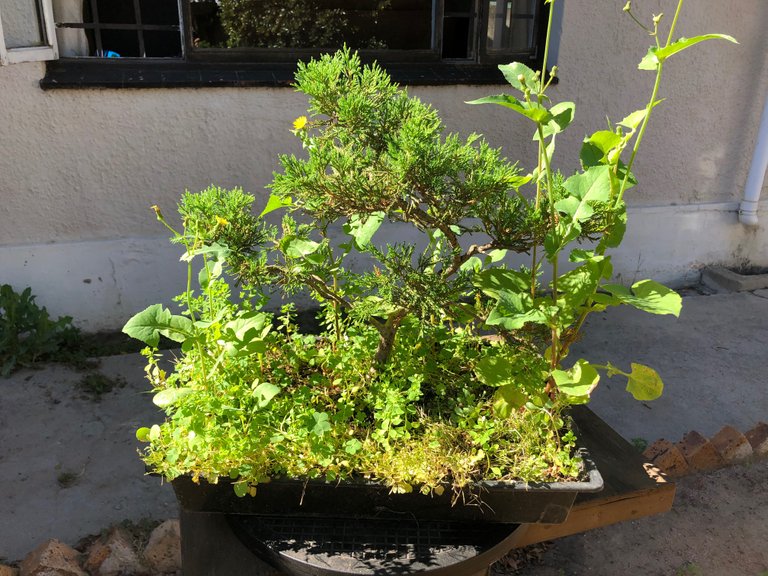 I know it is a unbearable sight, I mean the weeds!!!
This is the tree after I worked on it.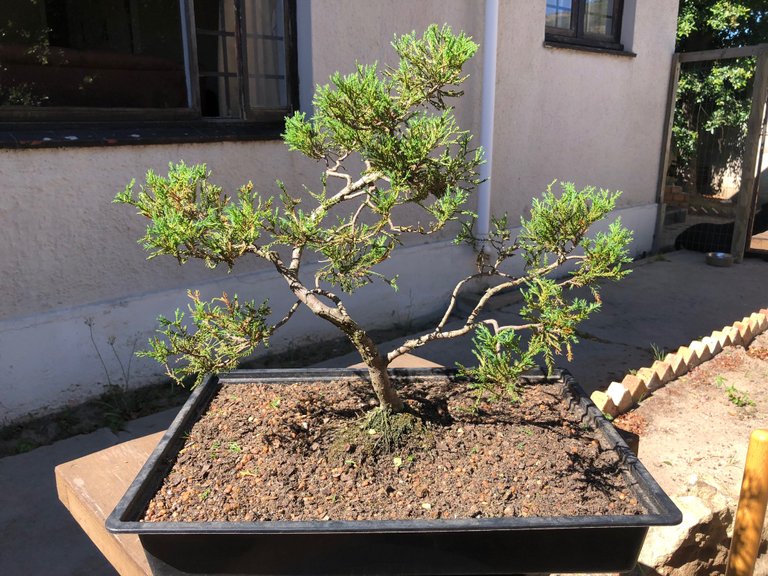 Here are the three stock trees that I started working on last year. I bought these trees with the intention of selling them later.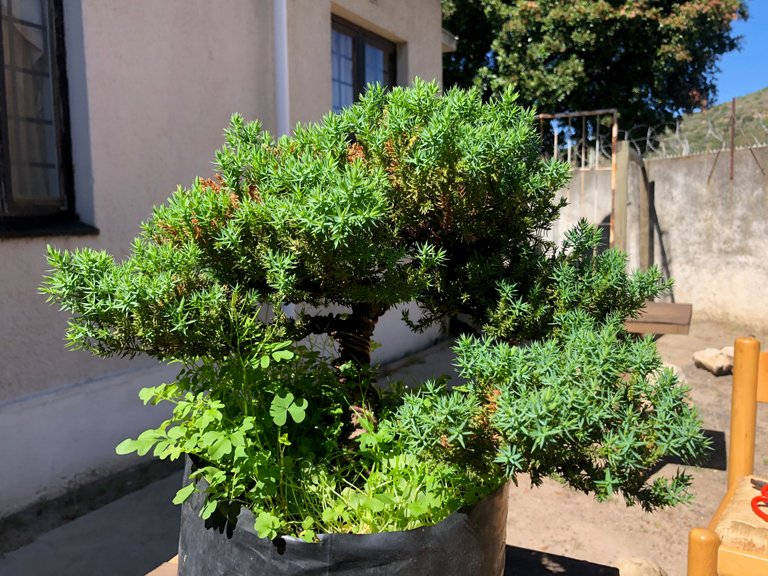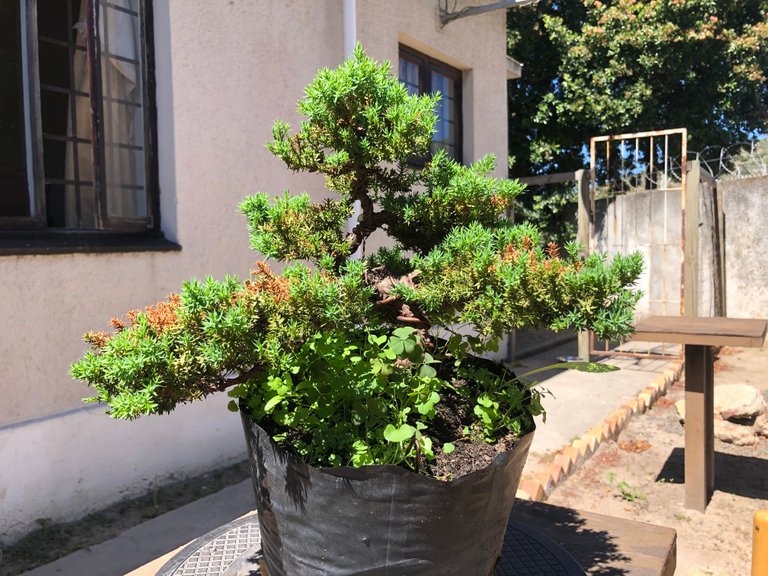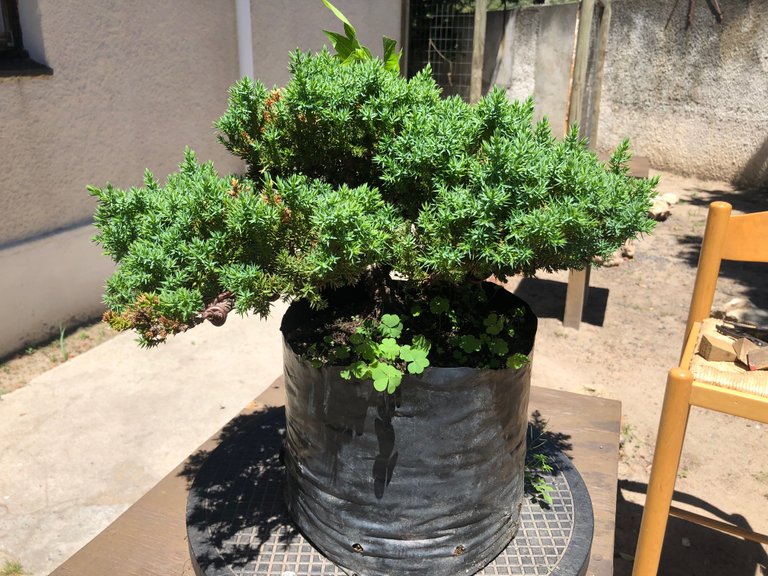 As you can see these are better trees than the previous two as I have grown in the way I approach a trees initial styling. With these trees I tried to keep a lot more for the foliage during the first design. These trees were left to grow untrimmed throughout the winter. Earlier this year during the change from winter to spring there was a huge jump in temperature and the side facing the afternoon sun on all the trees at that stage burnt. You can still see signs of brown foliage here and there. Some of the branches just continued growing where it was burnt while others died of completely. So I used this time to remove the dead foliage and prune the tree to allow more open space for new growth.
Here are the trees after I trimmed them.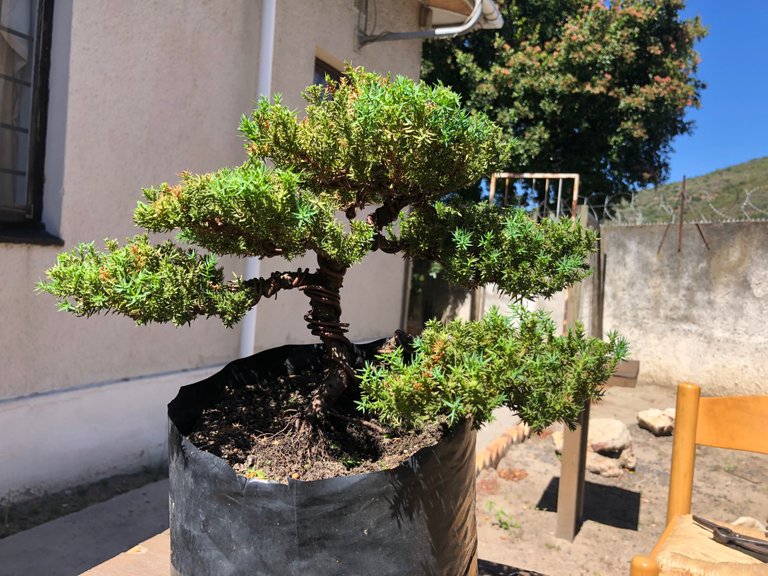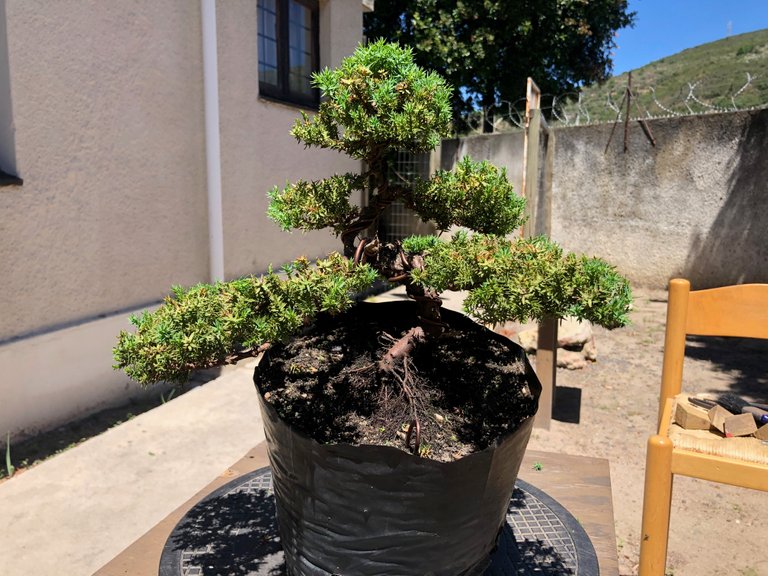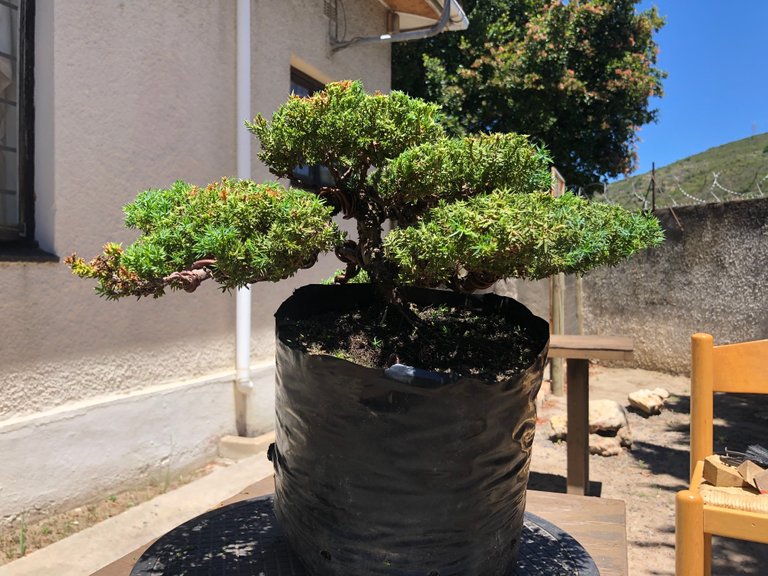 After all that I still felt the need to work on my Monkey thorn tree. I got this tree from a neighbor that move to another province. He liked bonsai trees and thought it would be great to start with this type of tree. I have re-potted this tree earlier this year as the pot rotted away. It was planted in a wooden box and I planted into a large seedling plastic tray.
Here is a tree before I worked on the tree.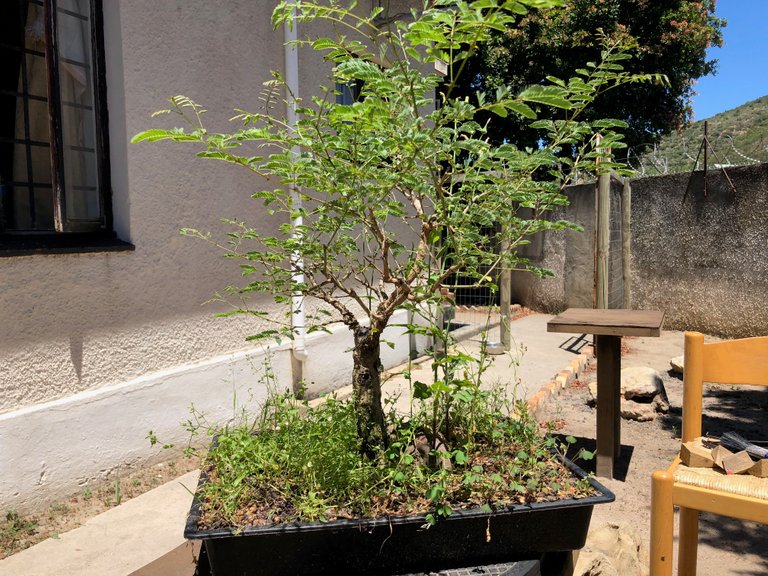 During spring the tree shot out new growth in all directions. The new growing container and soil was truly appreciated by the tree but I needed to cut back the new shoots so that we can get the foliage closer to the tree's trunk so that the focus is drown to the flaky bark.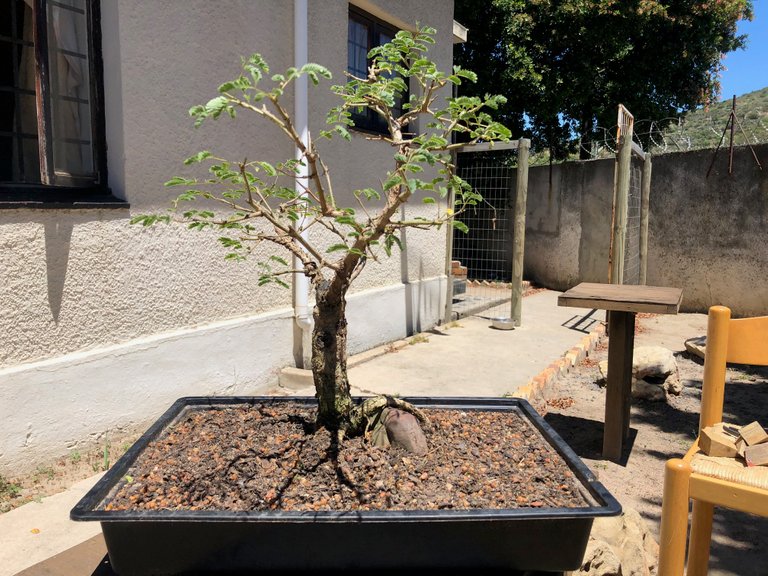 It looks like the tree was butchered but at this point in this trees development it's all about the structure of the tree and not creating pads.
As you can see I got a lot of work done. Most of the work for the rest of this season now will be trimming. I have a few more trees that need to be cut back and then I have one very nice project that I will be doing in the next two weeks. I will be defoliating a Ficus that I have been working on for almost 4 years now and it is finally time to start working on creating foliage pads. When we talk about defoliating we think of deciduous trees but we can use this technique on tropical trees like Ficus' as well.
That's that. Thank you for taking the time to read my blog and hope you enjoyed it. If you have any comments or questions please feel free to leave it in the section provided below.