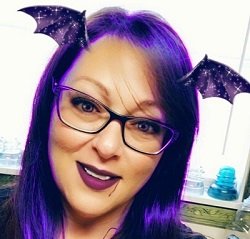 The season of monsters has come to a close. This saddens me. And with the season coming up that I dislike the most it's tempting to crawl in my coffin and sleep till after the first of the year. All I can see in my future is trying to avoid the dreaded Christmas music on the radio and wishing it was all over already.
I've been away for a bit but wanted to take some time to get caught up on what everyone was doing and I am so happy to see that some kick-ass humans have been picked to go to Steem Fest 3!! Congratulations @enginewitty, @katrina-ariel & @yidneth!!! I am so very excited for y'all and can't wait to see the posts that come from it!! You guys rock! They certainly picked the right ones to go and I'm so glad cause I didn't want to have to try my hand at voodoo again.
---
I did something cool for dinner Halloween Night. I started a new tradition last year and decided to cook spooky meals on the last day of October. Last year, my son was still living at home so it was a little more elaborate. I'll show you those first. I love cooking and loved making these creepy vittles.
Deviled Dragons Eggs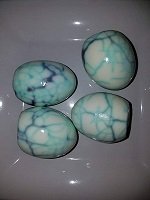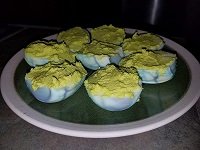 Breadstick Bones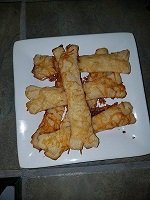 Mummy Meatloaf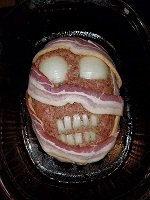 Frankenstein Brownies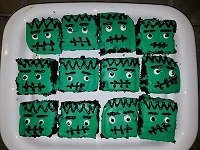 ---
Ghoulish Halloween Dinner 2017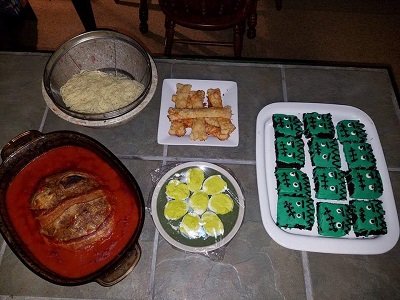 ---
This year I decided to cook something a little less complicated. I opted for...
Skull Pizza Pockets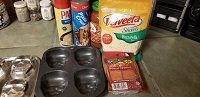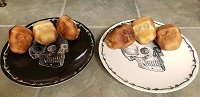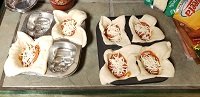 ---
Creepy Halloween Dinner 2018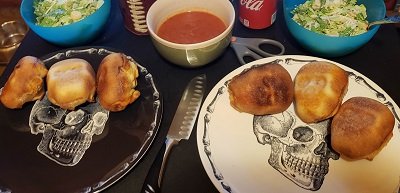 ---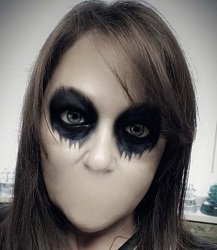 Suffering through the upcoming holiday season is made a little more bearable because with Mardi Gras around the corner it's my busy season and I can submerge myself into painting the two huge boxes of coconuts sitting in my living room.
Before getting to the coconuts though, I vow to finally finish up @snook's bracelet. Something that shouldn't have taken long has wound up taking forever. Between being ill, finding the right charm, my laziness and then having to play catch-up on top of my normal everyday schedule... it's been tough to find the time to sit down and get it done. I apologize @snook but as soon as this post is finished, I will be getting it finished and you will be hearing from me very soon.
I also had the pleasure of painting some coffee mugs for a friend of mine who had her 69th Birthday. She decided to have a party at a place called 'Signs Bayou' where you bring food and alcohol and you can paint a sign for your house. I decided to go with a two sided sign and it was a really cool experience. But first, the mugs...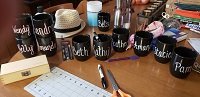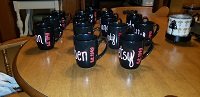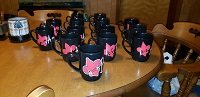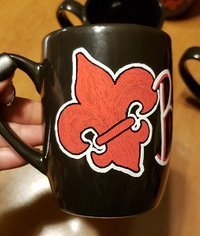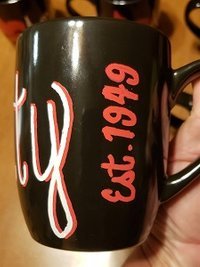 ---
Here is the double sided sign I painted at 'Signs Bayou'...


---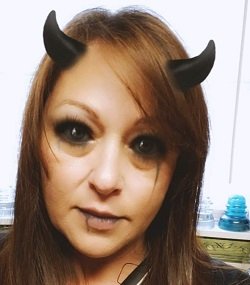 I now say good bye to the only time of year I can truly be my devilish self. It's been a crazy time in my life lately. When I do have down time, it's been hard to find the motivation to write. I will pull myself out of it and get back to doing some of the things I love.
I hope to be able to spend a little more time on Steemit soon posting and commenting and getting my chapters out. I've missed you all in discord lately and hope to get back to chatting and joining some of my favorite shows.
I love and miss y'all. I hope you are all doing well and can't wait to catch up with y'all. Take care my friends... See y'all around!