Now let me start off by saying: I'm not selling anything and I am definitely NOT promoting anything but my own opinions. This article is geared for the more technically-oriented and programmers. 🤖
Any item prices I write are current prices of the items I bought and are in US Dollars.
So, let's get started.
I recently took over a repair business that has been operating since 1991. This year, well, after 11 years of me working there, I figured I needed a change.
I didn't take the foolish route and sell it, but instead, like any "smart investor" (quotes used for laughs!), thought about how I could continue operations while still being able to work where I needed to, and take off when I didn't need to be there.
2 days last week the business made a good amount of money. However, that was just almost enough to cover only the rent. Why does the rent have to eat up all the money?
I ended up formulating the decision to downsize and rent a smaller office. Since I already had my client base, I figured the amount of lost walk-ins vs. routine regular customers was a good tradeoff. Indeed, it is just that.
There are also enough word-of-mouth new customers to further concrete my decision.
I also decided I would sell my laptop and one of my desktop machines because I wanted to travel a little lighter.
---
Now here's where digital nomad comes into play
I was passing by a Whole Foods in my area, and I seen this guy walking through the parking lot with this (what I thought was a messenger bag / purse).
That immediately struck a key and I started thinking. What if I had something like that I could carry with me anywhere?
I went home and got on Amazon.
Using broad search terms to find what it was. Turns out it was called a "day pack".
I already had a big Osprey backpack for travel, but I really liked the idea of having something I can throw in a tablet, a wireless keyboard, and something to hold the tablet upright. Then, I could truly work from anywhere.
I already had the Amazon Fire (8 inch) tablet I got from Woot over a month ago. I only paid $18 for it shipped. You're probably wondering "WTF that's so cheap!". Woot sells refurb / open box items, usually returns through Amazon. I won't get into any more detail.
You can use your own current tablet or phone, which was what my original plan was.
So for my plan to work, I needed about 3 things. Keyboard, kickstand, and whatever device I would end up using.
Here's the 3 items I bought. In all, I paid less than $70 USD total with shipping. I already had a pair of LG bluetooth headphones so that just made sense.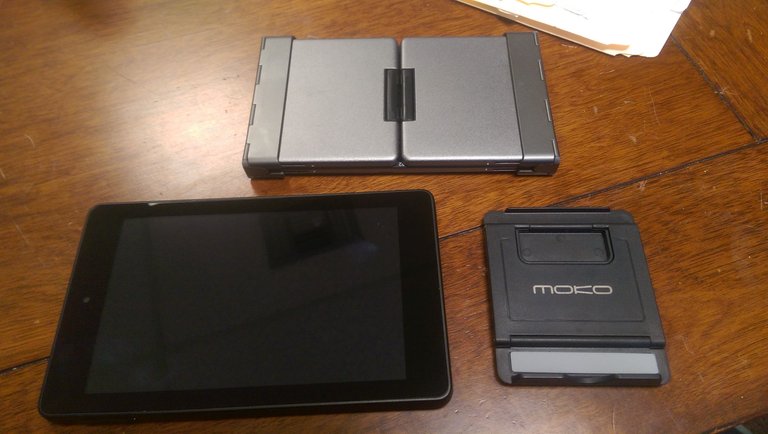 Here's the stuff I bought:
Note: I did not use affiliate codes, you're getting the raw links.
Tablet / phone stand, $5
https://www.amazon.com/gp/product/B017TU5KMQ/
Foldable Bluetooth keyboard/mouse ($40)
https://www.amazon.com/gp/product/B01MTVC775/
Daypack I found, at a really good price and has a decent manufacturer warranty.
https://www.amazon.com/gp/product/B015PTBCFW/ (Under $20 with promotion coupon on product page)
All items fit nicely in the daypack.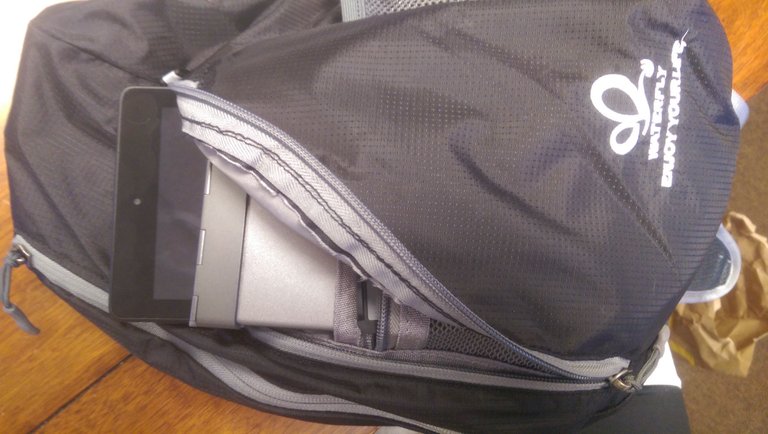 ---
Moving on, I have a unique, but easy to understand setup.
I rent a number VPSs (Virtual Private Servers) at a yearly rate. I can use VNC to log into these machines as if I were sitting in front of them. I do not need to keep large files, reports, or much of anything on me. This is handy, and cheap. I do not need a 100000000 inch screen to read emails. You can use something like lowendstock.com to find a VPS that has RAM and CPU suited for your situation.
Utilizing an open source program called Syncthing, I keep folders synchronized between multiple machines. There is no worry about losing files. Syncthing will run in the background and keep the files fresh on each device I decide to add to my personal cloud. It's completely P2P and private.
You can also set syncthing to keep versions of files on each system. Meaning if somebody goes and wipes out your stuff on one machine, the file on your other machine(s) will not be affected. Please read about syncthing on their website to set that up.
That settles my storage problem. No relying on GDrive, Onedrive, or Dropbox.
Setting up each machine to a subdomain or even it's own domain name is a given. No need to remember IP addresses. No ports are public facing. I keep everything simple and secure. Services like no-ip are great for those who don't want to manage a domain.
You do not need to do this, but it's only for the sake of redundancy and peace of mind.
I also have a couple physical machines set up at certain locations. The hard drives are encrypted and machines are connected to battery backup systems. There is no keyboard and mouse or monitor attached. I use SSH tunnels on non-standard ports with pubkey only SSH to discourage and otherwise prevent bots and spammers from getting in.
---
Shortly put, if you really have a problem and cannot connect, call up your buddy to pull the plug and restart. Or try another machine.
I can carry all this stuff with me and only use 1 cable to charge everything. As I sit here and type this, I do not regret selling my laptop. I don't fear being stopped by police, or whoever, and having the devices searched or taken. Everything is remote.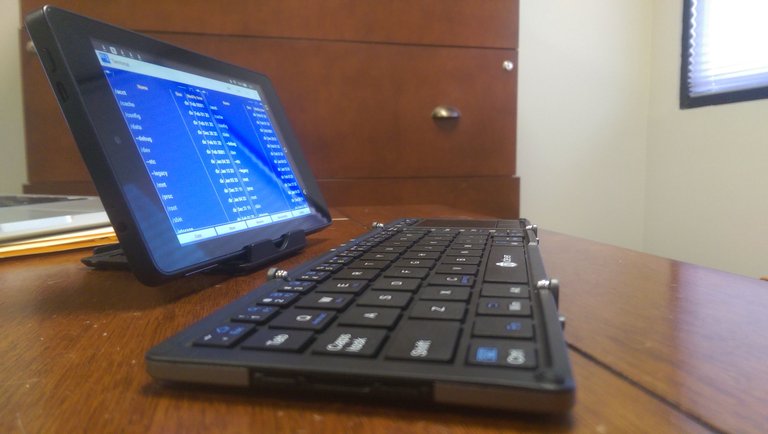 I can log in wherever I am, using my phone as a hot spot when there is no WiFi.
I own a number of unlocked phones and buying multiple sim cards from certain providers that don't charge by the month is a great idea. You never know when you might be stuck somewhere and some data will save your butt. GVoice/Skype is great for calls over a data connection so you still have a way to call people if you need to. I will not name any providers because each person's situation and location are different.
So, with all that information in mind, here's all I have to carry! 👌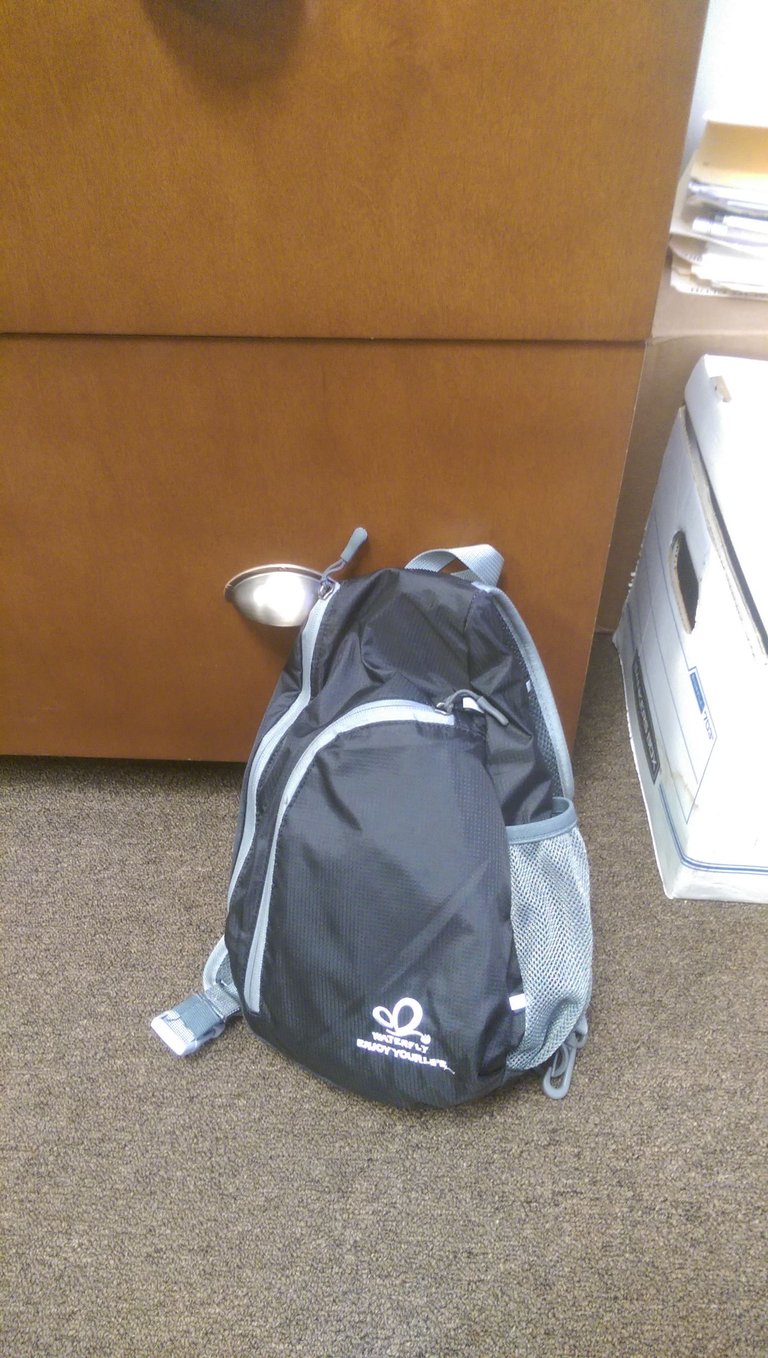 Hope you enjoyed this article. Feel free to ask questions and I'll do my best to answer them in the comments.