This is my 1987 BMW E30: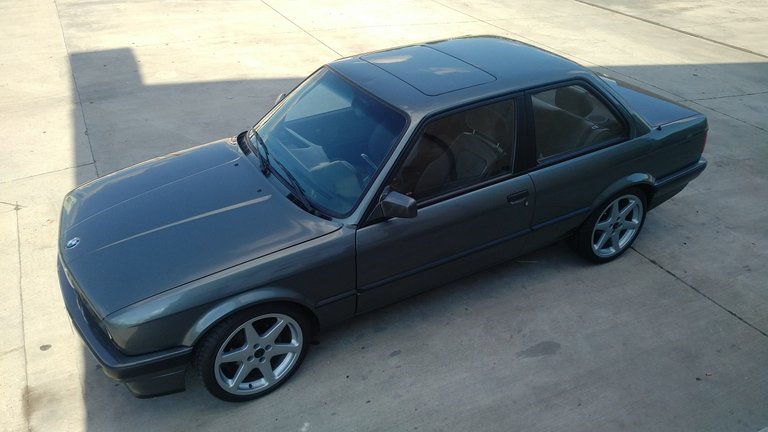 This is where I started 3 years ago: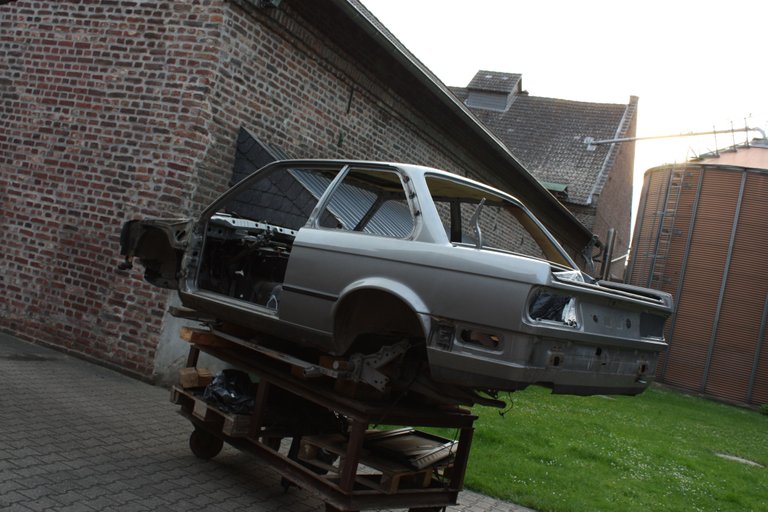 Some people say you don't buy an E30 you build one. Man I hear that! I'm here to share my story with you and give some insights into what my mechanic and I went through to get this car on the road (again). I'll go through every detail and leave nothing out so that at the end you'll be perfectly able to see:
whether you want to take sth like this on yourself (not sure if I recommend it)

if you're in sth like this that you're not alone (you are not alone!:)

if you are rebuilding or maintaining an E30 what can possibly go wrong (trust me with this one everything did)

that it is absolutely possible to run a 30 year old car as a daily driver (after you've gone through hell and back)
>This is the first part and runs until the donor (finally) dies
> Part 2 will deal with factory details, stripping the car and rebuilding the engine
> Part 3 deals with disassembling the base and parts hunting for reassembly as well as installing the drivetrain
> Part 4 will be devoted to the pain this car gave us because it fought tooth and nail in order to not be put back on the road
> Part 5, the final act, will go into lessons learned, things left to do and how it actually drives
First the facts:
This took 7 years, 2 complete engines and one engine rebuilt, 1 original E30 325i, 1 E30 320i without an engine, thousands of man hours, one truly untalented paintshop, a legendary engine builder who used to be in endurance racing and one devoted and incredibly talented mechanic who's got more 'can do' attitude than anyone I ever come across.
The Base
The car you see here is originally a 320i E30 with the following factory installed 'options'. This was the base for the rebuilt.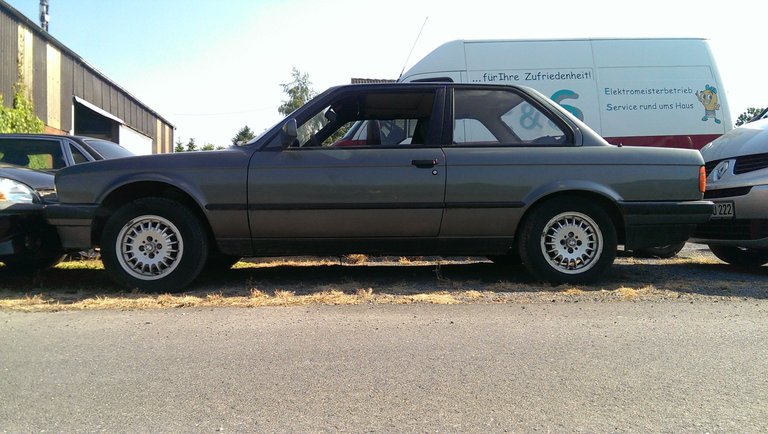 Shadowline (all chrome is smoked out or painted in car color)
Tinted windows (mild green)
Sunroof / manually operated
As you can see it's far from fully loaded. It came with a 129hp, 12 valve, straight 6 petrol engine with one overhead camshaft mated to a 5-speed manual gearbox. In September 1987 BMW started producing all E30 2- and 4-door sedans (they're actually not called coupe by them) in a refreshed trim. Most notably replacing chrome bumpers with plastic, pulling down the rear wheel well a bit, modified rear and front apron, modified rear lights and new 4 cylinder engines. These cars were sold as '88 models.
For you to understand how this car came together I have to go back to 2008 which seems like an eternity away.
The Donor
This is my former 1987 E30 325i: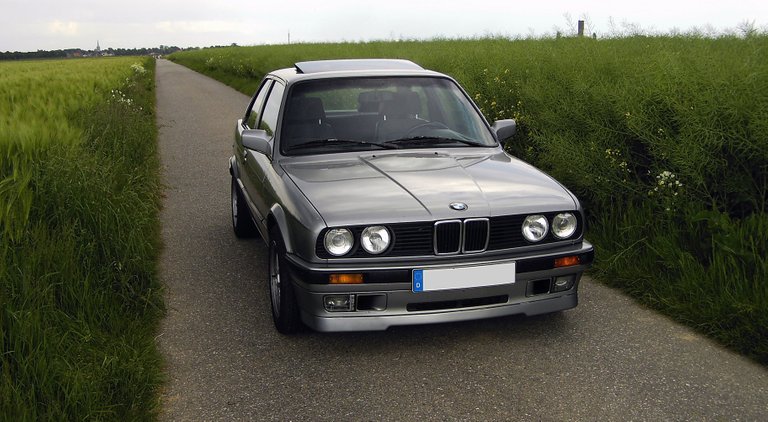 Factory installed options:
SA209 Locking Differential 25%
SA 288 Alloy wheels
SA314 Heated washer nozzles
SA 320 Deletion model designation
SA334 M-Technic Sports Package - Spoiler Deletion
SA339 Shadowline
SA 350 Tinted windows (green)
SA400 Sunroof / manually operated
SA485 Recaro Seats for driver and passenger
SA498 Rear headrests
SA562 Reading lights in Rear View Mirror
SA704 M Sports Suspension
SA708 M Sports Leather Steering Wheel II
This equipment level is very rare for an E30 especially as it has the Sports Package but the first owner decided to delete all exterior parts and panels that usually came with that. I bought it used in 2008 with 120k mls/192k km on the clock for EUR 1.200, kid you not. Today you can't find anything close to this for less than 10 grand.
Back then prices were in the gutter and the cash for clunkers program ate even mint condition cars alive. It got so bad that a colleague of mine called me at work and begged me to take a full nappa leather interior out of an E34 540i off his hands for EUR 50 (!) because the car was 3rd in line to the crusher. Sad times.
Anyway my first time in a 2.5 after having owned 2 4-banger E30s and I was hooked and I mean HOOKED. Big engine in small package is something BMW have always gotten right and the bullet proof simple tech of the E30 just made it one hell of a fun car. 170hp in a 2400lbs car means quick in the corners, light and nimble, fast on the top end.
This is how I got it, note the rusty spots all around: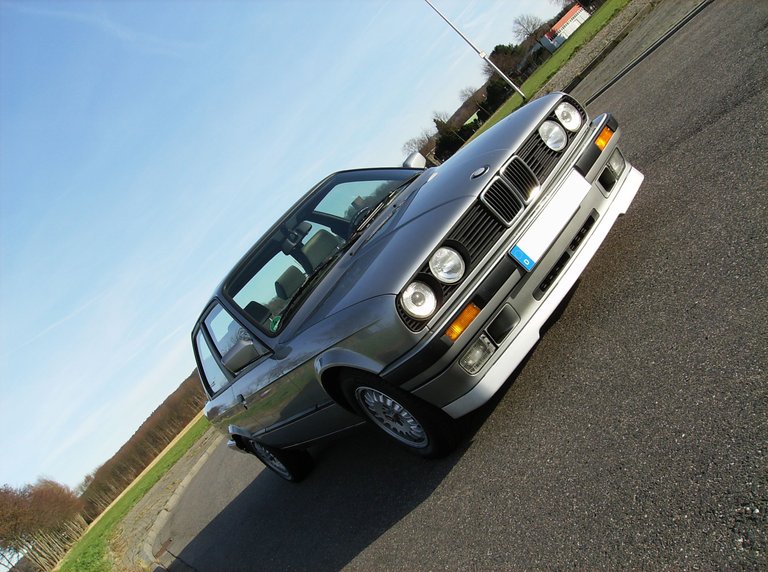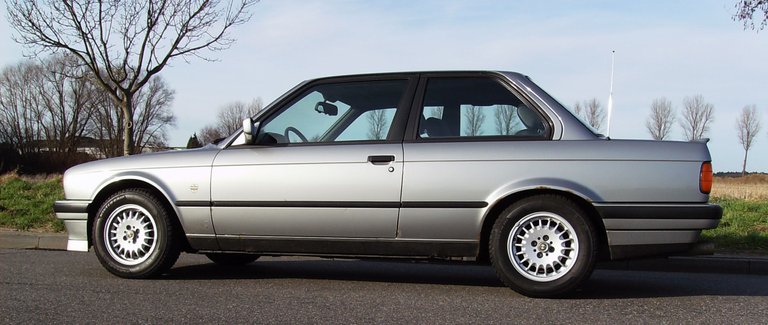 The frontspoiler lid (also called IS-Lippe) had close to no clearcoat or color left on it, steering wheel was a 1st gen M-Tech installed by a previous owner and the 15" rims had been exchanged for some 14" standard wheels. All in all I was a happy camper but knew that the rust had to be dealt with at some point.
The engine, internal code M20B25, is a legend among BMW engines in terms of smoothness, close to zero vibration running characteristic and a turbine like rev development - the higher it goes the faster it gains rpm. It also has a nasty reputation for blown head gaskets though I have to say I haven't had that happen to me yet.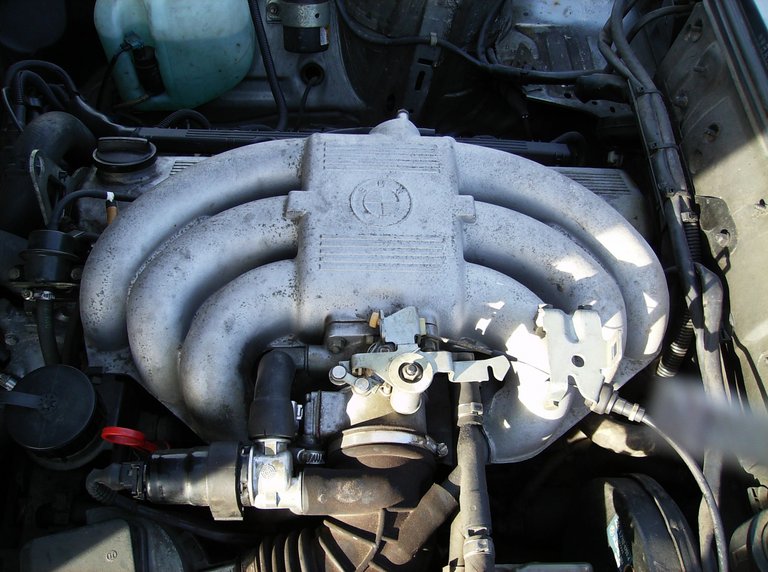 Dirty but it ran dry and with full power, oil consumption was close to normal at about 1L/1000KM.
Enjoying the 325i
Over the following 2 years I completed and fixed the car while I used it as a daily. Put on the original 15" rims it came with which I had left over from my very first 316i. Put the original steering wheel in and replaced a lot of hoses, plastic parts and so on. I also hunted for a Recaro seat. These seats nowadays run close to a grand each, back in 2010 I got one for just over 100EUR which I converted from passenger to driver side. Also repainted the front spoiler lid and removed all dirt and stickers from the bodyshell.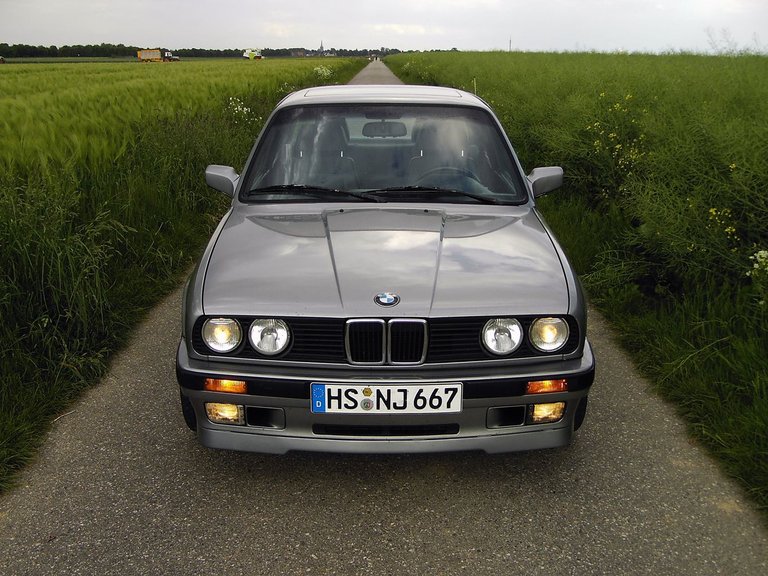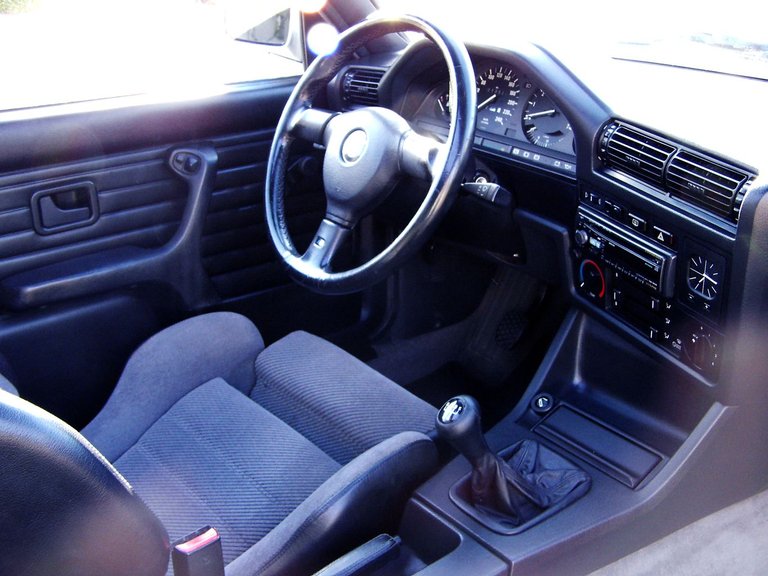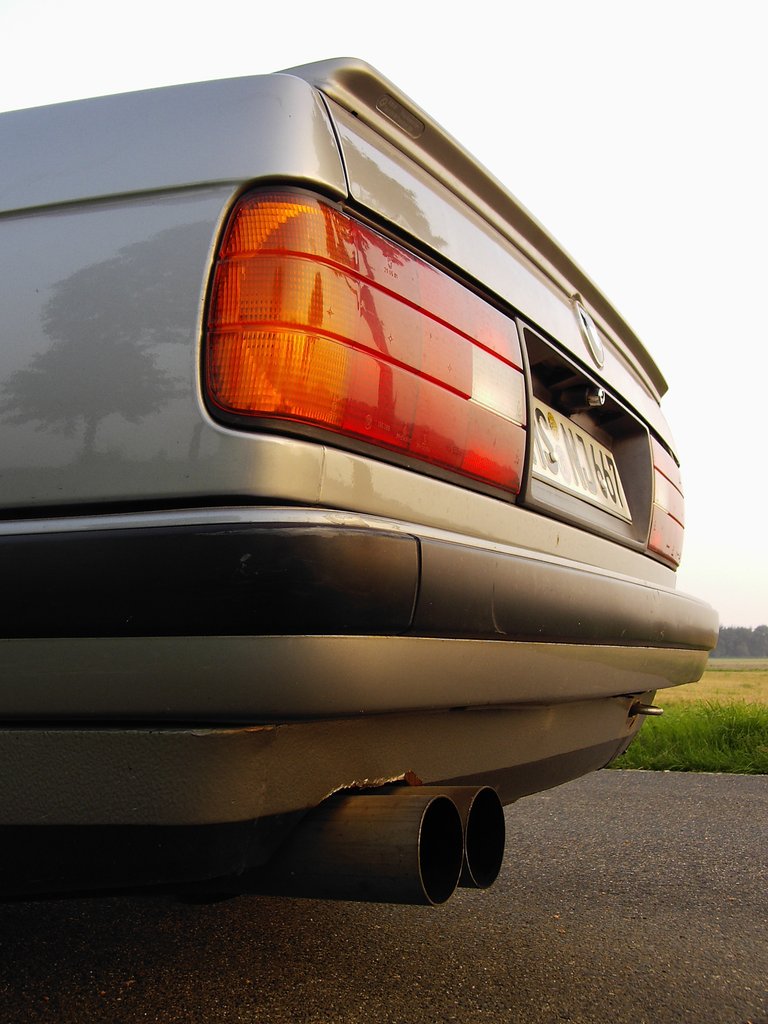 Someone really didn't pay attention when fitting these pipes as you can tell by the rough cutout in the rear apron. Anyway this exhaust which the previous owner told me was realized by simply cutting off the stock pipes and welding two very big ones on had the nicest classic BMW straight 6 sound I ever come across. Bassy, deep, bubbly, screaming at the top. Never managed to recreate it.
It ran close to 230kmh/145mph according to the speedometer so feel free to subtract about 10 units respectively and ran on around 10-11L/100km, not a bad deal for a then 25 year old car. Put a good 50k mls on it in those years.
So far so good you're thinking where's the drama right? Don't worry it's right around the corner - it's called winter.
The Winter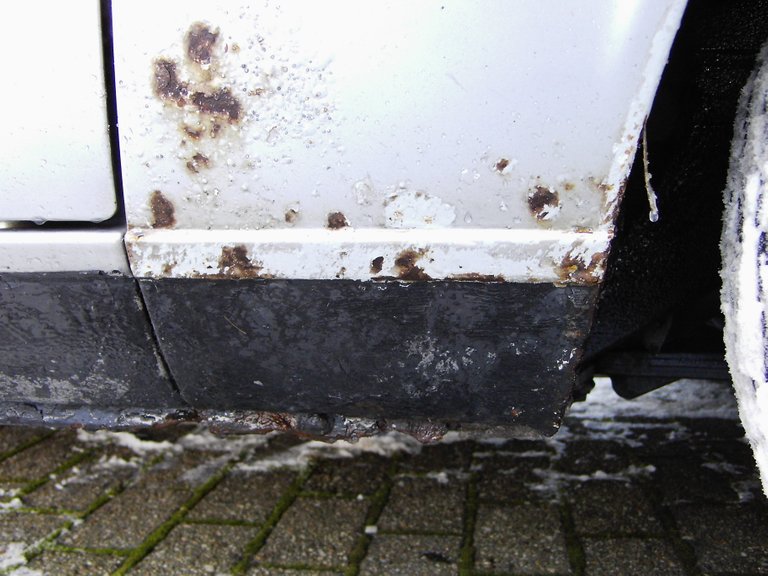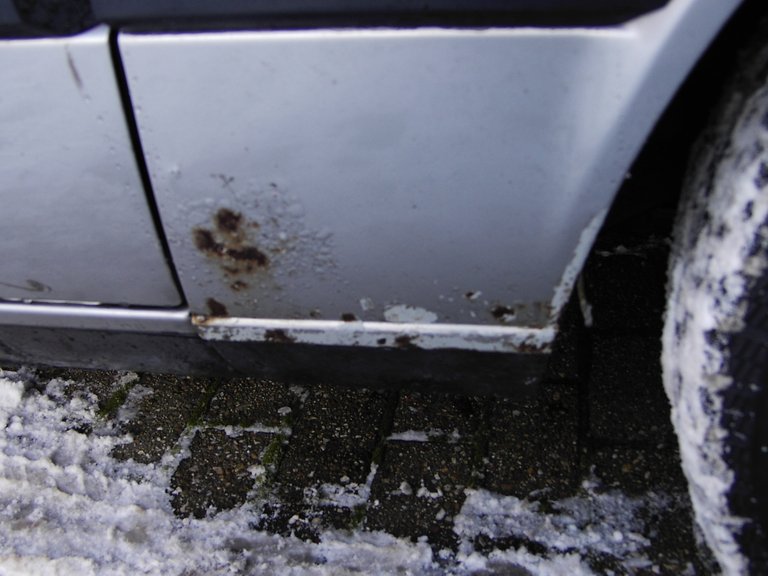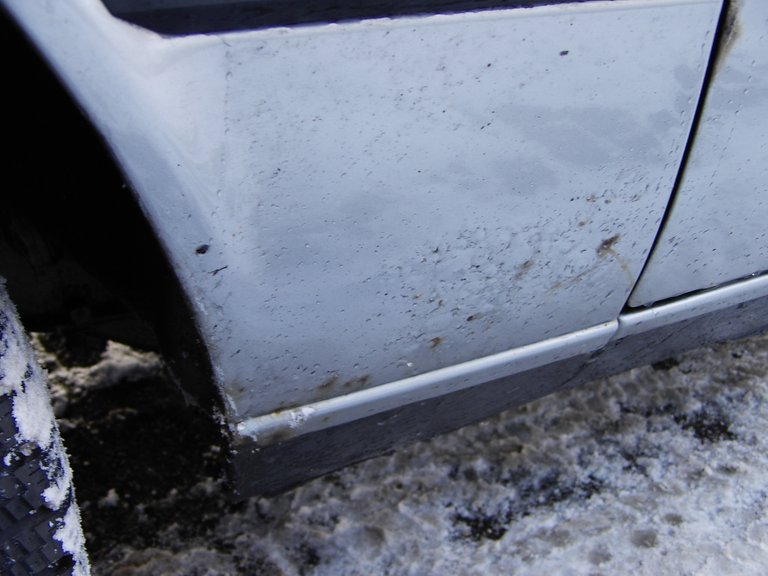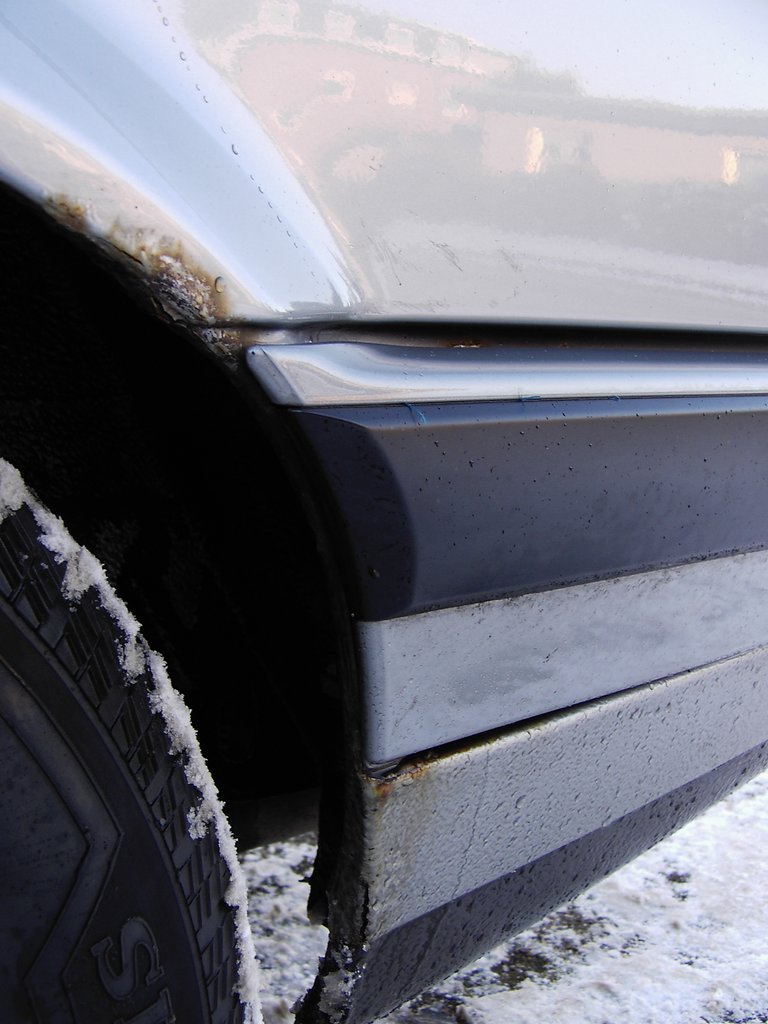 No time to deal with that back then but it was clear that something had to be done because the bottom side looked even worse. I drove it until 2009 and left it in storage during 2010 when a friend recommended a 'good paintshop' to me. Let's just say he's not a friend anymore.
A lesson I learned the hard way is that you must judge these cars, no matter what kind, by the condition of the bodywork. Special engines can get expensive so can rare equipment but when it comes to having a good basis nothing is as important as solid bodywork and a clean frame/under carriage.
The 'Paintjob'
Back then I didn't realize that you either do it right or you get screwed on the other end with this stuff so I handed the keys to the qualified paintshop that offered to do the whole car for 1100EUR. There was a slight communication mishap as far as 'the whole car' goes.
I provided them with two new front fenders, two new rear fenders, one new rear apron and came back 8 weeks later.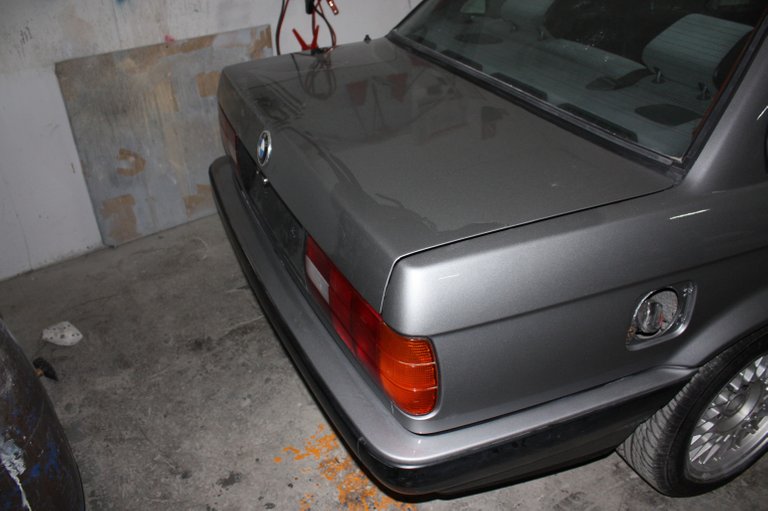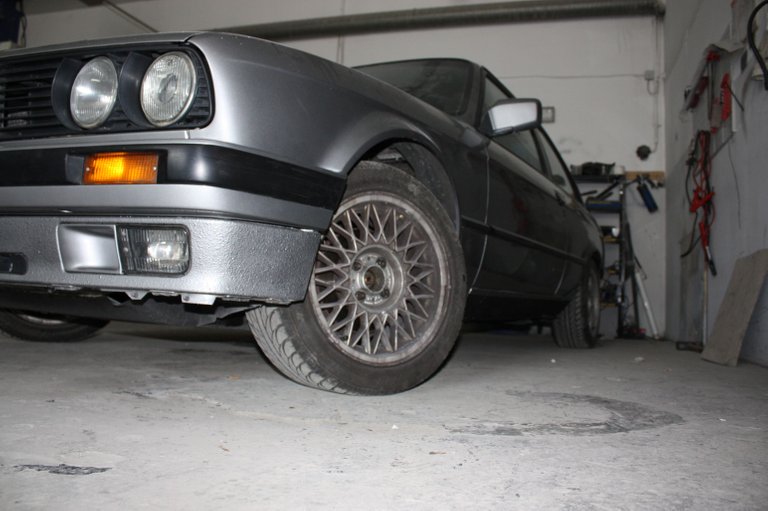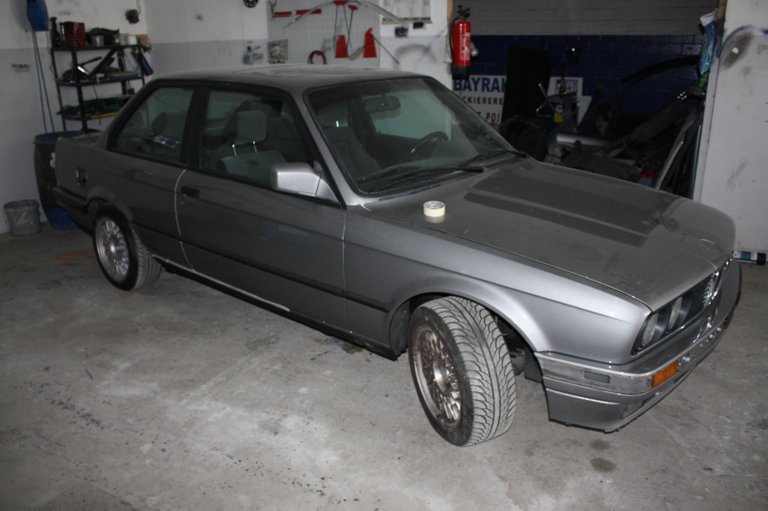 Looks great huh? Not like they used philips head screws to fix the bumpers or welded some metal over rusty parts, oh wait...
Yeah, they did. Unaware of this and still a rookie of restoration I went out to look for a professional, a guy who loves these cars as much as I do and who knows what he's doing. Well, I found him. Brough the car over with a temporary plate and had him take a look expecting him to tell me we'll be done in a couple of days, some oil here some spark plugs there. That was until he put a screw driver through the driver's side floor like without much resistance.
His exact words were sth along the lines "Who the f**** did you give this car to?"
On the bright side the paintjob in and of itself was amazing, perfect color matching, metallic flakes, clearcoat it was really something if it wasn't for the screw ups below the metal.
So pick your paintshop carefully if you want a lasting result. It will be expensive and there's no way around that. Prepare the car as much as possible and that means handing the paintshop a car that's stripped to the metal. They do paint really well, they don't take apart cars well so the more of their work you do for them the more they can focus on what matters which is to get the body in perfect shape and apply the paint as intended.
Fixing the 'Paintjob'
The front floor panels were both completely corroded as well as the so called 'ashtrays', the lower front tips of the left and right rocker panels where the factory jack hooks into. Both classic spots for E30s. We began by removing all screwed on band-aids and remaining rust. New metal was welded in and coated and conserved. 4 weeks later it was ready for reassembly: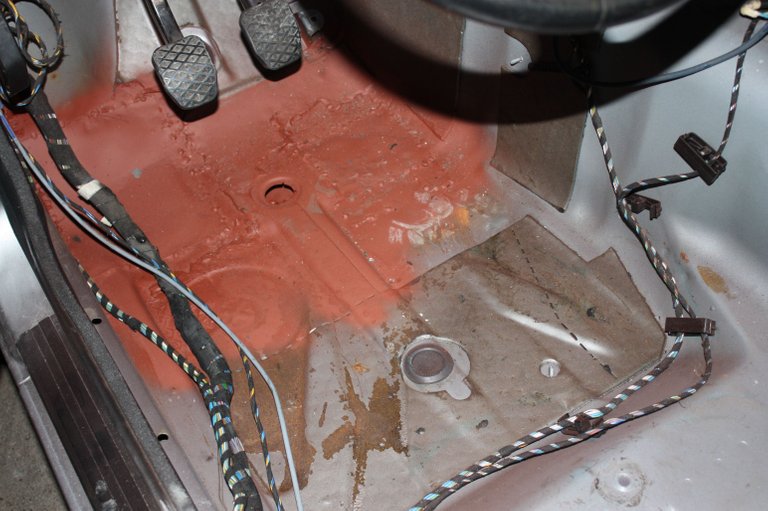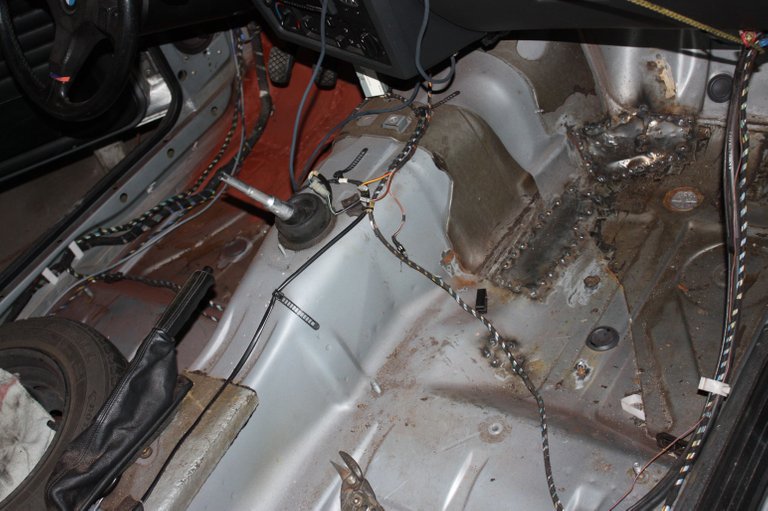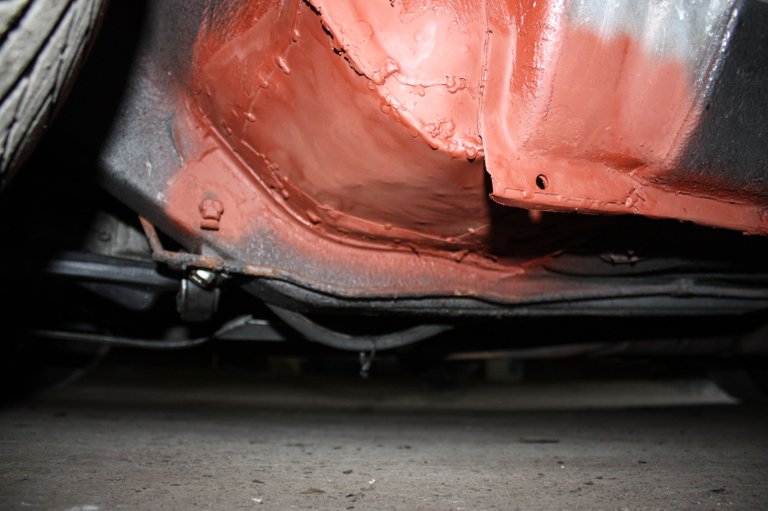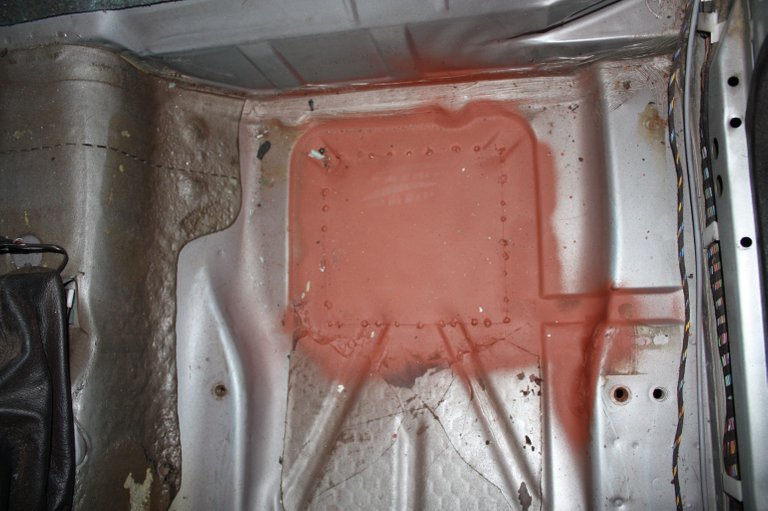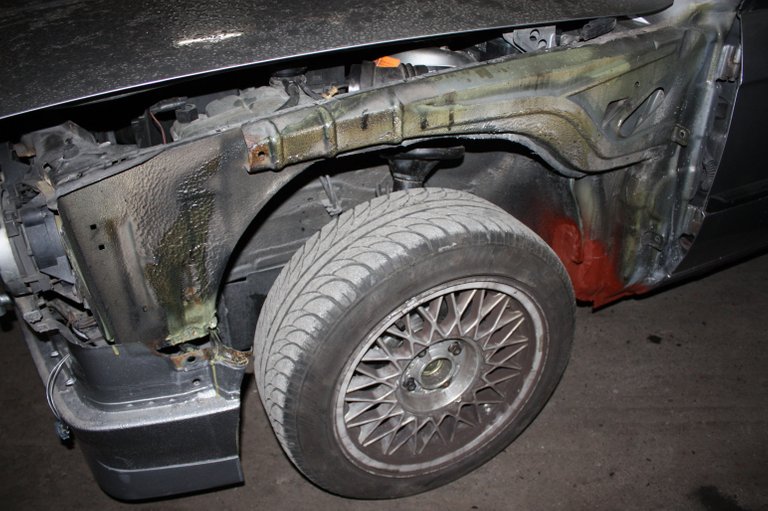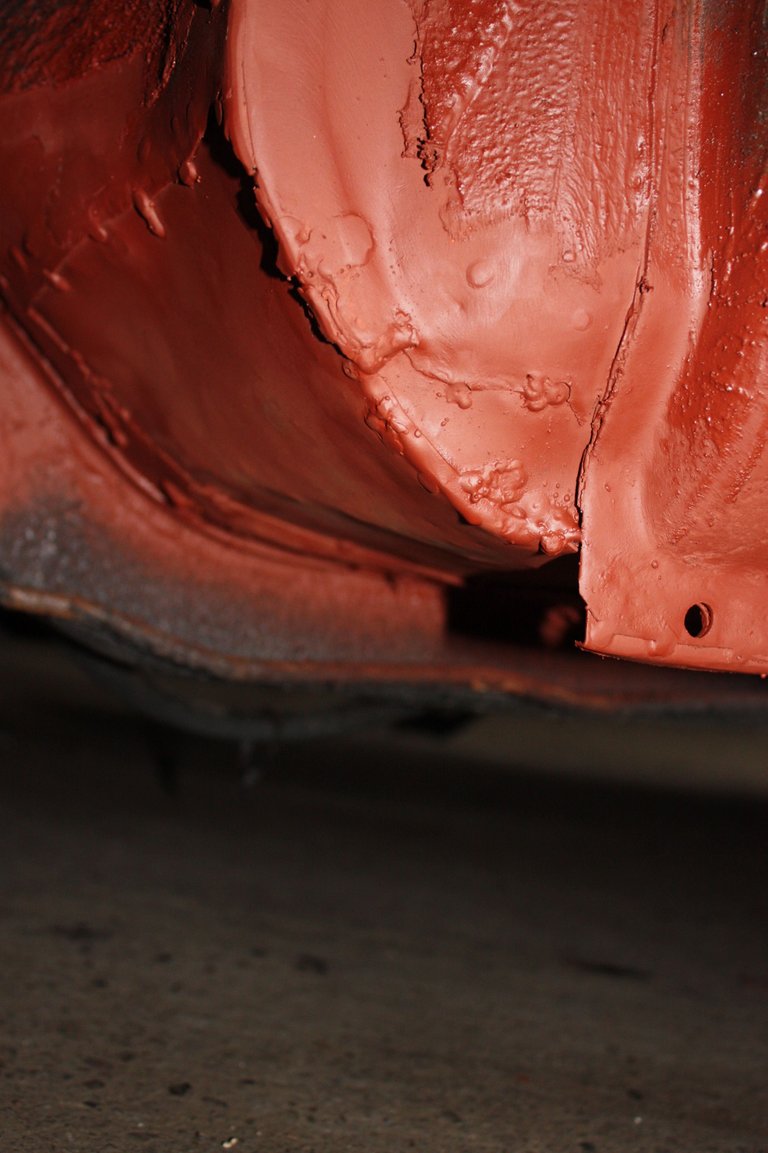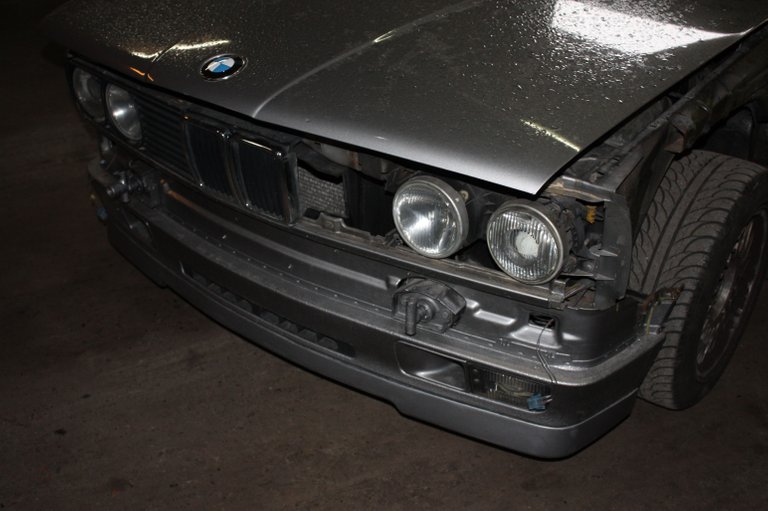 Far from perfection but rust free and ready to go. Mechanically the damage was repaired. Due to the frequent in and out of the garage the engine got a small service including oil and filter, air filter and valve adjustment. The M20 has rocker arms which are actuated by the camshaft and then hit the valves. The distance between rocker arm and valve can be adjusted to optimize engine performance.
I use 0.30mm on all M20 engines and it's never failed me.
The spark plugs had been replaced before the work started - a mistake which would cost me the cylinder head two months later. Yeah, you heard right :).
Anyway, seeing it reassembled I slowly remembered why I had embarked on this journey...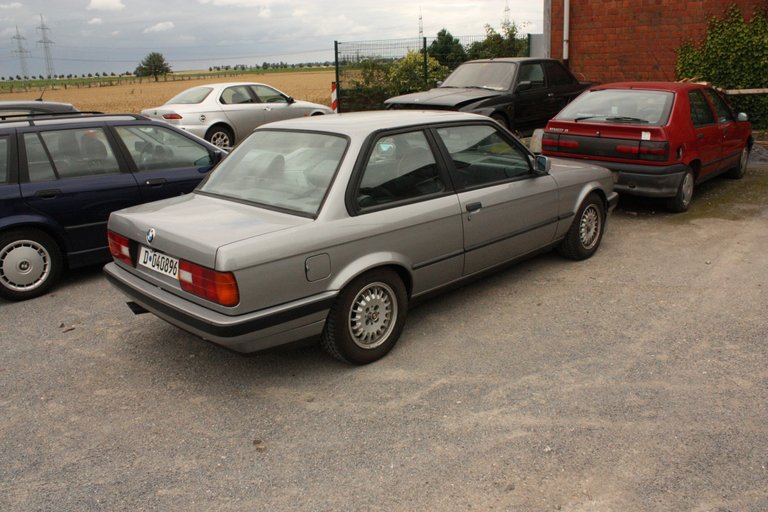 It ain't over till it's over
The year was 2011, vin number 3541187 was back in action and I was one happy camper.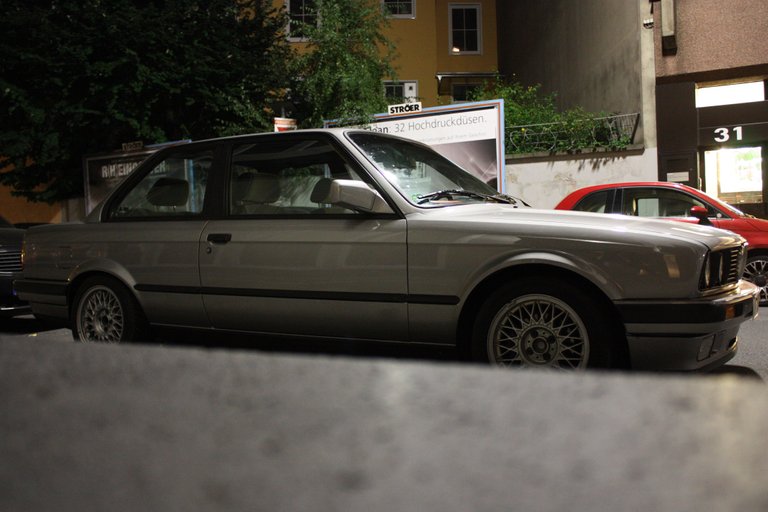 It must've been in late September that year when i accelerated out of a highway rest area and in 4th at around 180kmh/120mph I felt a slight throttle interruption followed by a rattling sound. I immediately checked the rear view mirror and saw the white puff of smoke hovering over the lane in the distance. Head Gasket! Must have been right? Wrong. Temp was ok, oil pressure warning came on and off again.
I pulled over and called the mechanic, engine was running but it felt like 4 or 5 cylinders firing at most. No coolant leaking out, oil pressure ok, temp ok. I dragged it home and back to the shop.
One thing was clear, the cylinder head had to come off in order to check the engine. E30 doesn't have OBD yet so you have to check visually which we did. Thing is it looked like brandnew, no head gasket damage nothing except intake valve on cylinder 1 looked somehow burned. That left us somewhat clueless so we had a smoke and started wondering around the shop until I found myself looking at the block.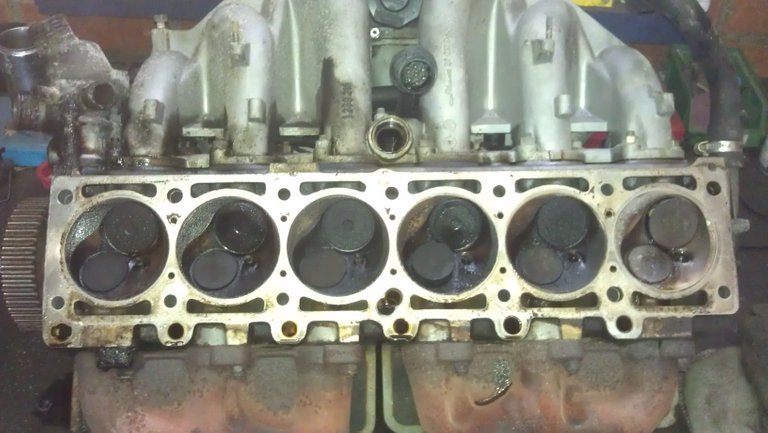 Still with me? Let's check it out (sorry for the bad quality, taken in bad light with HTC 4G):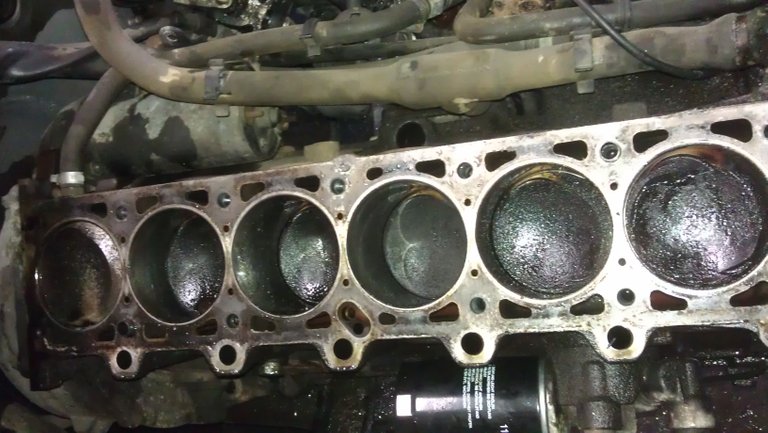 Notice the slight extrusion on the number one piston?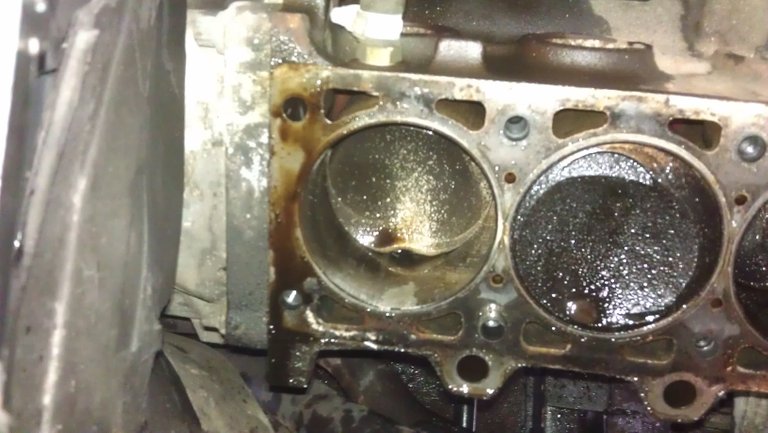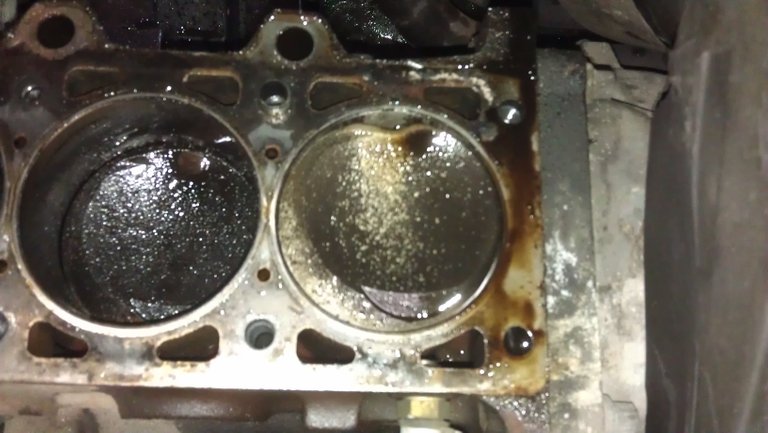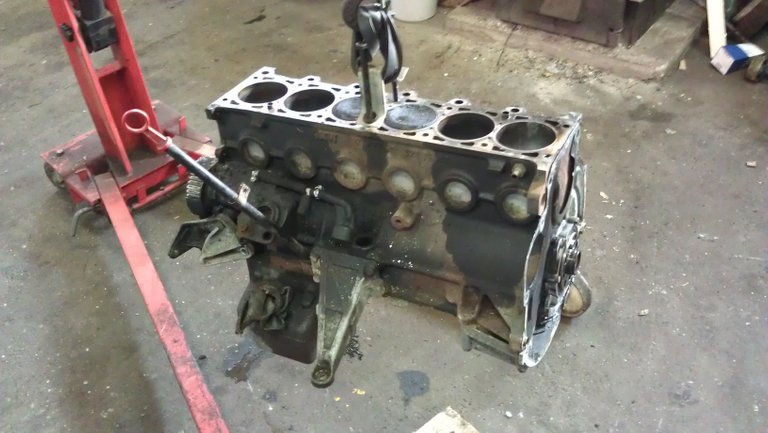 After taking the engine block out and taking a closer look at everything it turned out that the number one spark plug's ground strap had broken off from the plug and hit the cylinder wall at which point the piston came up and disintegrated it completely. At close to 5000 rpms this destroyed the piston and the cylinder wall. Ironically the cylinder head was still intact.
How can this happen? The only sensible explanation is that the brand new spark plugs never once got up to operating temperature when the car was repeatedly started and stopped, in and out of the shop during the body repair. This might have lead to a weakening of the material which later on under load made it break off.
These were Bosch spark plugs and I never heard bad things about them but since that incident I'm a loyal customer of NGK :).
Lesson learned is clear: Chose whatever spark plug you like but put them in after the work is done and you can expect to do a regular driving interval.
So car was done but engine got killed by a tiny ground spark, believe that? I couldn't back then. So I fixed the tech issues, had the thing repainted, fixed the paintjob, got it on the road and 3000mls later a ground spark kills it?!
That was the first time I got close to giving all up on it and call it day - the first of many.
If you've stuck around I hope you enjoyed the beginning of this epic journey. It is what happens when someone who's passionate but lacks the experience and professional training collides with a maniacal professional who both share the love for the purest and most likeable car BMW has ever put on the road.
Coming up...