​
Un placer saludar cada día a la bella comunidad de hive, hoy vengo a mostrar una serie de obras que he realizado esta semana con la colaborazión de @misssadeyes sobre mi otro trabajo que vendría siendo sobre pop-art.
A pleasure to greet the beautiful hive community every day, today I come to show a series of works that I have made this week with the collaboration of @misssadeyes about my other work that would be about pop-art.
---
Antes de mostrar los trabajos me gustaría poner en contexto con una pequeña definición hablando respecto al tema y como lo aplicamos @misssadeyes y yo a nuestra propuesta actual que trata sobre la revaluación de la moneda venezolana, tambien tomando en cuenta que la propuesta empezo usando esta vanguardia artistica para que absolutamente todo el mundo se sintiera identificados con las piezas y así revalorizarlas por medio de la venta de las obras.
Before showing the works I would like to put in context with a small definition talking about the subject and how we apply it @misssadeyes and I to our current proposal that deals with the revaluation of the currency of Venezuela, also taking into account that the proposal began Using this artistic avant-garde so that absolutely everyone felt identified with the pieces and thus revalue them through the sale of the works.
---
Definición de"pop-art"
Definition of "pop-art"
---
Este movimiento pictorico surgido en Reino Unido y Estados Unidos exactamente en el siglo XX, fue tomado de la estética de la cotidianidad de la vida y la forma de consumismo en la epoca, tales como anuncios publicitarios, comic books, objetos culturales y del mundo del cine. El arte pop, como la música pop, muestra una manera de ver y tratar el arte, más global y social, no exclusiva y para pocos, sino para mas para todos porpular.
This pictorial movement that emerged in the United Kingdom and the United States exactly in the 20th century, was taken from the aesthetics of everyday life and the form of consumerism at the time, such as advertisements, comic books, cultural objects and from the world of cinema. Pop art, like pop music, shows a way of seeing and treating art, more global and social, not exclusive and for a few, but for more for all by people.
---
Estas fueron las obras realizadas con esta tematica y su respectiva referencia fotografica:
These were the works made with this theme and their respective photographic reference:
(I)
---
Reinterpretación del retrato de Gabriel García Marquez por Dario Ortiz
Acrílico sobre papel moneda
2021
Reinterpretation of the portrait of Gabriel García Marquez by Dario Ortiz
Acrylic on paper money
2021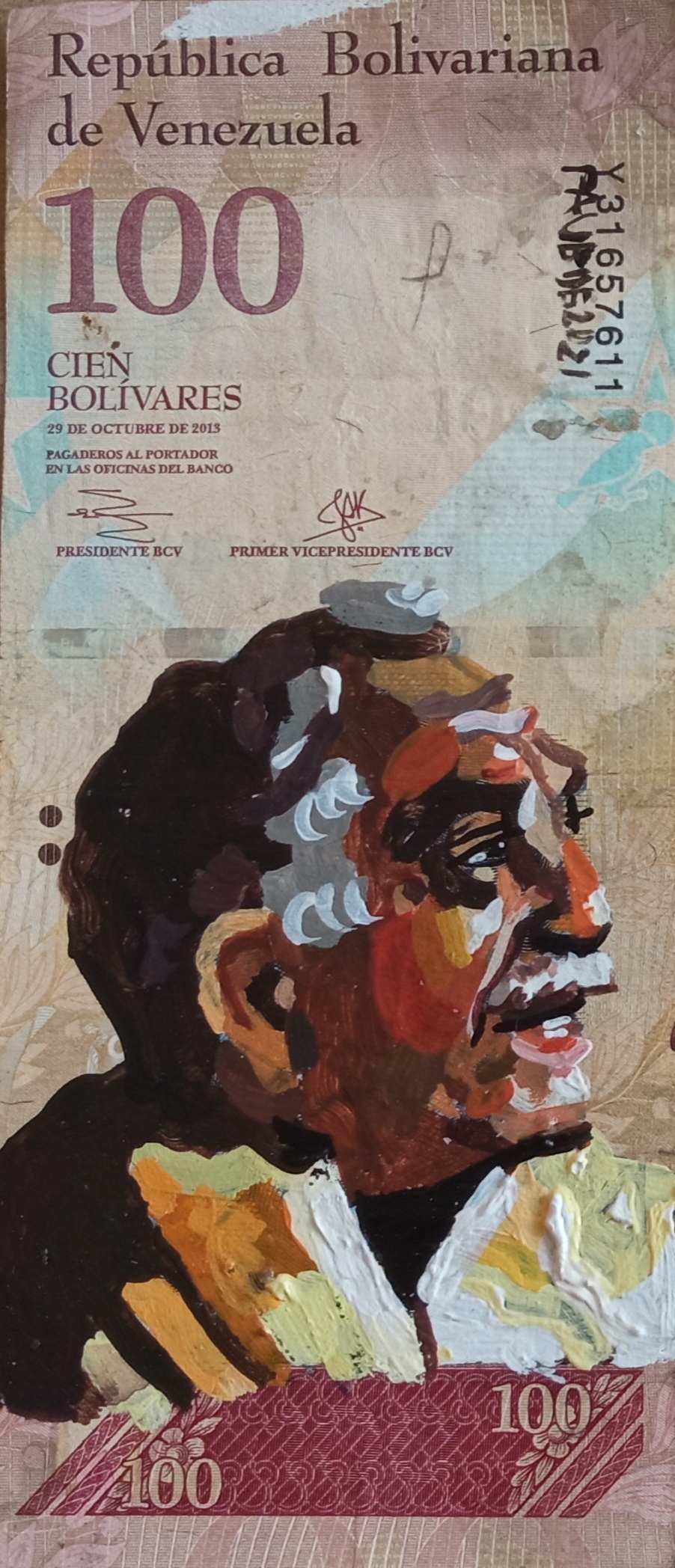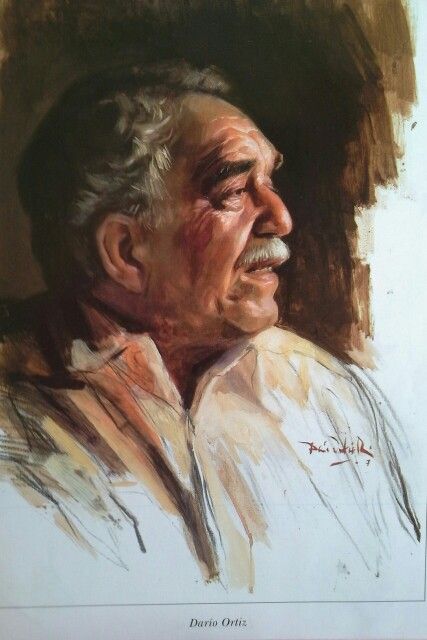 (II)
---
Reinterpretación del retrato de Vincent Van Gogh
Acrílico sobre papel moneda
2021
Reinterpretation of the portrait of Vincent Van Gogh
Acrylic on paper money
2021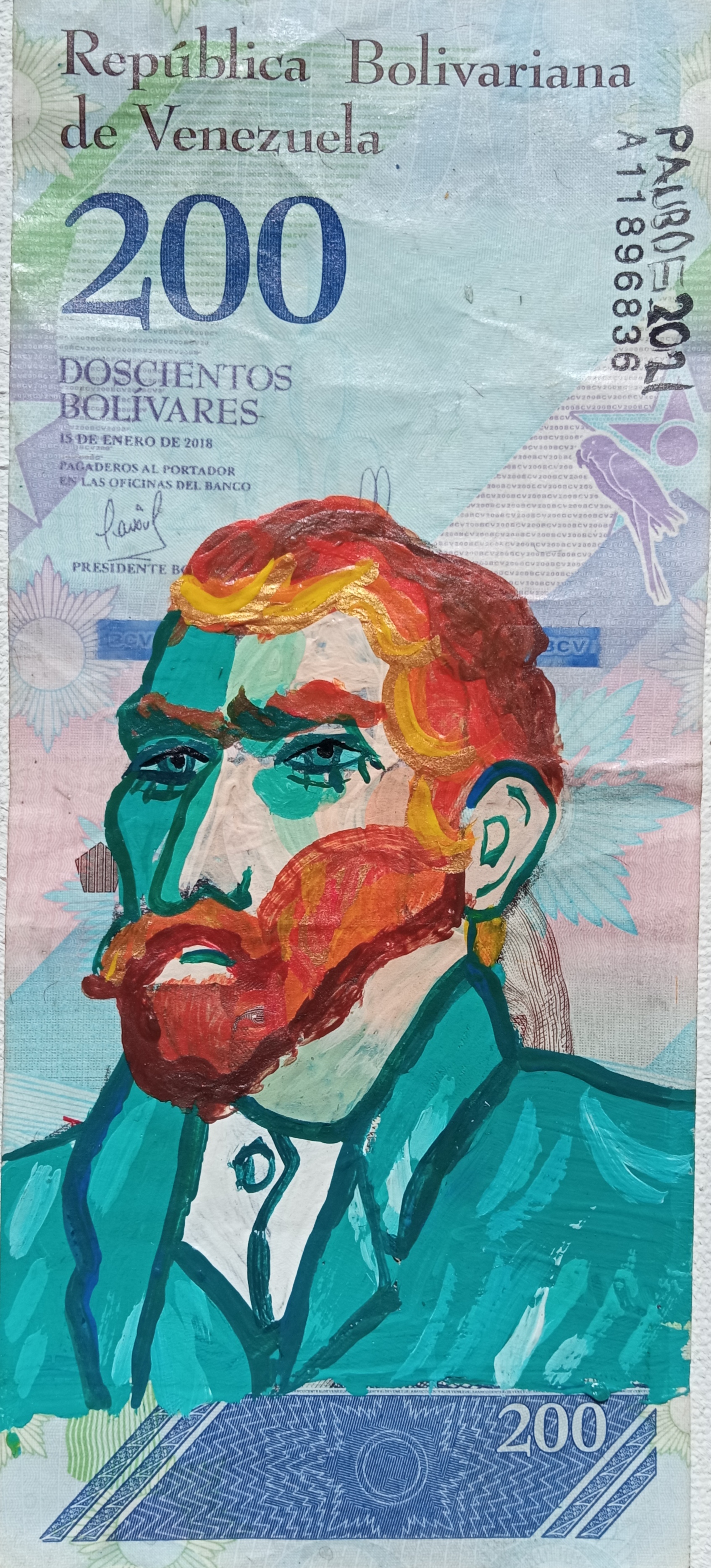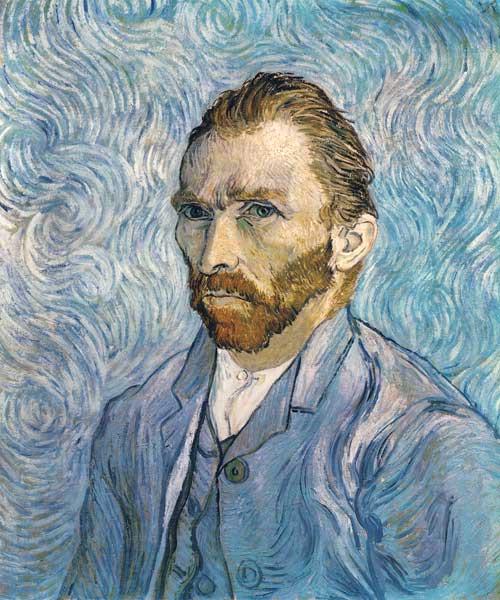 (III)
---
Marilyn Monroe (Blanco y negro)
Acrílico sobre papel moneda
2021
Marilyn Monroe (Black and White)
Acrylic on paper money
2021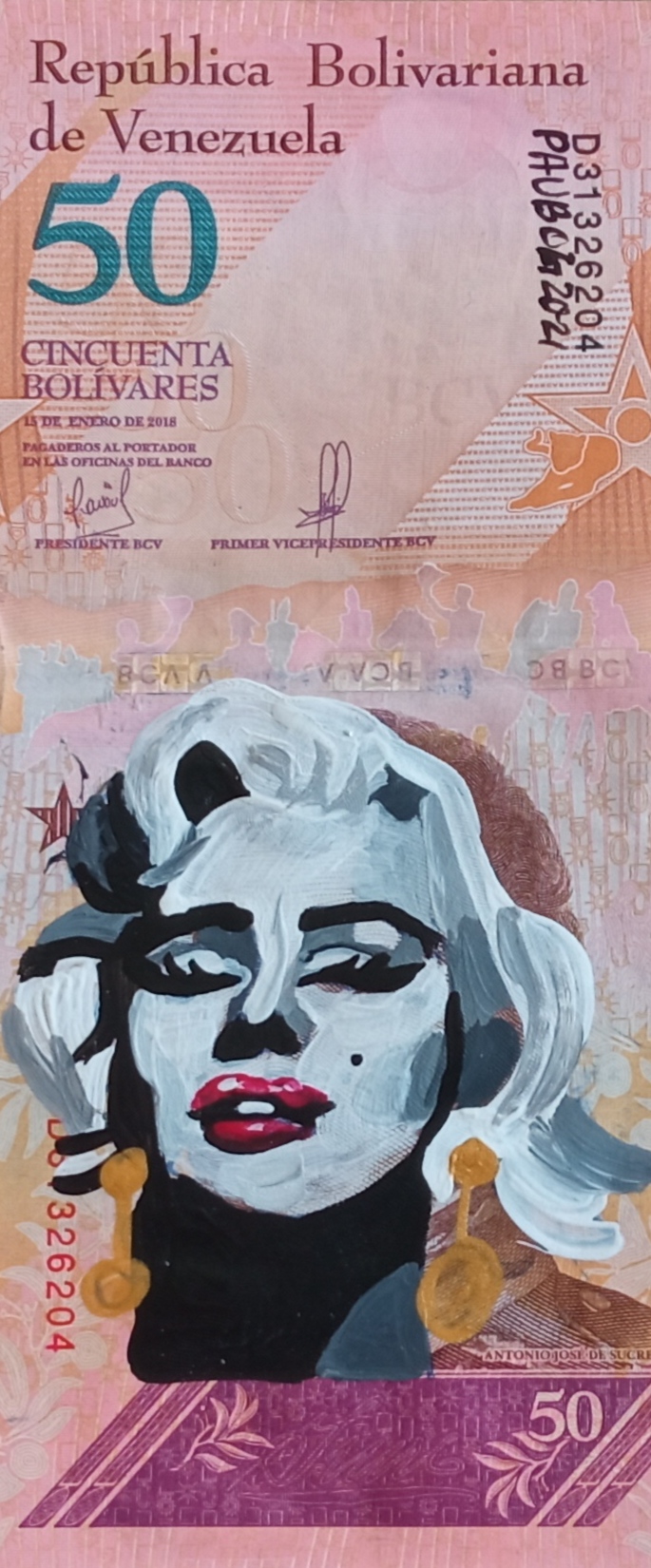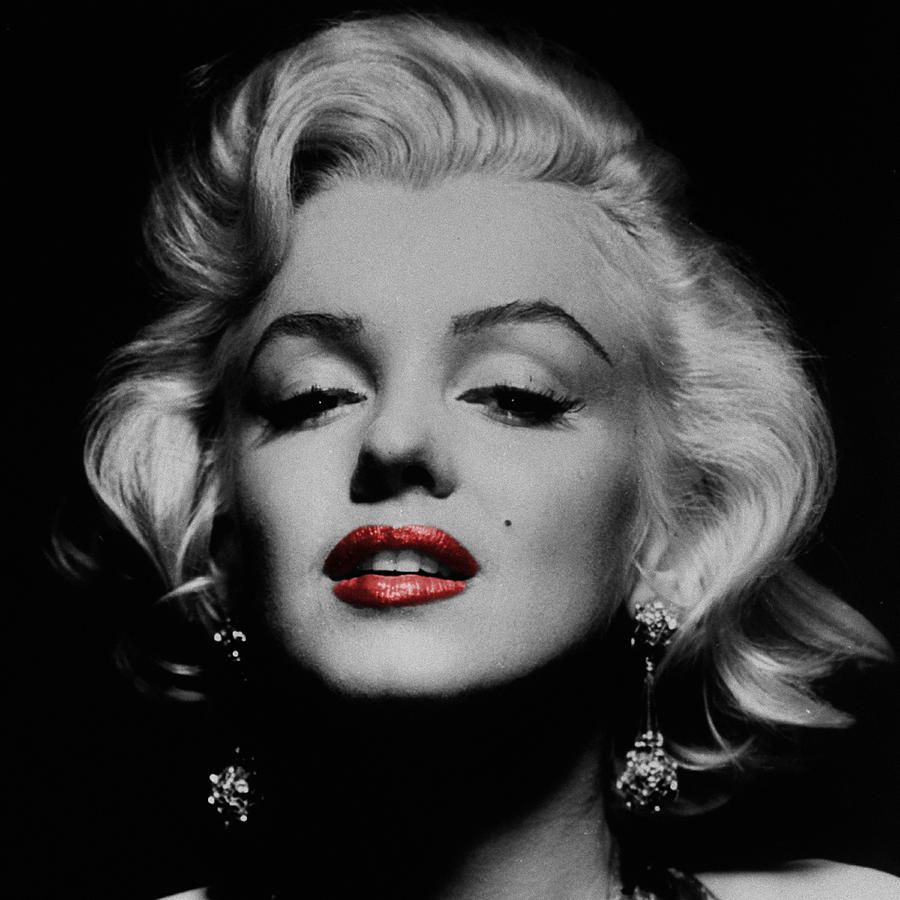 ---
​
Cada obra se estudio cuidadosamente para que mantuviera la esencia y la expresión de la foto usada de referencia, la tecnica que se utilizó se llama moneyart que se basa en la intervención de billetes usando pintura acrílica. La medida de cada obra tiene una medida estandar de 15x7 cm la cual es la medida de la divisa venezolana.
Each work was carefully studied to maintain the essence and expression of the reference photo used, the technique used is called moneyart which is based on the intervention of banknotes using acrylic paint. The measure of each work has a standard measure of 15x7 cm which is the measure of the Venezuelan currency.
---
Me encanta pintar y es lo que más hago ultimamente, lo bueno de los acrilicos es que si te equivocas puedes colocar más capas encima hasta obtener el resultado deseado. Esto significa que las pinturas que se observan aquí tienen al rededor de 9 horas de trabajo cada una, al principio se realiza un boceto con grafito para separar los colores y luego se procede a colocar las manchas para componer el trabajo.
I love painting and it's what I do the most lately, the good thing about acrylics is that if you make a mistake you can put more layers on top until you get the desired result. This means that the paintings seen here have around 9 hours of work each, at first a sketch is made with graphite to separate the colors and then the stains are placed to compose the work.
---
Adoro hacer estos post para ustedes y espero poder seguir mostrandoles mi hermoso trabajo el cual también me apaciona hacer. Un especial agradecimiento a @cervantes, @hispapro y a las personas que han apoyado las publicaciones anteriores, siempre me emociona saber que a la gente le gusta mi trabajo el cual hago con mucho esfuerzo y amor.
Si les ha gustado den reblog, siganme y siempre pueden colaborarme dando upvote a estos post que siempre hago con tanto cariño para ustedes mi preciosa comunidad. Hasta el proximo artículo y espero les haya gustado tanto como a mi.
I adore doing these posts for you and I hope I can continue to show you my beautiful work which I also love to do. A special thanks to @cervantes, @hispapro and to the people who have supported the previous publications, I am always excited to know that people like my work which I do with a lot of effort and love.
If you liked the reblog, follow me and you can always help me by giving upvote to these post that I always do with so much affection for you, my precious community. Until the next article and I hope you liked it as much as I did.
---
---
Mis Links
My Links
---
Colección de NFTs en OBJKT
Collection of NFTs in OBJKT
---
https://objkt.com/collection/KT1ASNWRGD7QFVsvN4ShQwRSmhxZyVXANnEg
---
TWITTER
---
https://twitter.com/p4uart
---
TIKTOK
---
https://vm.tiktok.com/ZM8GyaQAN/
---
INSTAGRAM
---
https://www.instagram.com/p4u.art/
---