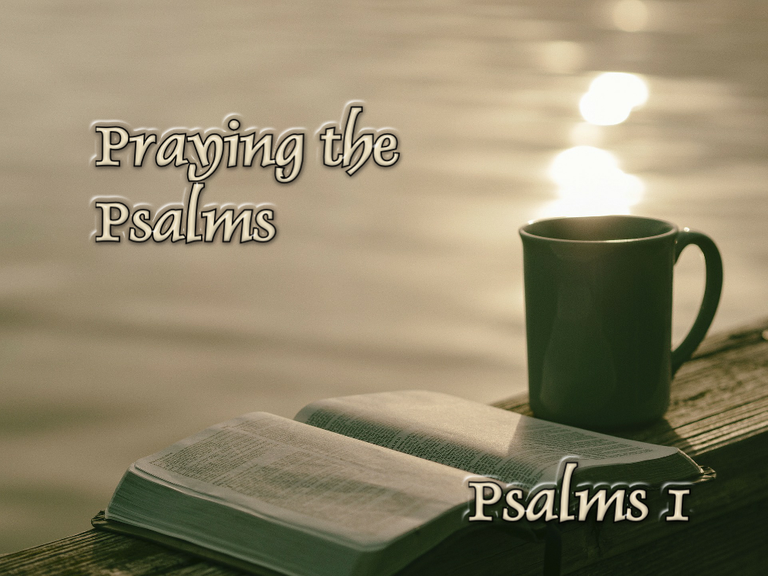 Dietrich Bonhoeffer writes in his work Life Together about the book of Psalms as being something rather unique in all of scripture. He speaks of this particular book as being one of the few places where the words one encounters are simultaneously God's Word
and
a human word of prayer. He speaks of the tremendous value in learning to pray the psalms for a person following Christ because not only are these first God's Word, secondly a human word or prayer, but thirdly because Jesus himself had his own prayers shaped through the Psalms. In the Psalms we encounter Christ himself for these are Jesus' own words as well... his Word of prayer. There is something wonderful about learning to pray the Psalms as one's own. Adding these into my own practices of prayer has been a rich experience and I'd like to encourage you to find ways of allowing the Psalms to become prayers of your own.
Some may find it helpful to simply read them... perhaps even multiple times and simply allow the rhythm of the Word itself to sink in. Other times perhaps you would find it helpful to allow the words that you encounter in each of these Psalms to begin to shape your own heart as it pours out in God's presence.
The "Psalm-prayers" I offer here on Steemit, are the things I found my heart moved into as I encounter each Psalm in turn. May the prayers that begin as my own, become for you something that moves you to pray as well!


Psalm 1
Lord, I fear at times my footsteps too closely walk along paths I know better than to trod. I've heard your word of warning, but is it I'm too stubborn or too stupid to turn away? I've experienced your blessings and felt your comfort in the presence of those who walk closely to you... I can see their peace and their life... I find myself wanting that with a deep and abiding thirst. This thirst I know to be from you for it finds no respite except in you!
On those days when I soak myself in your Word, I know peace and hope like I've found no where else. Your Word it is sweet in my mouth and soothing on my tongue. It salves chapped lips and parched soul. I know it as a comfort so I have to wonder why it is I so readily wander away from this your living water. I fill my days with amusements and anxieties... mere trinkets before the treasure I've been gifted in you and yet here I am again playing with plastic coins as the gold lies spread right before me at my fingertips... what is that in me O Lord? God help me to stop doing this to myself...
I want to be one with deep roots... I want to drink your deep living water into my innermost being for I know that in no other way will I ever be able to bear the fruit that becomes a blessing in the lives of others. Without your living water, my being shrivels and I shrink. Without your water and the roots that can drink of it, I will simply keep on blowing around... a hypertext flirt... jumping about and wasting time and wasting breathe as a cheap impersonation of the one's you created me to be.
God I kneel before your judgement but I trust that in you I may yet stand. I have heard your Word of reconciliation... a word that comes to me a "peace" and I pray that today Lord... today help me to stand once more rooted in your living Word, trusting you with my whole being... let me walk with you as one redeemed. May your eye ever watch over me as I seek anew the pathways of your righteousness. Let me turn away from the habits and norms that lead me to distraction and destruction.
I pray this alongside my Lord and Savior... Jesus your Son who even now prays for me in your presence. I come to you My God solely through him.
Amen.

I want to say "thanks" for sharing this adventure together. If you find these prayer times to be valuable, would you consider reSteeming them? I'd deeply appreciate your help in getting these more widely circulating.
The AudioPrayer version of this prayer expereince will be posted here
Peace,
@genxrev