Here I was, thinking I was doing so well keeping track of my "art process" for my Drawn To Key West only to find that I either forgot, misplaced, or deleted any documentation for the next two pages of the comic. Good job, Theresa.
So, unfortunately, I can't show you the steps this page went through but I can show you the "final" result. It's been a while since I last posted about this project so as a quick recap: Drawn To Key West is a comic about the story of Key West told by the people of Key West, focusing mostly on the lives of the Mallory Square street performers. Right now I'm working on a couple of spreads that talk about my relation to Key West and my fascination for it's history and people. I wanted to get these pages done so that when I go back down to interview more street performers, Key West locals, and hit up the local museums, I'll have some related work to show them what my project and I are all about.
If you'd like to get up to speed you can check out my previous posts:
Interview With A Street Performer
Map of Mallory Square
Map of Mallory Square Finished
People of Key West
People of Key West Finished
The Drive to Key West
Project Update
All caught up? Good. On to the next spread!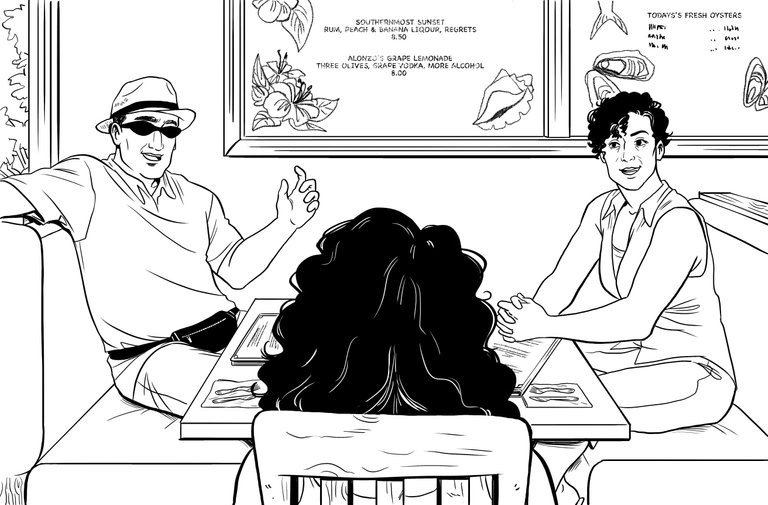 This page will be showing my parents hot-take on Key West. Apparently, the only reason my parents ever started going to Key West was because my dad read somewhere it was the southernmost point of the U.S. so that meant it must be a good vacation spot! Dad logic at it's finest.
They took a giant RV down the narrow roads that string the Florida Keys together, taking several trees down with them, and ventured to the spot that they would be visiting consistently for the next 20-something years.
I have one more spread to get to before I'm done with the introduction. This time I'm documentation the stages for sure!
Stay tuned.

---
If you'd like to keep up with more of my work you can check me out at the following:
Instagram: @la.fumettista
Tumblr: http://la-fumettista.tumblr.com/tagged/art
Twitter: @TheresaChiechi
Website: https://www.theresachiechi.com/