MLB Daily Pitching Contest! April 3rd, 2018 - Today's Contest & Yesterday's Results!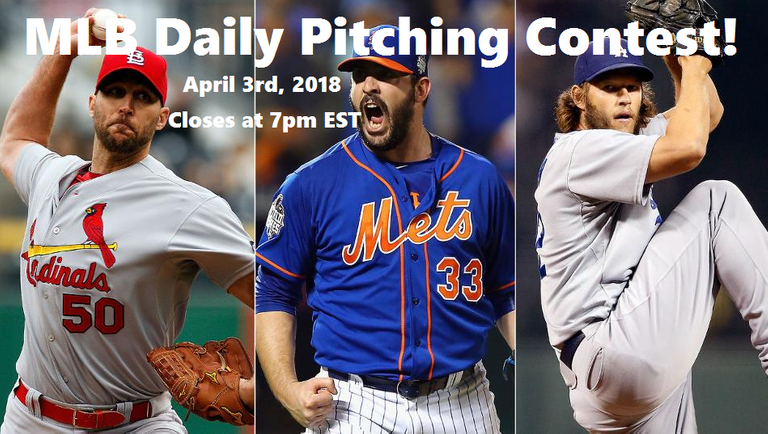 First let's look at yesterday's results!

The Winner is @galasek with a nice score of 123 points!
Every day there is baseball there will be a MLB Pitching Contest.
Rules For The Contest
Pick the 3 pitchers you think will score the best

Winner will receive all of the SBD post payout in SBD on the day the post is paid out

You may only enter once

Resteeming and upvoting this post is appreciated to help gain more players and rewards but not mandatory

In respect to a tie each day you must select the number for the highest strikeout pitcher without going over. If a tie still exists after that the payout will be split.

Contest locks at 7pm EST
Scoring
Earned Runs -3 - (Lose 3 points for every earned run against)
Innings Pitched +3 - (3 points for every inning pitched. ex. 5.2 innings = 17 pts)
Quality Start +4 - (Pitcher must pitch at least 6 innings with 3 or fewer earned runs)
Strike Outs +3 - (3 points awarded for every strike out made)
Wins +6 - (Pitcher must be awarded the win for these 6 points)
Please make your entry look like the following:
*Entry Example Only
Kershaw
Sale
Acrher
8 SO
The Pitcher List
CWS (Gonzalez) @ TOR (Happ)
PHI (Lively) @ NYM (Harvey)
WSH (Cole) @ ATL (Teheran)
STL (Flaherty) @ MIL (Anderson)
BAL (Wright Jr) @ (Verlander)
LAD (Kershaw) @ ARI (Godley)
TEX (Hamels) @ OAK (Graveman)
CLE (Tomlin) @ LAA (Richards)
COL (Freeland) @ SDP (Ross)
Keep an eye on the weather guys!
Good Luck Everyone!