The weather is cold and the nights freezing, so there really isn't much to report about the garden. Instead I have been working on my sewing practice. I don't (yet) have a sewing machine. I work totally by hand and with the simple tools of scissors, needles, and thread.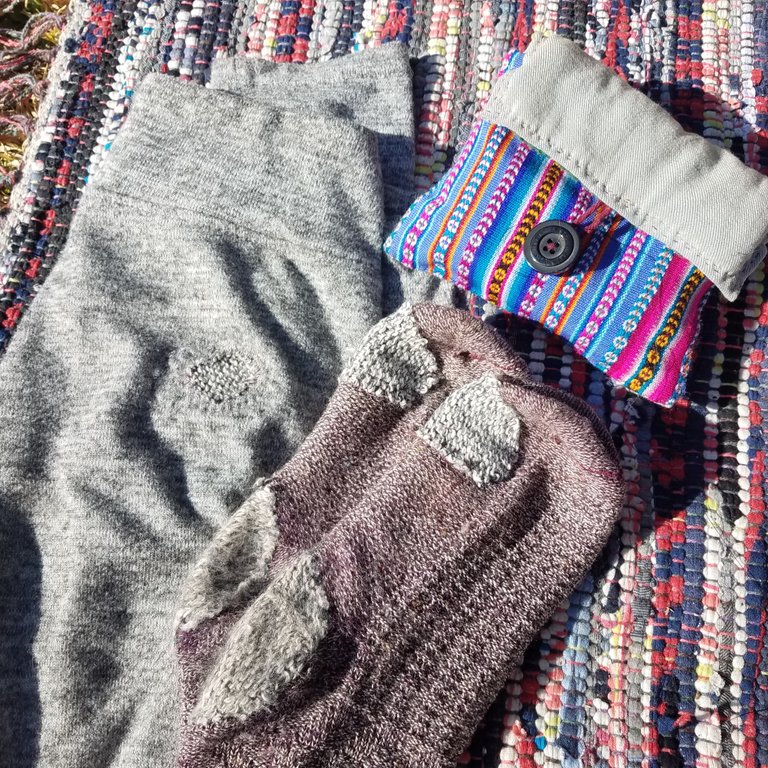 These are photos from a recent mending project. A pair of socks and some soft grey leggings – both staples of my winter wardrobe – had holes that needed patching. The little fabric envelope is my personal mending kit! Patching clothing by hand doesn't take much time or experience. They key is to cut out a circular patch that is about twice as big as the whole and of a similar type of fabric. And if you want the patch to be discrete, pick a similar color as well.
How to Patch a Hole
Place your patch on the inside of the whole and pin down. Begin sewing with a thick needle and an appropriate thread. First begin by circling around the patch to secure it to the clothing and then remove the pins. Then begin criss-crossing back and forth or sewing in a spiral formation. The goal here is to secure the patch with many seams.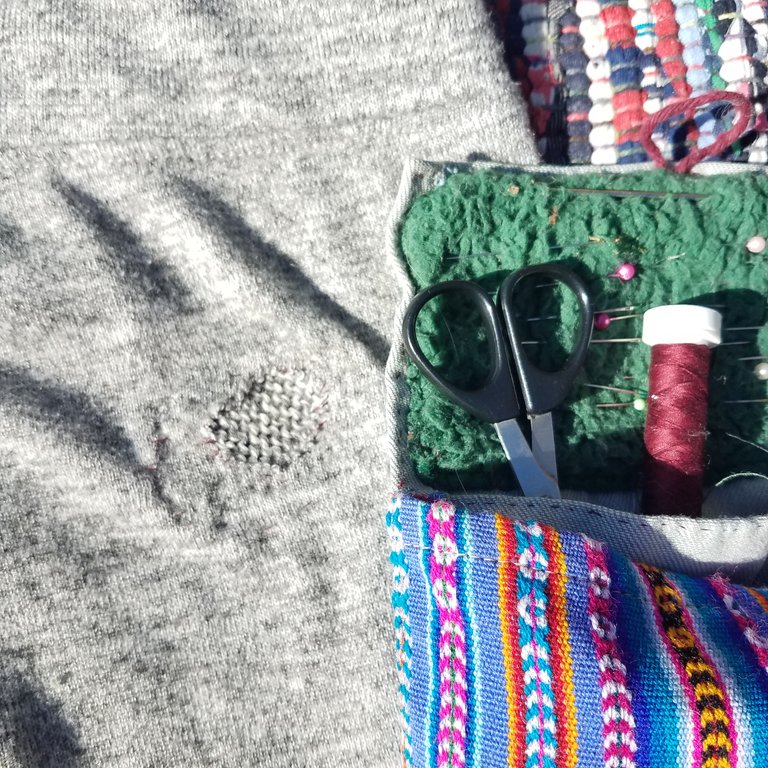 Finally, tie up your thread and cut off any remaining corners or loose threads. Check the patch to see if it is carefully secured both inside and out. That's it! Your pants are patched and will last many years more!
Mending Kits
The kit featured above is my personal kit that I made a couple of years ago. It has the most important supplies like patches, tiny scissors, needles, and pins and supports me in all my mending projects. I have been making these kits for a while and now they are also available for sale through a small online art shop called Staccarto, here is a link to their Etsy page if you are interested in purchasing a kit for yourself (or someone else).
Visible mending has received some attention lately and many folks are getting back into ancestral crafts of doing things by hand. And as a result many kits have sold, I am busy making more! Here is a sneak peak of a few work in progress sewing kits that will be available on Staccarto's page soon: