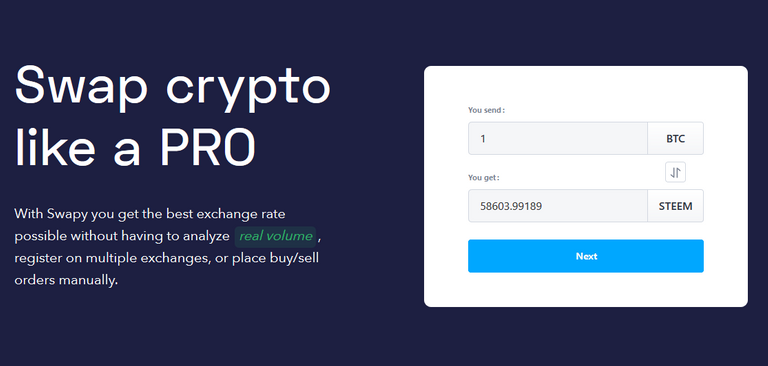 ---
There's a new instant cryptocurrency exchange on the block called Swapy, which allows you to trade 75 different cryptocurrencies at the best possible prices. Swapy works with an intelligent algorithm that automatically fetches orders from over 10 different exchanges and presents you with the best possible deal for your trade.
The main benefit of using Swapy is that you have instant access to the orderbooks of multiple exchanges, without having to create an account on each individual exchange. When you submit a buy or sell order, Swapy automatically allocates your order to different exchanges, while taking liquidity and market-depth into account. This ensures that you receive the best possible price, without having your order partially filled due to low liquidity or slippage issues on particular exchanges.
---
Easy & Straightforward Order Process
Exchanging cryptocurrency through Swapy is extremely easy and straightforward. You don't even need to create an account to start swapping crypto! First, you choose which cryptocurrency you want to send and which one you want to receive. There are currently just 3 cryptocurrencies that you can send (BTC, ETH & USDT) and 75 cryptocurrencies that you can receive, Steem is included.
After you've entered both cryptocurrencies to swap and press next, you will be greeted by a page where you can see all the details of your trade. You'll see how much you will save by using Swapy and if you click on the "show more >" link, you can see even more details about how the trade is made and your exact savings compared to other similar services (more on that below).

After you've clicked on the "show more >" link, you will see exactly on which exchanges Swapy places your orders and how much cryptocurrency you would get on similar instant swap services. I've personally noticed that the savings can be quite significant, not only compared with Changelly and Changenow, but also with Blocktrades and Shapeshift.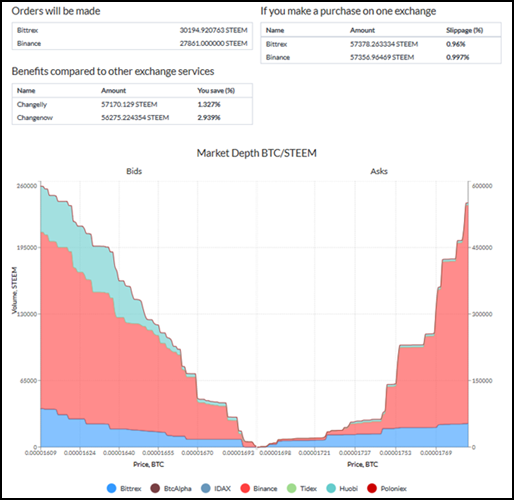 At the bottom you'll see a handy graph that displays the market depth from multiple exchanges of your selected trading pair. It must be noted that it's very refreshing to see this kind of transparency on an instant-swap exchange. Usually this sort of information is completely hidden, to try and trick you into paying a huge premium on your trades.
The remainder of the trade process basically explains itself, you add your address on which you want to receive your swapped cryptocurrency and you send the funds to Swapy's address.
As soon as the funds are sent to Swapy, a step-by-step exchange process is displayed: receiving, sending to the exchange, exchanging on the exchange and sending tokens to the client. This once again confirms the transparency of the exchange process. And you also don't need to control transactions through the block explorer and constantly update your wallet every time while waiting for crypto - Swapy will inform you about sending the crypto to your address.
Swapy's Fees
Swapy has implemented a very unique way of calculating fees on your trades. They don't charge a flat fee on the total amount, but rather a fee of 20% is applied to the difference saved relative to other exchange services. Isn't that a neat way to charge fees? Think about it, the more crypto that Swapy can help you save, the more profit they make themselves. It's a win-win for both the customer and the exchange (Swapy)!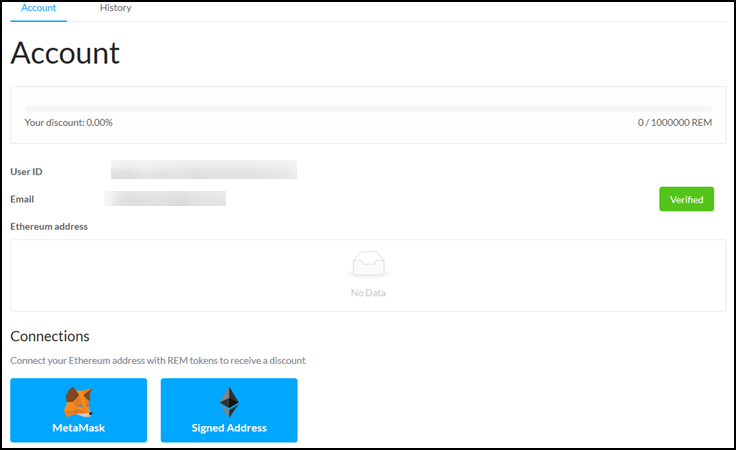 That's not all though, you can get up to 90% discounts on the fees, by holding REM tokens in your wallet. It's very easy to set this up, you can connect your MetaMask wallet on your Swapy profile page and if it contains any REM tokens, a discount will be applied to your trades automatically. One million REM tokens will grant you the maximum discount on all trades made through Swapy.
---
Conclusion
This is definitely one of the most interesting exchanges I've ever reviewed. I'm thoroughly surprised that there's still this much room for innovation with regards to instant-swap exchanges. Keep in mind that Swapy is currently still in beta, so there will be more improvements on the horizon!
It makes a lot of sense for me personally to start using Swapy for my crypto purchases, since I tend to use these kinds of exchanges pretty frequently due to their ease-of-use. It would be pretty silly of me to just throw away money towards Blocktrades or Changelly, while I could just get a much better deal through Swapy.
I highly recommend you to check it out for yourself!