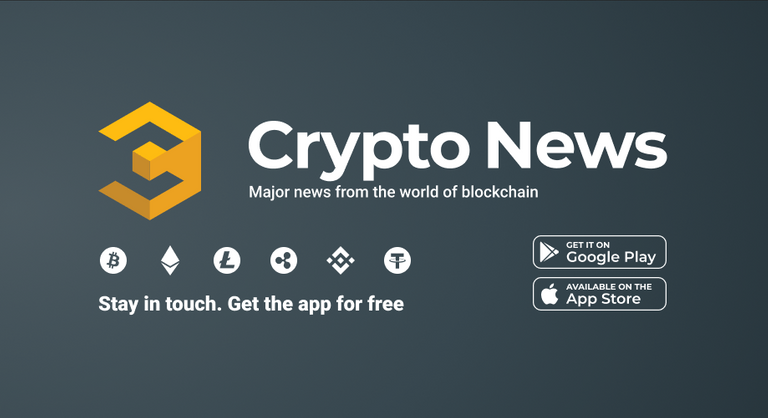 Crypto News - Cryptocurrency News Aggregator
---
Being an avid cryptocurrency investor, it's very important for me to keep up with all the latest trends in the crypto world. Having news from multiple sources at my disposal is adamant to my success, which is why I'm always on the lookout for finding the best crypto news aggregators.
Lately I've been extremely pleased with Crypto News, mostly because their user interface is a lot less obtrusive compared to the ones of their competitors and because it includes quite a lot of news sources by default. They employ a really decent categorization system that doesn't require any fine-tuning, at least in my opinion. I'm able to sort by whatever news I want with just one click and I've noticed that their search functionality works instantly and near-perfect.
---
Crypto News IOS & Android Apps
One of the prerequisites I have for using a crypto news aggregator, is that they must also have a decent mobile app. I personally use Android and aggregator apps are a dime a dozen on that platform. It can be somewhat hard to find a mobile crypto news app that you enjoy using, while also having a decent web interface at the same time.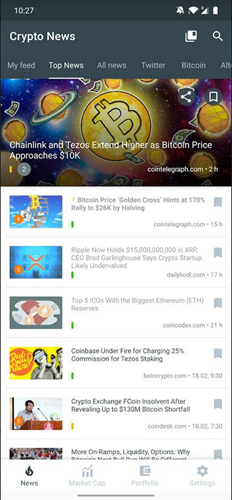 Crypto News on Android
After using the Crypto News Android app for a couple of weeks, I can safely say that it completely fits my personal needs. I reckon a lot of people would agree with me on that, since it has an excellent rating of 4.8 out of 5 on the Google Play Store. I especially like the fact that you can set up your default home screen, so you have easy access to the exact information you want to see when you open the app.
The Crypto News IOS app sports similar ratings as the Android app. I sadly do not have access to an IOS device, but given Apple's strict App Store entry guidelines, you can rest assured that the app is of high quality there as well!
Download Crypto News on Android
Download Crypto News on IOS
---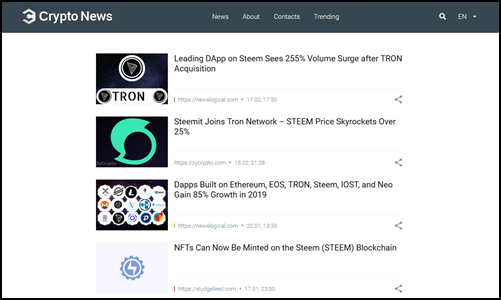 Crypto News Website - Featuring Steem News
Conclusion
I know I've reviewed a fair number of crypto news aggregators on this blog, each of them have their own set of advantages. Personally, I prefer the service Crypto News offers because of its simplicity and no-nonsense approach. For daily use, you don't really need a bloated aggregator with tons of functionality that you will probably never use.
Crypto News still has just about everything you need, without bombarding you with unnecessary information or services. For example, it is possible to view information of different cryptocurrencies (such as market cap etc.), but it is presented in a way that it does not interfere with its main use as a news aggregator.
Also interesting to note, is that they do offer a Pro Version of their Android and IOS apps, which gives you some extra functionality plus removal of ads. The Pro Version will set you back less than €4.00 per month, but I've found that the free version would definitely be enough for most people.